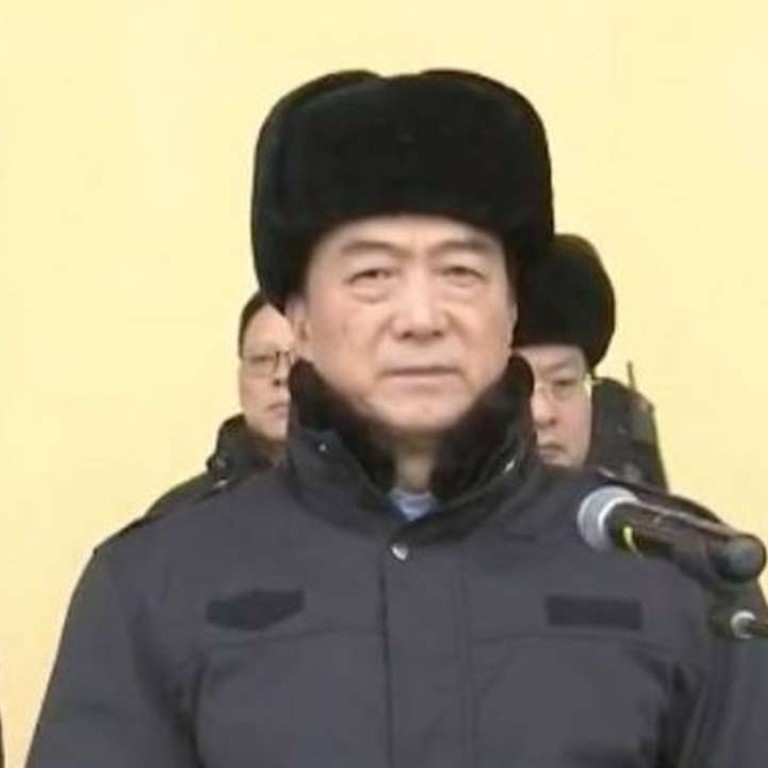 Show of force in Xinjiang sends hardline message
Tough new party chief shows authorities will brook no trouble from terrorists in region, just days after deadly attack on office compound
Authorities in Xinjiang staged a massive show of force in an antiterror exercise and rallied police for a public oath-taking ceremony to ensure stability in the region just days after attackers ran a car into a county government compound.
Presiding over the events on Saturday was the region's Communist Party chief, Chen Quan­guo, who was transferred to the region in recent months and was well known for his hardline policies during his previous posting in Tibet.
The rally was attended by senior party and government officials and security forces, according to state-run Xinjiang Daily.
The drill involved armoured vehicles and exercises such as rescuing hostages.
It also showed how 24-hour police booths defend themselves if they come under attack.
Xinjiang has set up a vast police presence, including surveillance in cities and towns, in recent months.
The 24-hour booths are of three sizes, ranging from 40 square metres to 120 square metres, and monitor local communities around the clock.
They are part of an expanded security network being built by the government, according to an earlier report by Xinjiang news portal Iyaxin.com.
The Xinjiang government reported on its website that a car carrying several terrorists crashed into the yard of an office building of the Communist Party committee in Karakax county on Wednesday last week.
Police shot and killed the three knife-wielding attackers and detonated a home-made explosive, Xinhua reported, quoting the Ministry of Public Security.
An official and a security worker were also killed and three others wounded, it said.
During Saturday's ceremony, Zhu Changjie, the region's public security chief, said Xinjiang would be in a state of combat readiness, always prepared to lead the fight against terrorists and to safeguard social stability.
Other new security measures introduced since Chen took up his post include asking residents to hand over their passports to local police. He introduced the same policy in Tibet to increase government control.
In his new role in Xinjiang, Chen replaced Zhang Chun­xian, who was known for his media savviness and more flexible approach to handling conflicts and tension with local Muslim Ugyurs.
Chen's appointment is seen as a signal that the central government wants to adopt an iron-fisted approach in the region.
Critics have cast doubt on the method, saying it will only stoke more hatred among the Uygur population. The vast region in the far west has seen rising violence in recent years. Authorities blame separatist groups, while minorities say their freedoms and rights are being curtailed.