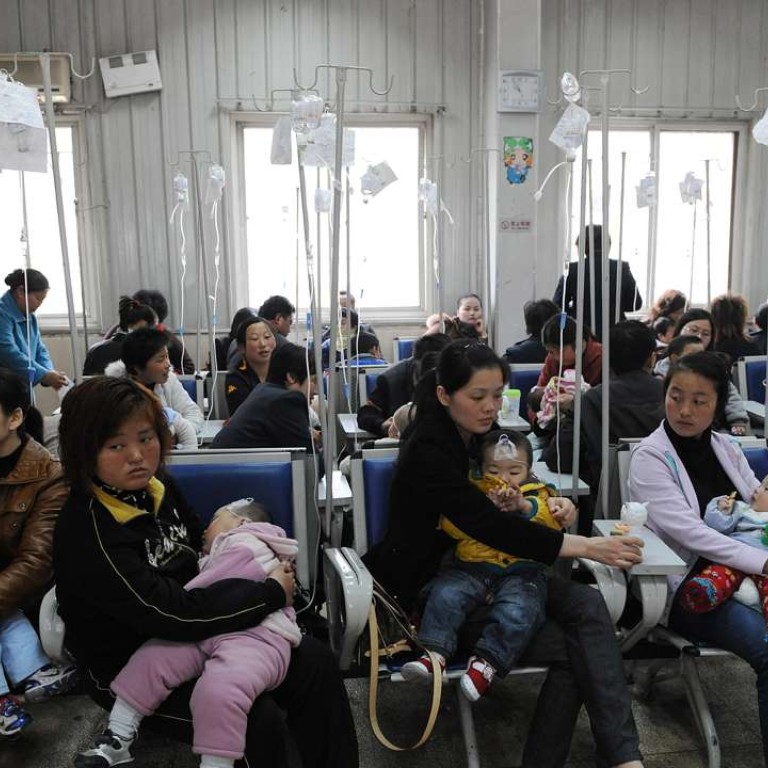 End of China's one child policy sees births rise to 18.46 million in 2016 ... but it's still not enough
Number of newborns last year – the highest total since 2000 – shows two-child policy since January 1, 2016 is effective, says nation's health and family planning commission
China's relaxation of its one-child policy led to the highest number of births for 17 years in 2016 with a further increase in the number of newborns tipped for this year, the country's health authority said.
More than 18.46 million babies were born in mainland hospitals in 2016 – 11.5 per cent more than 2015 – which was the record total since 2000, Yang Wenzhuang, a division director at the National Health and Family Planning Commission, told reporters at a briefing on Sunday.
China's National Statistics Bureau previously reported that 17.86 million babies were born in 2016 based on a 1/1,000 sample survey. Both ways of calculating births are considered legitimate.
But these numbers are still below previous estimates. China's family planning agency had estimated that allowing every Chinese couple to have two babies could push annual new births up to 20 million.
The health authority is convinced the increase – on top of the rise in the number of couples having a second child – should be attributed to the scrapping of the notorious one-child policy.
Since the early 1980s the authorities had banned most mainland families from having more than one child.
But facing an ageing society and shrinking work force, Beijing announced in 2013 – after President Xi Jinping came to power – that couples would be allowed to have two children as long as one parent was an only child.
The easing of the child-birth restriction was expanded to a universal two-child policy allowing all couples to have two children from January 1 2016.
The annual number of births between 2003 and 2013 had stayed at around 16 million, but the number of newborns had increased sharply after the birth policy change, Yang said.
"The number of women of child-bearing age [between 15 and 49 years old] would fall to about five million each year between 2016 to 2020," Yang said.
"But thanks to the adjustment and improvement of the birth policy, the birth rate is growing steadily, even while the number of women of child-bearing age is dropping. The policy change shows that it has been effective."
The number of second children born to couples accounted for 30 per cent of the total number of births before 2013, and had risen steadily since the two-child policy was introduced.
Last year the number of second children born on the mainland had accounted for more than 45 per cent of total births, which was mainly due to the implementation of the two-child policy, Yang said.
The health authority estimated the number of births this year would continue to rise, Yang said.
Demographer Yuan Xin, of Nankai University, estimated that the number of annual births would peak in 2017 and 2018 at about 20 million, as women born in the late 1970s and early 1980s rushed to have a second child before they grew too old.
"We believe those who are eligible for the universal two-child policy have not given birth to a second child yet because the change started only early last year, Yuan said.
"[Before] there were about 11 million couples with one partner who was an only child, but the universal two-child policy means 90 million couples are now eligible to have two children."
He said most of these eligible couples were rural residents, whose desire to have more children was stronger than the desire among urban couples, making it likely for China to expect more births.
However, because of a drop in the number of women of child-bearing age, the average total of newborns would probably drop back down to 16 million after 2020, Yuan said.
This article appeared in the South China Morning Post print edition as: 2o16 a bumper year for births in china