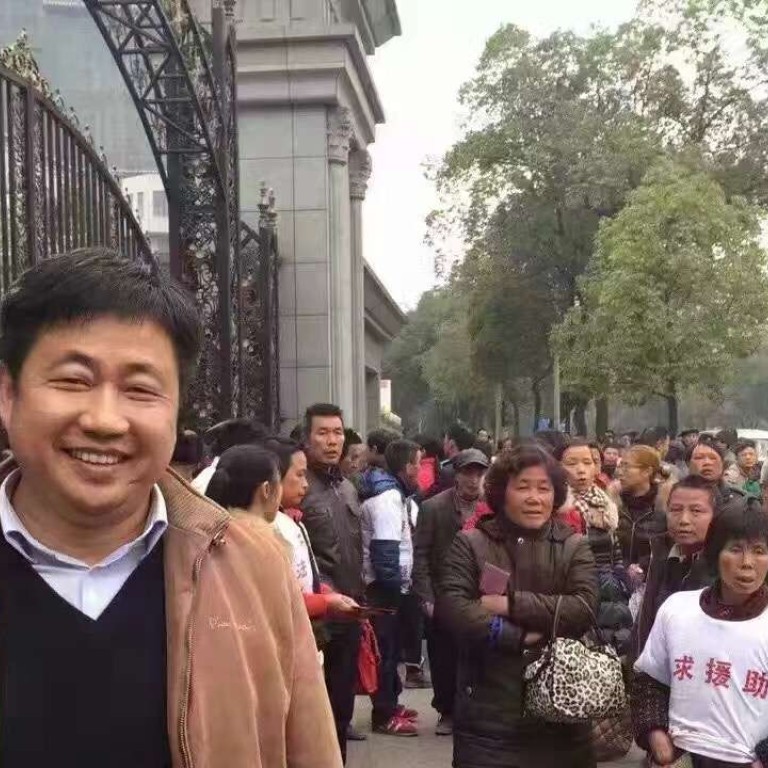 EU urges China to investigate reports of torture of lawyers detained in '709 crackdown'
European body issues call after accounts surface of mental and physical abuse of three lawyers detained for 18 months
The European Union has called on China to promptly investigate reports of torture of three detained mainland human rights lawyers.
The EU was "aware of recent information regarding the serious mistreatment of detained human rights lawyers Li Heping, Wang Quanzhang and Xie Yang" – mistreatment that would "amount to torture" if verified, the European Union's European External Action Service said on Saturday.
Xie, who is expected to soon face trial on subversion charges, was beaten, and deprived of sleep, water and medical care by interrogators who vowed to torture him until he "went insane", according to a statement by his lawyers this month.
The interrogators also threatened harm to his family, the statement quoted Xie as saying.
Li and Wang were also subjected to various forms of torture while under residential surveillance, including electric shocks that made them faint, the China Human Rights Lawyers Concern Group said last week.
The three lawyers were all detained in July 2015 during a nationwide round-up known as the "709 crackdown".
About 300 rights lawyers and activists were detained, sentenced or questioned in the sweeping campaign.
Four were jailed in August for between three to seven years on subversion charges while eight others, including Xie, Li and Wang, are awaiting trial after roughly 18 months in detention.
The EU said it expected the Chinese authorities would investigate "without delay" the accounts and allegations of torture in all three cases.
Citing China's Criminal Procedure Law, the EU also called for those responsible for any mistreatment or torture of the detainees to be punished.
"In the meantime, all necessary measures to ensure the safety and well-being of these individuals need to be taken," it said.
Despite being prohibited by law, forced confessions are common in the mainland's justice system, rights groups say.
The EU statement cited the United Nations' Committee Against Torture's review of China in December 2015, which said the committee had "serious concern" over reports about the practice of torture and ill-treatment in China's criminal justice system.
Li Chunfu, another lawyer held in the 709 crackdown, was released on bail in a frail state this month.
He spent more than 500 days in detention and has since been diagnosed with schizophrenia.
The EU said the release of Li Chunfu and another lawyer, Xie Yanyi, was "a positive step".
But it also called for the release of lawyers and human rights defenders who remained in detention, including Jiang Tianyong.
Jiang disappeared mysteriously on his way back to Beijing from Changsha, Hunan province, in November and his whereabouts were not known for nearly a month until he was finally confirmed to be under heavy guard at a residential site in Henan province, on suspicion of subversion.