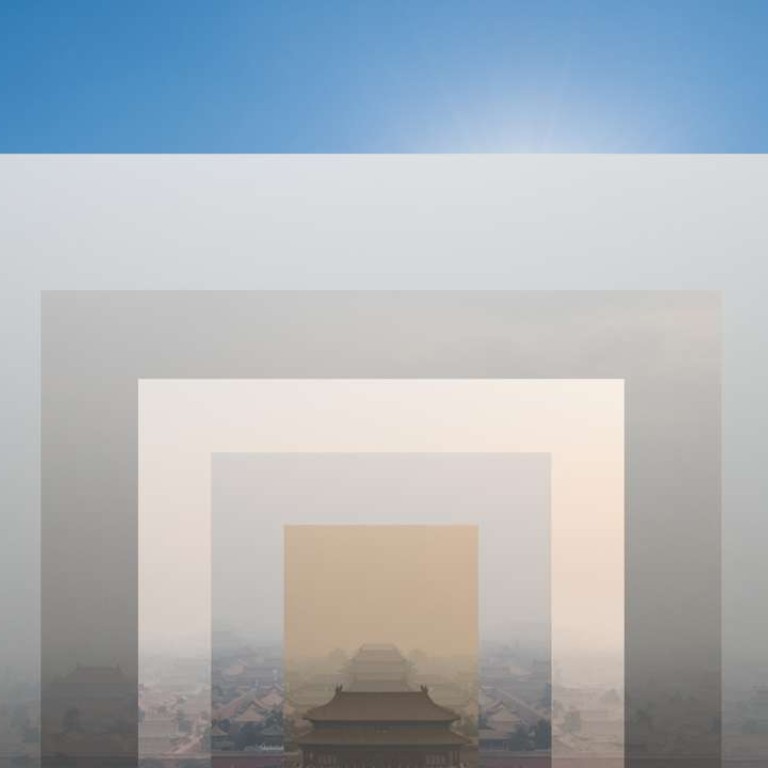 China firing blanks in 'war on pollution' as smog worsens
Getting regions to follow Beijing's lead proves difficult, with stimulus-induced uptick in industrial activity adding to problem
When Premier Li Keqiang
declared "war on pollution"
in front of China's close to 3,000 National People's Congress deputies almost three years ago, the sky over the Great Hall of the People in Beijing was clear and blue, with the air quality index on that early spring day reading just 17.
Vowing to fight pollution with the same determination that China had fought poverty, Li's pledge – the highest-level acknowledgement to date of the seriousness of the issue – offered a glimmer of hope that such blue skies might one day become the norm.
But fast fast-forward three years and that hope is dwindling, with a thick layer of choking smog blanketing large swathes of northern China, including the capital, this winter – one of the most polluted in years.
In his work report to the NPC in March 2014, Li described smog as "nature's red-light warning against inefficient and blind development" and unveiled detailed measures to tackle the problem.
But despite the investment of much effort and money, analysts said lax enforcement of state policies, laws and regulations combined with concerns about the slowing economy have watered down Beijing's ambitions to clear up the air.
China pledged 10 billion yuan to a smog-fighting fund in 2014, with the money was distributed to nine provincial-level governments in the Beijing-Tianjin-Hebei region and the Yangtze and Pearl river deltas. But after an inspection in May last year, the Ministry of Finance published a report in December that named and shamed Anhui, Tianjin, Henan and Shanxi for embezzlement and misappropriation of funds ranging from several million yuan to hundreds of millions. Some counties in Anhui were found to have spent their funds on renovating government office buildings, digging new wells, buying transformers and even entertainment.
With the red-light warning shining as brightly as ever, public discontent has intensified, with many accusing the government of making empty promises and criticising it for the lack of action.
Hundreds of millions of people spent the Christmas and New Year holidays in choking pollution, except for the lucky, wealthy few who could afford to flee as far as Antarctica and Iceland for "lung-cleansing" escapes.
Much of northern and central China, including the Sichuan basin in the west, was once again engulfed by smog ahead of the Lunar New Year holiday and the level of harmful particulate matter in Beijing's air on Saturday gave the capital its second-smoggiest start to a lunar year in five years. The smog dispersed on Sunday.
Posts berating the government's insincerity or incompetence in dealing with air pollution are flooding social media, lawyers are taking the authorities to court for failing to solve the problem and sporadic protests against smog have surfaced in cities like Chengdu and Beijing.
"The public's tolerance and patience is running out and anxiety is growing because they've now acquired more understanding of the hazardous impact of smog," said Ma Jun, director of the non-government Institute of Public and Environmental Affairs in Beijing.
Hospitals in big cities have seen dramatic surges in patients, especially children, reporting asthma and other respiratory ailments during long smoggy spells. People, including some doctors, have begun discussing the negative psychological effects of smog, such as stress and depression.
To be fair to the government, some progress has been made and a series of policies, laws and regulations have been put in place. They include the national action plan on air pollution issued by the State Council in 2013, a new environmental protection law that came into force in 2015 and a new air pollution law passed that summer.
Official air quality monitoring data for the 74 cities for which information is available from 2013 to 2016 showed the average concentration of cancer-causing particulates with a diameter of 2.5 microns or less – known as PM2.5 – in the air fell 12 per cent over three years, with Beijing scoring a 19 per cent drop,
according to Greenpeace
.
But three quarters of cities across China still failed to meet the national air quality standards last year, a Greenpeace report said. With Beijing's current rate of PM2.5 reduction, the city would not meet the national standard of an annual average of 35 micrograms per cubic metre of air until 2027, and the World Health Organisation standard of 10mcg until 2046, it added.
"At the current rate of improvement, red alerts and airpocalypses will remain a feature of many Chinese citizens' lives for some time to come," Greenpeace East Asia climate and energy campaigner Dong Liansai said, calling on local governments to speed up the rate of progress.
Local governments should take most of the blame for the failure to implement and enforce central government pollution policies, regulations and laws, said Tseming Yang, a law professor at Santa Clara University in California who has written extensively on China's environmental laws.
"The [provincial and local] environmental protection bureaus' role in environmental protection is a weak link in the system because they are subject to protectionist pressure from local officials and because they face contradictory incentives in doing their job well," Yang said.
With their focus set on achieving economic growth targets, safeguarding employment and social stability – are all key measures of their job performance – local officials more often than not turned a blind eye to polluting factories.
Ma said the new air pollution law required cities to release a list of all exhaust-emitting factories in their jurisdiction and disclose their data to the public, but so far only Beijing had complied with the rule.
"We spent the whole of last year, together with other NGOs, urging more than 160 cities to publish their list," Ma said. "[These cities] are still thinking about their own development interests, knowing if they published the list, they will no longer be able to protect those polluting companies."
Some local governments have also been caught falsifying their environmental monitoring data in order to impress the central leadership, with officials are now also rated for their achievements in protecting the environment. In one widely reported case, environmental protection officials in Xian, Shanxi province,
stuffed cotton gauze into sensors
to improve air quality readings.
In addition to poor implementation and enforcement at the local level, the central government's concerns about economic growth have also pushed the battle against smog lower down its list of priorities.
PM2.5 levels in the Beijing-Tianjin-Hebei area began rising again from March and April last year after steadily dropping for almost two years, Greenpeace said, with the increase linked to a surge in steel production sparked by a short-term economic stimulus package designed to prop up the economy.
The expansion of coal-fired industrial production was a major reason for the region's "airpocalypses" last autumn and this winter, which were worse than in 2015,
Greenpeace said
.
The difficulty in pushing central government policies, laws and regulations down through layers of bureaucracy to China's vast network of local administrations is not specific to the war on pollution but reflects a tough political reality on various fronts of reform.
Despite the long-touted efficiency of China's authoritarian regime, many instructions made by the central leaders have met
resistance at the local level
and Li has often been reported to have been in an angry, table-pounding mode while berating officials for delaying the implementation of state policies.
If China's war on pollution drags on and smog continues to plague the daily lives of its hundreds of millions of citizens, it is not only "face" that the central government will lose, but also its credibility, as in other areas of reform.
This article appeared in the South China Morning Post print edition as: Losing direction in nation's fight against air pollution