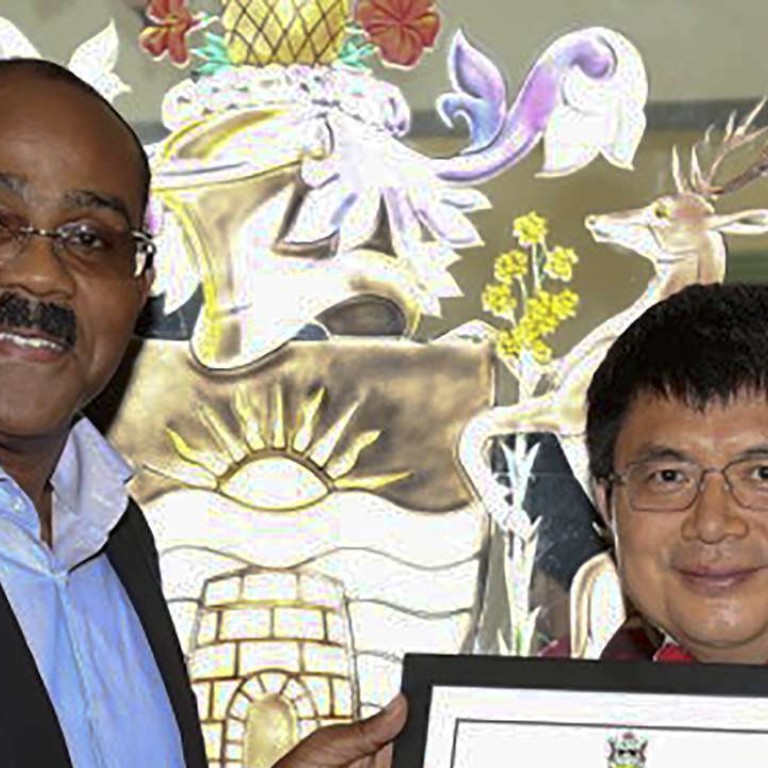 Chinese tycoon 'helping inquiries' into 2015 stock market turmoil and case of former top spy
Billionaire businessman Xiao Jianhua on mainland 'assisting investigations', say sources
A Chinese billionaire who disappeared mysteriously from his luxury Hong Kong hotel over the Lunar New Year weekend is now on the mainland and "assisting investigations" into the stock market turmoil of 2015 and the case of a former top spy, several sources have told the South China Morning Post.
A source familiar with Xiao Jianhua's movements said the founder of Beijing-based Tomorrow Group was "persuaded" to cooperate rather than coerced by mainland agents who visited him at his serviced apartment in the Four Seasons Hotel last Friday.
It remains unclear in what capacity the mainland agents came to Hong Kong, or which agencies they represented. But the case has sparked fears that the agents might have been acting beyond their jurisdiction in crossing the border to carry out law enforcement work, thereby violating the city's rule of law.
The investigation is said to be focused on manipulation that contributed to panic selling during the 2015 market rout.
The investigation is also believed to be related to disgraced former vice-minister of state security Ma Jian, who came under suspicion of violating Communist Party discipline – a euphemism for corruption – earlier that year.
Xiao's company took out a full-page advertisement in a Chinese-language newspaper yesterday, reprinting a statement it released a day earlier claiming he was "receiving treatment overseas". Xiao claimed in the newspaper ad to be a Canadian passport holder, although this has not been confirmed. He has also claimed to have a diplomatic passport. Antigua and Barbuda named him ambassador-at-large in 2015, according to a report on news portal Caribbean360.
A source close to the tycoon said Xiao was currently on the mainland and could communicate directly with his family.
Another source said the actions of Xiao, whose Tomorrow Group is behind many large merger and acquisition deals, have had a "significant impact" on the mainland economy.
Sources told the Post earlier Xiao, 46, left the hotel on Friday. Police officers examined the hotel's CCTV footage which did not show any scuffles involving Xiao and his two women bodyguards. The hotel refused to comment, citing an active police investigation.
Xiao was regarded as having close ties to families and relatives of mainland political heavyweights, which helped him amass billions of yuan through deals.
Beijing launched a massive crackdown on corruption and economic crimes more than four years ago, and more recently has sent agents abroad to bring suspects back to the mainland.
Hong Kong police on Wednesday said reports that it was involved in the operation on Friday were "purely speculative and carried no truth". The Security Bureau said earlier the Basic Law authorised only local authorities to carry out law enforcement in the city. A ­bureau spokesman said police had contacted mainland authorities for information.
Xiao's case echoes the disappearance of five Hong Kong book sellers a year ago, sparking questions about whether Beijing was flouting Hong Kong's Basic Law and breaching the city's autonomy. The issue could surface in the coming chief executive race, and aspirants were yesterday asked to comment.
Regina Ip Lau Suk-yee, a chief executive contender and former security minister, said the case reflected the long-standing lack of a a deal between Hong Kong and the mainland on transfer of fugitives and reciprocal judicial assistance. "The government has failed to solve these problems for a long time," Ip said. "After I left the government, there was no follow-up on the issue."
Another contender for the city's top job, retired judge Woo Kwok-hing, cited Article 28 of the Basic Law, which states that no Hong Kong resident shall be subjected to arbitrary or unlawful arrest, detention or imprisonment. Woo said more facts were needed before deciding on an action.
A spokesman for John Tsang Chun-wah, a front runner in the leadership race, said the former finance minister was not clear about the case, but only Hong Kong officers could enforce the law in the city.
A spokesman for Carrie Lam Cheng Yuet-ngor said the former No 2 official understood public concerns over the matter and everything should be handled in accordance with the law.
The Chief Executive's Office refused to comment.