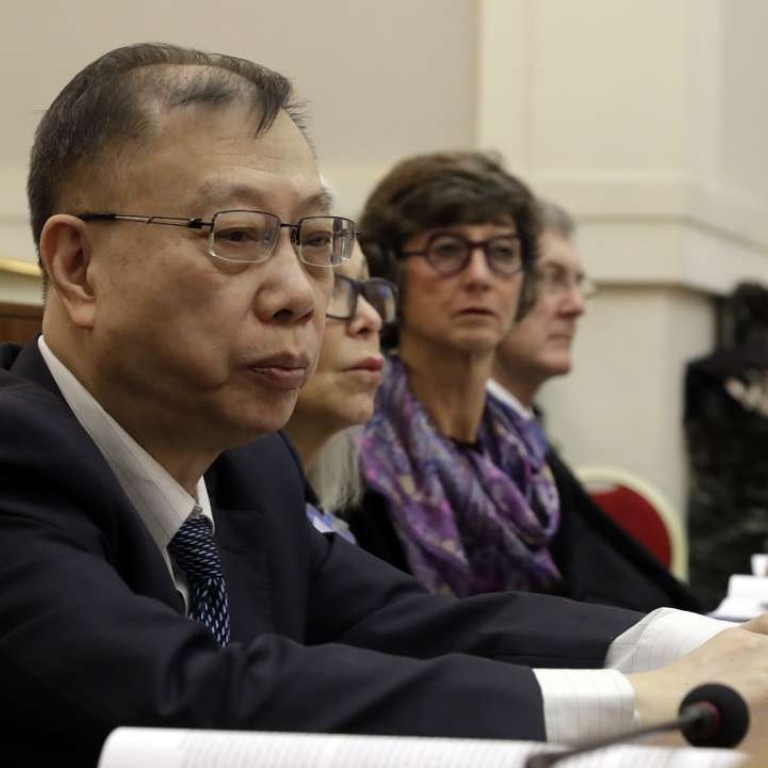 We're really not harvesting executed prisoners' organs for transplant any more, China insists
Chinese delegation's trip to Holy See part of efforts to overcome scepticism that the practice of using executed inmates' organs has ended
China is stepping up its efforts to persuade the international medical community that it has stopped using executed prisoners as organ donors, sending a high-level delegation to a Vatican conference amid continued scepticism that the practice has ended.
China's former vice-minister of health, Dr Huang Jiefu, acknowledged on Monday that reforms to the nation's organ transplant programme have been slow and "very difficult". But he insisted that the measures taken to outlaw the practice have made significant progress even though China still "has a long way to go" to meet its transplant needs.
"From January 1, 2015 organ donation from voluntary civilian organ donors has become the only legitimate source of organ transplantations," he said in an interview at China's embassy to Italy. "This is the whole story."
Huang will deliver a speech at the Vatican conference on Tuesday amid complaints from human rights groups and organ trafficking watchdogs that the Vatican is effectively endorsing a "whitewash" by inviting him.
"Without transparency, verification of alleged reforms is impossible," said Dr Torsten Trey, executive director of the group Doctors Against Forced Organ Harvesting, which called on the Vatican conference to demand China provide documented evidence and independent scrutiny about its practices.
The Vatican has defended the invitation, which comes as Pope Francis seeks to improve ties with Beijing and bring its estimated 12 million Catholics under Rome's wing.
Huang publicly acknowledged in 2005 that China harvested executed inmates' organs for transplant and a paper he co-authored six years later reported that as many as 90 per cent of Chinese transplant surgeries using organs from dead people came from those put to death.
International human rights activists and domestic critics have long said that standard safeguards were ignored when obtaining organs from prisoners who may have been pressured to donate.
China said it would phase out the practice by 2015 and Huang said in his interview that it has kept to its word.
But doubts persist that China is meeting its pledge, given its severe shortage of organ donors and China's longstanding black-market organ trade. By its own figures, China has one of the lowest rates of organ donation in the world because of ingrained cultural attitudes and a legal requirement that family members give consent before organs are donated, even if a person had expressed a desire to donate. Even the organ donation system's advocates say it needs hundreds of additional hospitals and doctors.
Huang said the number of voluntary organ donors increased 50 per cent from 2015 to 2016, to 4,080, and that he was "very optimistic" China would outpace the US in terms of number of organ donors in five years. But he said China still needed help.
"That's why we have come to the Vatican," he said. "We have come to learn as well as to tell what is happening in China."
Huang said he was the highest-ranking Chinese official to attend a Vatican event, as a member of the official government advisory body, the Chinese People's Political Consultative Congress. Huang said his participation had been approved by China's highest authorities who wanted "China's voice to be heard".
Beijing severed diplomatic relations with the Holy See in 1951, shortly after the Communist Party took power, and officially allows worship only in state-sanctioned churches. Starting with Pope Benedict XVI the Vatican sought to improve ties and under Francis cultural exchanges have increased and working groups have met over the vexing issue of bishop nominations.
The conference at the Pontifical Academy of Sciences marks a next step, although Huang was quick to stress that he was attending as a surgeon and medical expert, not necessarily a diplomatic emissary.
Vivek Jha, executive director of the George Institute for Global Health in India, said it was important to keep engaging China in dialogue in the hope that they would make the necessary changes to the transplant system, while maintaining a healthy scepticism.
"It's perhaps rather foolish of us to believe all the official statements of China saying that they have changed," he said. "Engaging them does not mean we have to accept their policies and the statements they make without any evidence of change."
This article appeared in the South China Morning Post print edition as: China defends organ donation policy at Vatican