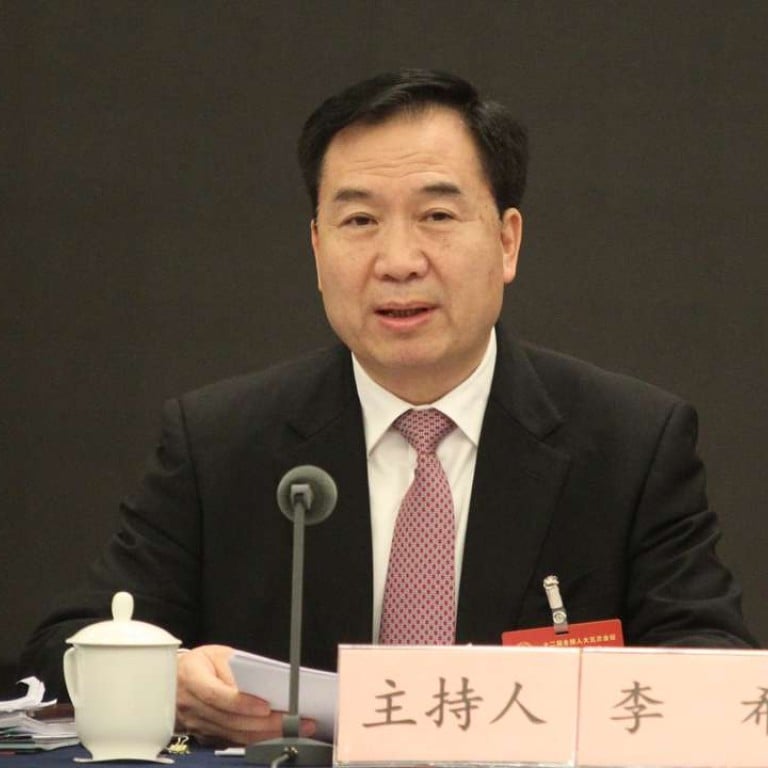 Rising communist star blasts Chinese party bigwig netted in vote-buying scandal
Head of rust-belt province says predecessor disregarded the party's authority
The top Communist Party official in Liaoning lashed out on Sunday at his disgraced predecessor, accusing him of disregarding the party's authority in a massive legislative vote-buying scandal.
The attack by Li Xi, 60, party boss of the rust-belt northern province, on former Liaoning chief Wang Min confirmed an exclusive report by the South China Morning Post in early October.
In an unprecedented move, the National People's Congress, the country's top legislature, dismissed 45 of roughly 100 of its members from Liaoning after they were implicated in the vote-buying scandal in August last year.
Most of the lawmakers expelled were prominent businessmen who reportedly bought their way into the national or provincial legislatures before or during personnel reshuffles in late 2012 and early 2013, when Wang was head of the province and its legislature.
Sources in Liaoning told the Post that top party leaders in Beijing were enraged when the widespread vote-buying meant the party's favoured candidates fail to win legislative seats in 2013.
On the sidelines of the NPC on Sunday, Li blamed Wang for the scandal, saying: "The personnel appointment arrangements of the central authority were not implemented."
Li said Wang allowed factions and cliques to form within the party in his quest to appoint officials.
The ties between politicians and businessmen deteriorated when some officials who bribed their way into their seats became corrupt, he said.
Li also said some cadres either did not or were unable to fulfill their duties, or behave irresponsibly, including faking economic figures.
Li is generally seen as having a good chance of promotion at the party's national congress later this year.
On Sunday he vowed that under his leadership the Liaoning party committee would hold fast to the party's line and snuff out any potential repeat of the vote-rigging scandal.
The party's disciplinary watchdog announced on the eve of the NPC last year that Wang was under investigation before he was expelled from the party and deprived of all public offices in August, 2016.