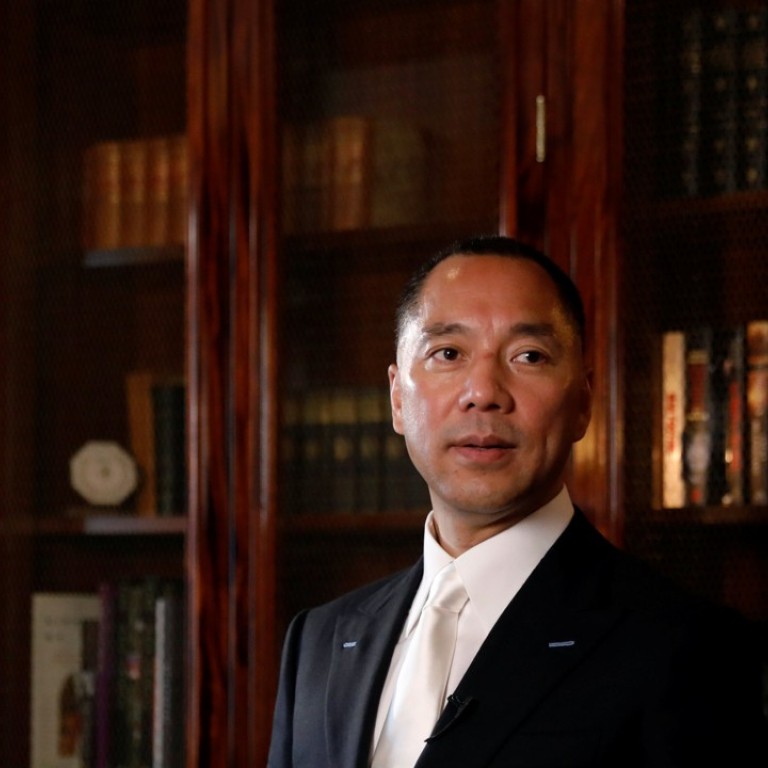 Chinese firms hit fugitive tycoon Guo Wengui with US$50 million lawsuit over lost assets
The lawsuit, filed in New York on behalf of nine plaintiffs, seeks compensation for unrecovered assets following a legal victory in China
A group of Chinese companies launched a US$50 million lawsuit against fugitive tycoon Guo Wengui in the US in a bid to obtain compensation for assets they weren't able to recover following a legal victory in China.
Represented by New York-area law firm Kevin Kerveng Tung PC, nine plaintiffs filed a complaint in New York against Guo and four of his companies, according to a statement issued by Kevin Tung, founder of the New York firm.
The plantiffs include construction firms Beijing Cheng Jian Wu Jian She Group Limited and Jiang Su Province Jian Gong Group Limited.
Guo's four companies involved are Beijing Zenith Holdings Co Limited, Beijing Pangu Investment Co Limited, Genever Holdings LLC and Golden Spring (New York) Limited.
The plaintiffs – who previously sued two of the defendants, Zenith and Pangu, in Chinese courts – are seeking more than $40 million in direct damages and $10 million in punitive damages.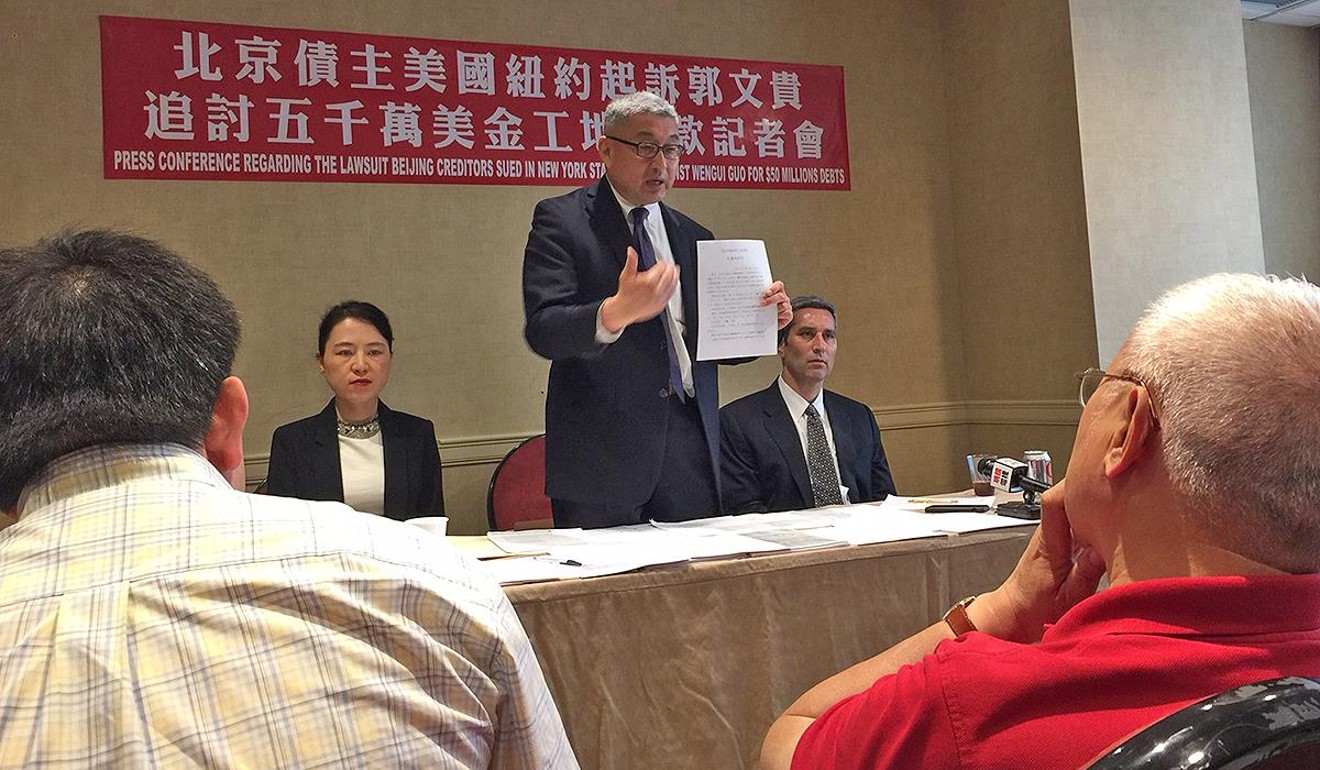 "Some of the plaintiffs have obtained judgments against Zenith and Pangu, while other plaintiffs' lawsuits are still pending," Tung said in an announcement.
"However, Mr. Guo has allegedly exploited its role as the majority shareholder of Zenith and Pangu and carried out a scheme to transfer the assets of Zenith and Pangu abroad, making the aforementioned judgments practically unenforceable and collectible in China.
"Having been unsuccessful in satisfying judgments in China, the plaintiffs came to New York, where Mr. Guo directly and indirectly holds significant assets, to seek remedies to address their losses in China."
Zenith and Pangu are mainland Chinese firms. Genever is a New York limited liability company and Golden Spring is a Delaware incorporated company.
The lawsuit in New York is the latest escalation of legal action against Guo, who is wanted on corruption charges in China and has made a series of graft allegations against the Chinese government and company officials on the mainland.
Guo, a property developer with close ties to former deputy state security minister Ma Jian, is wanted by Beijing over allegations of corruption. He has been living in self-imposed exile in his New York penthouse for more than two years and has made regular video appearances on social media.
The Chinese government has launched a sustained effort through state media to discredit Guo, making a request to Interpol in April for the issue of a global "red notice" for his arrest.
US courts rarely use decisions by Chinese courts to rule on a case because of concern that they are politically motivated, Tung said. But he's hoping the New York county court will recognise that the judgments against Zenith and Pangu in Beijing courts involve the offshoring of assets owed to third parties.
"I believe that a US tribunal will agree with me," Tung said. "They will not tolerate this kind of practice whereby someone takes assets out of a country, and come to the United States to enjoy a luxurious life at the expense of creditors."
The 38-page summons issued on behalf of the plaintiffs is addressed to Guo, using eight different names, including Miles Kwok, Kwok Ho Wan and Wan Gue Haoyun.
The document claims Guo lives on the 18th floor of the Sherry-Netherland Hotel, a residence he bought for $67.5 million through Genever Holdings.
The Sherry-Netherland sits across from the southeast entrance of New York's Central Park. Forbes magazine called Guo's purchase of the unit "one of the highest prices ever paid for a New York co-op".
The unit is now on the market, represented by realtor Brown Harris Stevens, which calls the unit a "triple terraced trophy masterpiece". Brown Harris has the unit listed for $78 million.
"As one enters this palatial residence situated on the New York City power corner of 59th Street and 5th Avenue, one is first struck by the unparalleled elegance of its private landing serviced by all three of the building's elevators,"according to the realtor. "The entrance gallery graciously, and sensibly, leads one to all of the major wings of the apartment."