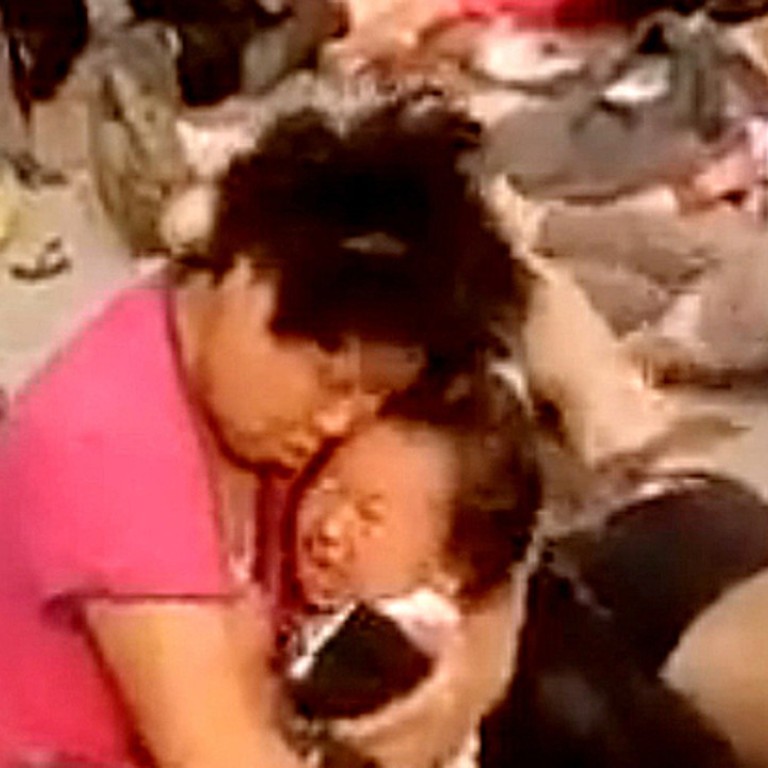 Update

|
Eight killed and 65 injured in kindergarten explosion in eastern China
Cause of blast still being determined but many cooked food stalls using gas cylinders were operating in the area, witnesses say
An explosion outside a ­kindergarten in Jiangsu province in eastern China killed at least eight people and injured another 65, authorities said as they searched for the cause of the blast.
The explosion at the Chuangxin Kindergarten in Feng County happened at around 4.50pm on Thursday as many parents were waiting to pick up children from the school.
Authorities called the blast as a criminal act, according to the state-run People's Daily, which said a suspect has been identified. The People's Daily report didn't provide any details about the suspect.
A witness told the South China Morning Post the blast came just minutes before the end-of-day bell rang.
The Ministry of Public Security sent a team led by a vice-minister to the scene last night, state media reported.
The Xuzhou government, which administers the county, said two people died at the scene and five others at hospital. Nine people were in serious condition as of 7.45pm, it said.
Many of the injured were rushed to the county hospital for treatment.
The cause of the blast was still being investigated, the city government said.
"At about 5pm, we heard a blast and thought it might have been a gas explosion at a nearby food vendor," a local shop owner was quoted as saying by online news portal Sohu. "Many people might be dead."
Another shop owner near the kindergarten, who declined to be identified, told the Post the blast happened a few minutes before the kindergarten opened its doors to allow parents inside to collect their children.
"The parents were all queueing up at the school gate at the time," the shop owner said.
Because the explosion happened just outside the school grounds, the pupils waiting inside classrooms would probably have been shielded from injury, he said.
His daughter attended the school and was later taken home safely by her grandfather, he said.
Many cooked food stalls operated outside the kindergarten and a gas cylinder might have caused the explosion, he said.
In one video clip posted online and appearing to show the ­aftermath, a man covered in blood is seen trying to stand up only to collapse again. His clothes appeared to have been burned off.
Other people lie ­motionless on the ground, while some victims, apparently in shock, try to use their ­mobile phones.
In a separate clip, people are heard shouting: "Blast, blast, dial 110 quickly!"
The gate of the kindergarten appeared to have been bent by the blast, with shattered glass littering the scene.
Citing a witness identified only by the surname Shi, state-run ­Global Times ­reported on its ­website that a gas cylinder had ­exploded at a roadside food stall.
The blast sent people flying several metres into the air, Shi was quoted as saying.
Mainland kindergartens have been targeted in previous years in attacks carried out by mentally unstable people or those bearing a grudge against neighbours or society.
Additional reporting by Associated Press
This article appeared in the South China Morning Post print edition as: Seven killed in explosion near school