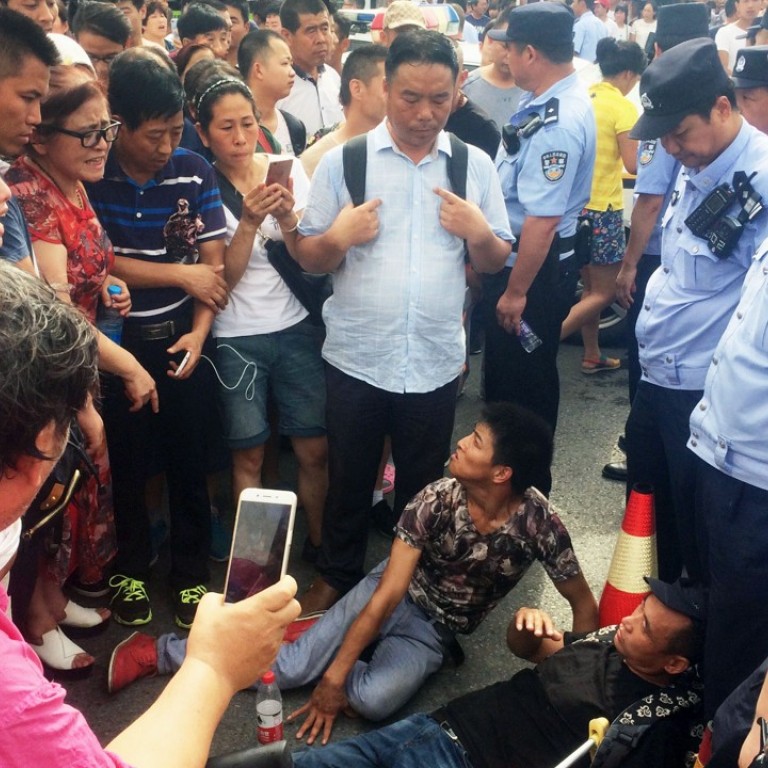 The perils of pyramid schemes: a dark corner of China's economic miracle
Underground get-rich-quick scams that prey on wide swathe of population pose a risk too big for Beijing to ignore
The swollen body of 23-year-old Li Wenxing, a casualty of China's widespread, illegal pyramid sales schemes, was found in a pond on the outskirts of Tianjin on July 14, two months after he arrived in the city.
He'd been desperate for a decent job after graduating from a university in northeastern China last summer, and had left Beijing, where he'd been living in a rented room, by high-speed train on May 20 to start work as a software engineer.
But the job offer turned out to be just bait and police said Li, the son of a peasant family from Shandong province, was instead lured into a pyramid sales scheme after being threatened and brainwashed.
Police have yet to classify his death, which made headlines around the country, as an accident, suicide or murder, but the case shed light on a dark corner of the Chinese economy – the pyramid sales schemes known as chuan xiao (multi-level marketing) that pose huge risks to social stability.
The underground schemes, some involving millions of members, form what has become known as a "grey rhino" risk for Beijing – a danger to the financial system that is too big for the world's second-biggest economy to ignore.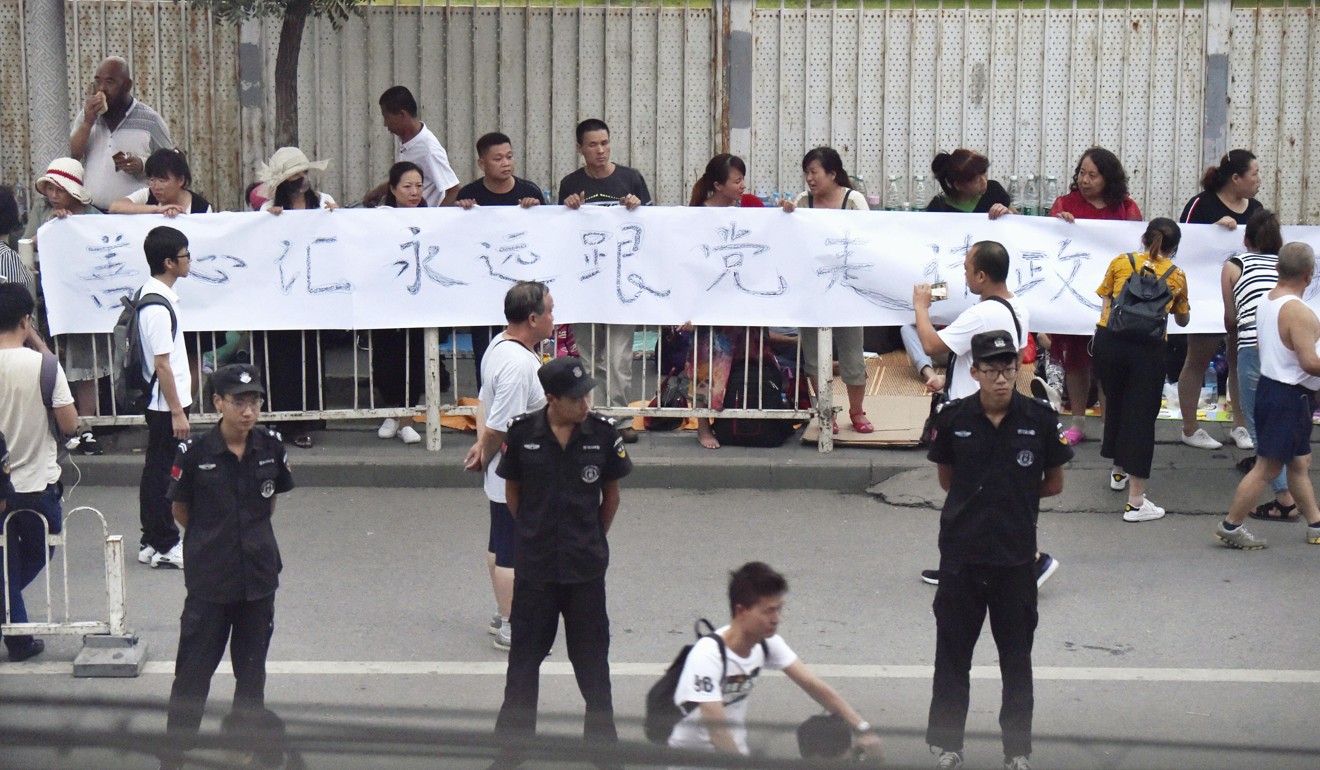 A gathering of thousands of members of Shanxinhui, an illegal fundraising programme marketed as a charity, in Beijing in July laid bare the social stability risks of such schemes. It was the biggest protest in the Chinese capital since more than 10,000 members of the Falun Gong spiritual movement, later banned as an "evil cult", surrounded the Zhongnanhai leadership compound in the centre of the city in 1999.
Zheng Zizhen, a sociologist and economist with the Guangdong Academy of Social Sciences, a government think tank in Guangzhou, said "China's deep-rooted problems – its wealth gap and unbalanced development between urban areas and hinterland provinces" were to blame for the rampant spread of pyramid sales schemes across the mainland.
He said dealing with such schemes was one of the biggest challenges facing the Chinese leadership under President Xi Jinping, which was seeking to build "a moderately prosperous society in all aspects" by 2020, when China should be richer and fairer.
While China's US$11 trillion economy is still growing by close to 7 per cent a year, and newly minted billionaires regularly make headlines, many of those left behind by the economic boom – fresh university graduates struggling to find a proper job, workers laid off from state factories where they toiled for decades, and migrant labourers – also yearn to get rich quick.
Li Xu, the founder of the China Anti-Pyramid Selling Association, told the South China Morning Post that such illegal schemes, based on fraud and threats, were raging across China like an epidemic, infecting one family after another.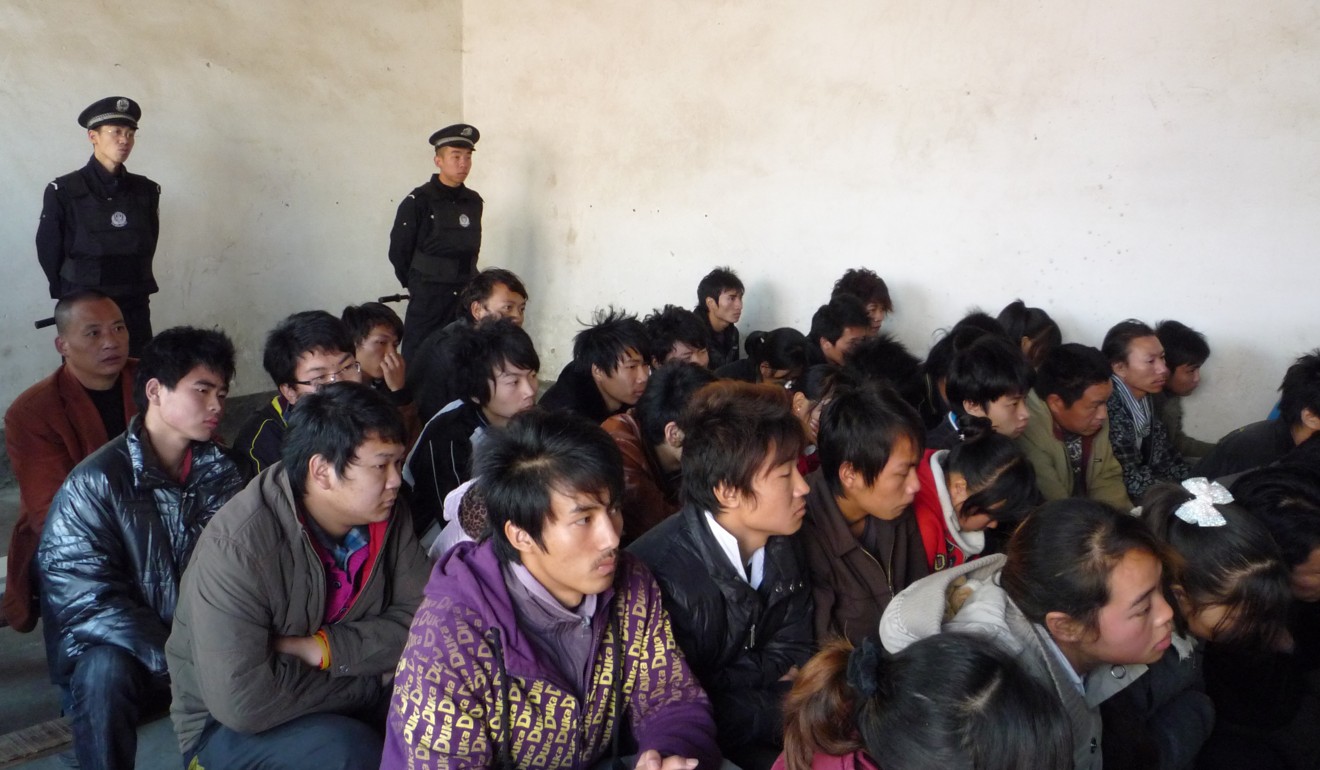 Li, who has been fighting against illegal pyramid sales schemes since 2005, said the promise of quick riches was particularly attractive for people from smaller inland cities and towns where economic opportunities were few, and low-income groups of "migrant workers, laid off workers and fresh graduates" were often easy victims.
Recruits to pyramid sales schemes are promised payments for persuading others to join, and such schemes often turn into Ponzi schemes, with money from new members boosting the returns of more senior ones.
The use of such pyramid structures in sales or marketing is banned in China.
They differ from direct marketing in that they usually do not involve an actual transaction of a commodity. China has approved about 90 "direct marketing" organisations, including Avon and Amway, according to the Ministry of Commerce's website.
While China's economic boom over recent decades lifted hundreds of millions out of poverty, it also transformed China in just a generation from an egalitarian society into a country with one of the world's widest wealth gaps. A Peking University study last year found that the poorest 25 per cent of mainland households owned just 1 per cent of the country's aggregate wealth, while the richest 1 per cent owned a third of the wealth. The country's Gini coefficient, a gauge of income inequality, was 0.465 last year, one of the highest in the world. A reading above 0.4 supposedly means the society is ripe for social unrest.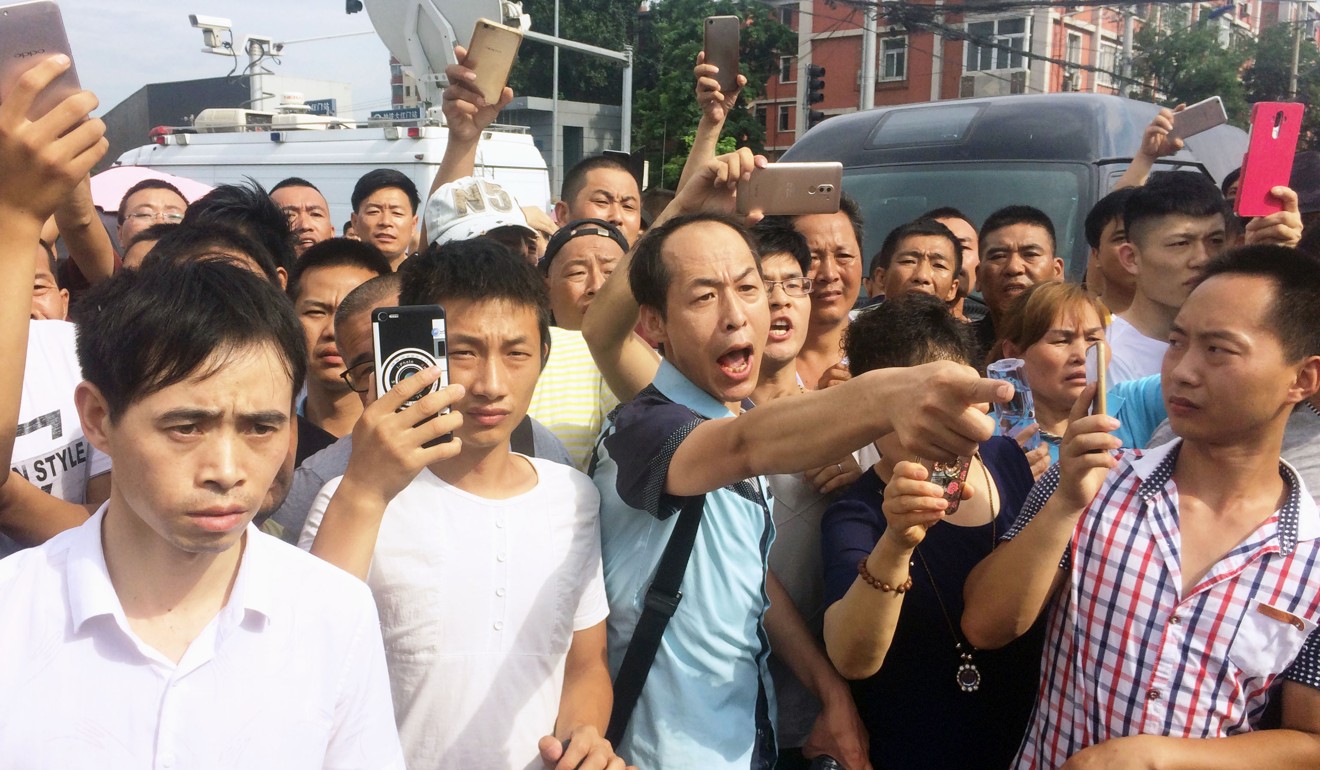 Disadvantaged groups were tempted by get-rich-quick schemes because they saw little chance of finding a regular, day-to-day job that could provide the lifestyle to which they aspired, said Liu Kaiming, head of the Institute of Contemporary Observation, a research agency in Shenzhen.
"Many involved in these pyramid schemes dream ... of getting rich overnight," he said.
Such desperation explains why many victims are young university graduates.
Li Yang, a middle-school teacher in Panyu, Guangdong, said her younger sister, Li Yue, fell victim to an illegal pyramid scheme in the summer of 2015, right after graduating from university.
A schoolmate's phone call lured her from the family home in a rural part of Linyi, in Shandong province, to Hefei, the capital of Anhui province, where she was told that if she could get 27 people to invest 69,800 yuan (US$10,500) each in an investment scheme, she could make 10.4 million yuan within two years. That was a massive amount for a young woman whose parents' annual income was about 40,000 yuan.
Intoxicated by the dream, she began borrowing money from everyone she knew. When her father and uncle sensed something was wrong, they went to see Li Yue in Hefei, her sister said. They found her living in a shabby, undecorated and abandoned flat with a group of other young people and they took her home by force, Li Yang said.
It took several months for her "brainwashed" sister to regain control of her mind, and the family had to work extremely hard to repay 200,000 yuan she had borrowed during her stay in Hefei, Li Yang said.
She said her sister was neither greedy nor unintelligent, but was just one of thousands of young people from poor families in the region who naively believed a pyramid scheme could elevate their social and wealth status after realising that education had failed to do the job.
"My parents used all their savings to help my sister, brother and I go to college. But, to be honest, we couldn't find any good jobs after graduation," Li Yang sad. "I'm a teacher in a small Guangdong school, my brother is a quality inspector and my sister is a housewife. We are all poorly paid, even though we have college diplomas."
In another case, Ding Xunan, a 26-year-old who had formerly earned a modest income working for a state enterprise in Chongqing, said a friend from high school invited him to Wuhan, the capital of Hubei province, in May to join a scheme promising a return of five million yuan in two years.
Ding told the Post the brainwashing process started on a tour around the booming city, where new skyscrapers were springing up on both sides of the Yangtze River, and Ding was told he could be part of that prosperity if he was willing to pay an initial 3,000 yuan and invite more people to join.
Ding said he was placed in a three-room flat, living together with several people his age who encouraged him to join, and he was introduced to "successful" people to listen to their rags to riches stories.
When, on the fourth day, his doubts became overwhelming, he sneaked out of the flat at 4am without waking anyone up, rushed to the railway station to buy a ticket on the first available train out of Wuhan and blocked all phone calls from the group.
"When I recall the experience, it feels really weird ... it can certainly trap many people," Ding said.
Between 2005 and 2015, China broke up more than 21,000 pyramid sales schemes, Xinhua reported.
But Li Xu, from the China Anti-Pyramid Selling Association, said that was just the tip of the iceberg, with at least 200,000 people lured into illegal pyramid sales schemes in Hefei alone.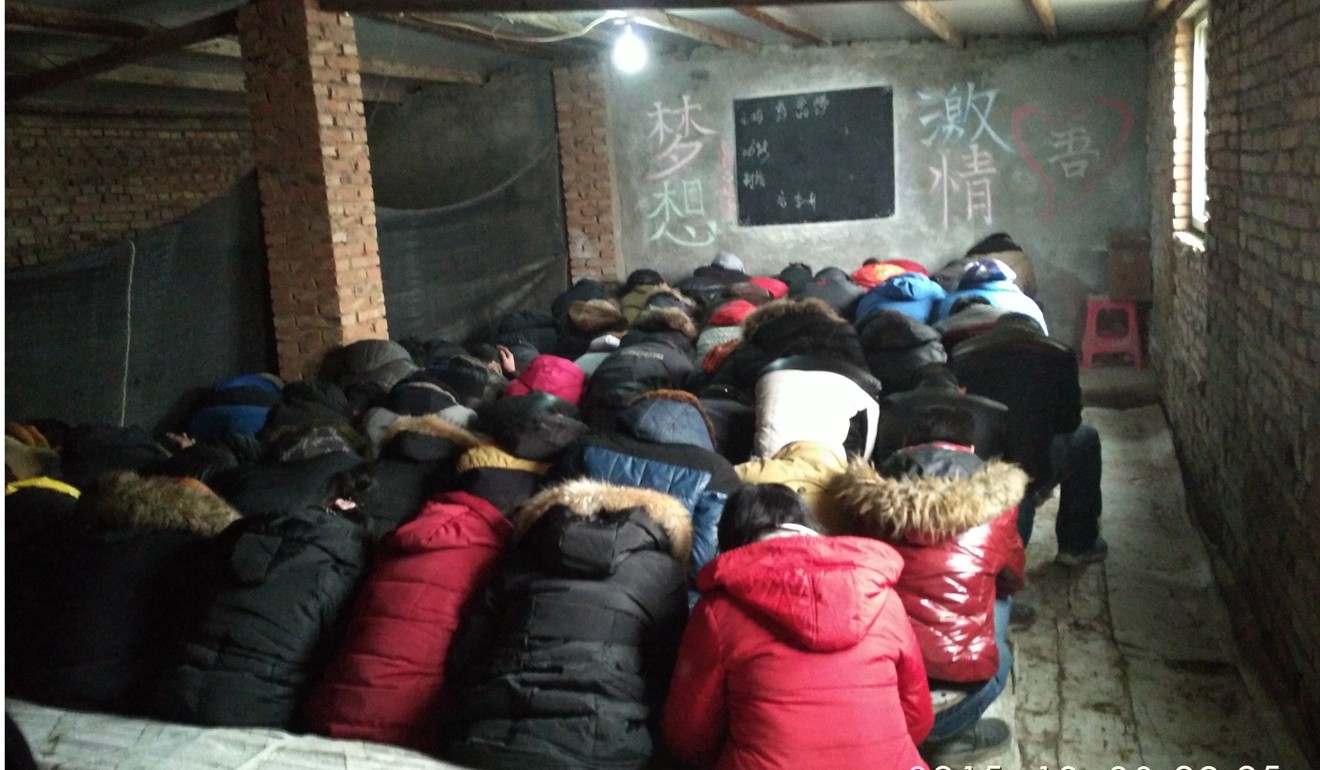 A study by the China University of Political Science and Law's Capital Financial Institute found that internet-based pyramid schemes had lured tens of millions of members.
Following the protest in Beijing, Li Wenxing's death and the resulting public outcry against illegal schemes, the government has become more serious about dealing with the "economic cancer", with the Ministry of Public Security announcing a three-month campaign to uproot pyramid sales organisations.
A week before Li's body was found, Tianjin police announced on their Weibo microblog that they had broken a pyramid sales scheme named Diebeilei, arresting seven ringleaders and 25 key members and confiscating more than a million yuan, with hundreds of members being dispersed. Later police statements said Li was a member of the scheme.