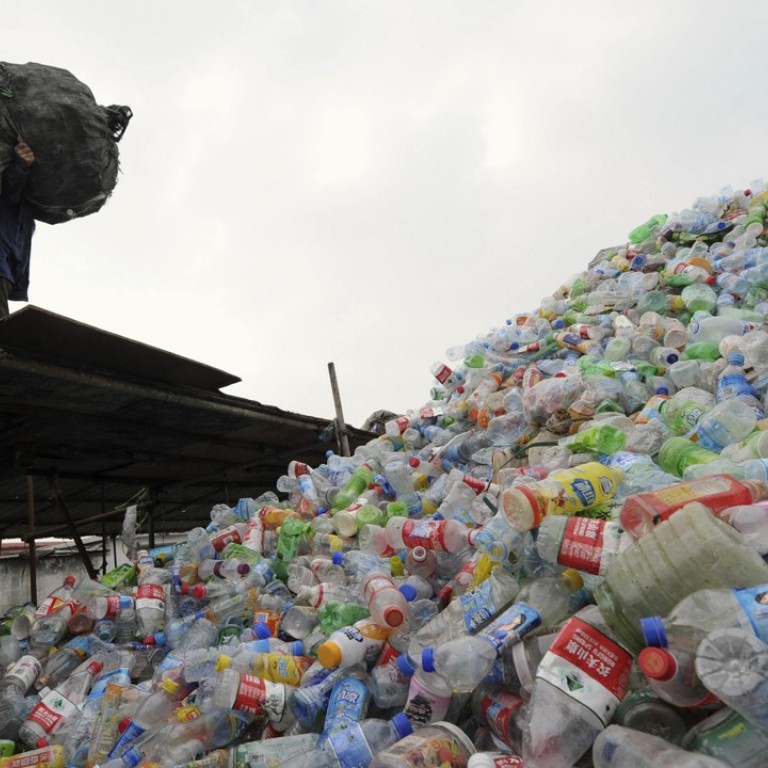 China plastic demand to rise as foreign waste ban curbs recycling
Beijing plans to stop importing garbage by the end of the year in effort to tackle pollution problems, modernise industry
China's soaring plastic demand may rise even further as the government plans to ban waste plastic imports by the end of this year, which will curb domestic plastic recycling.
The expected increase in plastic demand highlights the consequences of China's pollution fight and its efforts to modernise its industry. As part of this drive, the world's top importer of rubbish said in July that it would stop importing garbage by the end of this year.
To make up for the loss of recycled plastic, petrochemical producers and exporters to China from the Middle East, South Korea, Thailand and Singapore are expected to receive more orders for products including polythene, a thermoplastic found in almost everything from grocery bags to bubble wraps, pipes, medical devices and even bulletproof vests.
"From next year, demand for polythene would get even better as the impact of the ban would be felt," said a source from a Chinese firm that produces and markets petroleum and petrochemical products.
China imported 7.3 million tonnes of waste plastics last year, taking in over half the world's leftover plastic.
Of the 7.3 million tonnes, polythene made up about 2.53 million tonnes in 2016 and this is expected to fall to between 1.7 million and 1.8 million tonnes this year, data from IHS Markit Chemical showed.
IHS Markit expects China's polythene demand to grow by 6.6 per cent from 2017 to 2018, outpacing Asia's overall growth of 5.5 per cent.
"The ban of scrap/waste plastics is definitely positive for polythene producers as there will be a shift of consumption from recycled polythene to prime virgins polythene," said J.P. Nah, director of polyolefins at IHS Markit Chemical.
Nah said Asia's 2017 total polythene demand would be about 41.5 million tonnes, with China accounting for some two-thirds of total demand.
China's position as a key Asian producer of disposable medical devices will add to the country's demand for polythene, said Nikhil Vallabhan, a senior consultant at Frost&Sullivan for Asia-Pacific.
Polythene makes up only about nine per cent of the total plastics used in medical devices because of its higher cost over competing plastic polyvinyl chloride. However, polythene demand for the devices is expected to increase in absolute terms, Vallabhan said.
"With countries and regions such as India and Southeast Asia being labelled as destinations for medical tourism, we could expect the demand for high quality medical devices to grow at a robust pace in the region," he said. "The usage of [polythene] in containers, syringe plungers and tubes will continue to grow."
This article appeared in the South China Morning Post print edition as: Demand for plastic set to rise after imports ban