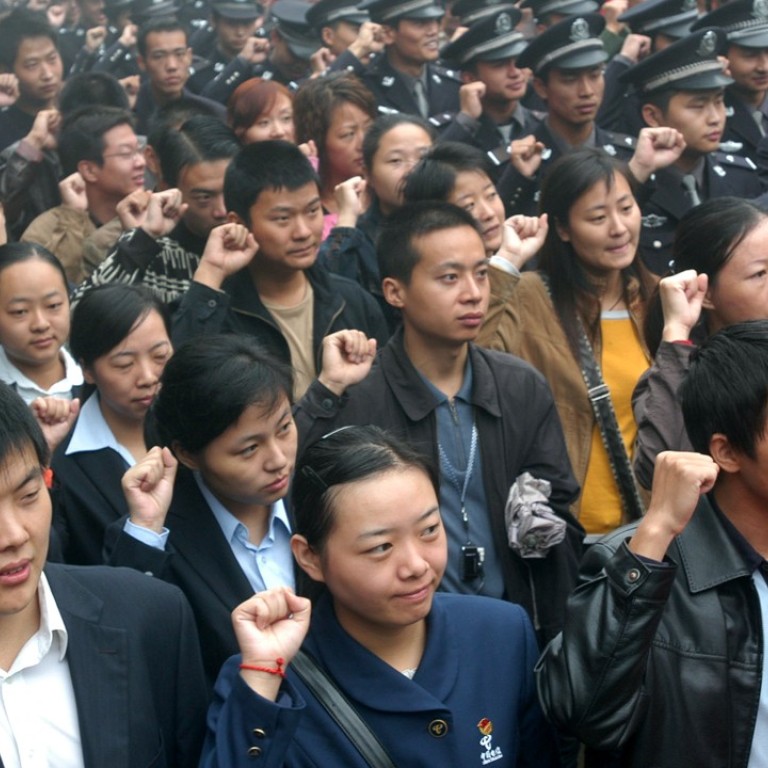 China's Communist Youth League opens Twitter account amid crackdown on internet access
Social media platform will help Beijing expand its 'ideological battlefield' beyond national borders, expert says
The youth wing of the Communist Party of China has opened a Twitter account and last week sent its first tweets, just as Beijing has been stepping up its efforts to prevent the public from accessing the social media platform and viewing other online content it deems inappropriate.
The Communist Youth League of China set up the account – CYL @ccylchina – earlier this month and published the first of its 10 tweets to date on Thursday. The message said the aim of the account was to "deliver information about the league and on issues of interest to young people". All of the tweets were written in Puthongua.
As of Sunday, the league was following 15 other Twitter accounts, including those of state broadcaster CCTV, Xinhua, China Daily and People's Daily, and had 384 followers of its own. Already, some of those have questioned why the Youth League was using Twitter when the service was officially blocked in China.
"I would like to ask the Communist Youth League, how come you can use Twitter?" a person wrote on the account's homepage.
"If you believe Twitter is a good thing, please tell me why [the Chinese government] doesn't allow its people to use [it]?" another asked.
Shanghai-based political commentator Chen Daoyin said the opening of the account was the latest indication that Beijing wanted to expand its "ideological battlefield" beyond national borders.
"Beijing is no longer satisfied with just exporting Chinese culture. Now it wants to be able to influence public opinion overseas," he said.
He cited the example of how in 2015 the Facebook account of Tsai Ing-wen – now Taiwan's president, but then only a candidate – was flooded with tens of thousands of posts demanding the island be reunified with the Chinese mainland.
China's publicity authorities were now "unashamedly" ordering their foreign counterparts to "listen to Beijing", Chen said.
Last month, Britain's Cambridge University Press, the world's oldest publishing house, blocked online access to more than 300 articles from its China Quarterly at the request of the General Administration of Press and Publication. However, it later bowed to global pressure and reinstated them.
Calls to the Communist Youth League in Beijing went unanswered on Sunday.
The opening of the organisation's Twitter account stands in stark contrast to Beijing's latest efforts to make its Great Firewall even more impenetrable. While the league – which is an incubator for the country's future leaders – will be free to use the banned social media platform to bypass the censors, news emerged earlier this month that a 26-year-old man from southern China's Guangdong province had been sentenced to nine months in prison for providing access to virtual private networks that achieved exactly the same result.
On September 8, China's internet regulator issued an ultimatum to all users of Weibo – the local equivalent to Twitter – demanding they register their accounts under their real names. The deadline for compliance passed on Friday.
Also this month, Beijing issued new rules to make chat group administrators legally responsible for messages posted in their forums, while a member of a Muslim minority group was sentenced to two years in prison for forming an online discussion group to teach Islam.
The youth league is not the first Communist party mouthpiece to use Twitter to get its message across, however. People's Daily has been using the social media platform since 2011 and currently has about four million followers. It also has 40 million followers on Facebook, despite the fact that that too is officially blocked in China.
This article appeared in the South China Morning Post print edition as: Party youth wing now on Twitter despite ban