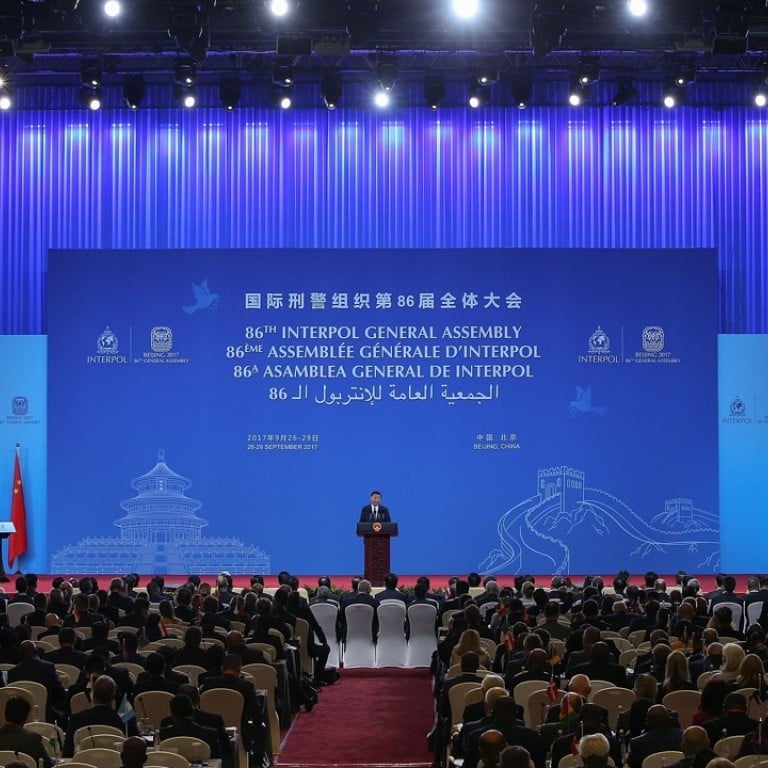 All nations have right to be involved in global security, Xi Jinping tells Interpol meeting
China pledges more support for global agency as it continues to seek its help in tracking down fugitives
All nations have a right to be involved in regional and global security issues, China's President Xi Jinping said on Tuesday in his speech to mark the opening of Interpol's general assembly in Beijing.
"China is willing to work closely with other [Interpol] member states, international groups and institutions ... and actively participate in global security governance," he said in a keynote address.
Flanked by several of his top law enforcers, including party security chief Meng Jianzhu and Minister of Public Security Guo Shengkun, Xi said China would also sponsor police training and tactical development under the Interpol umbrella.
This would include setting up a police academy to train 20,000 law enforcement personnel for developing countries. China would also sponsor the establishment of Interpol communication systems and criminal investigation labs in 100 developing nations, he said.
While the France-based agency has traditionally been dominated by Western nations – it has historically cooperated with the United Nations in which the United States has a strong influence – China has increasingly sought a more active role.
"All countries have an equal right to participate in global and regional security issues," Xi said.
He also said: "Countries, while maintaining their own security, should take into account other countries' security."
Since coming to power in 2012, Xi has frequently called on Interpol for help in tracking down and repatriating suspects wanted in connection with crimes in China. Last year, Interpol elected Meng Hongwei, a vice-minister for public security, as head of the agency, the first ­Chinese national to hold the post.
According to figures published by Xinhua on Tuesday, China requested Interpol issue 612 red notices – alerts sent by the agency to police authorities in member nations to tell them of criminals and crimes – in 2016 alone.
On Monday, the official Legal Daily reported that in recent years the agency had issued about 200 such notices annually at China's request.
Also last year, China made about 300 investigation requests through Interpol and handled more than 2,500 requests made by other countries, Xinhua said.
While rights groups have raised concerns that China has attempted to use Interpol red notices to track down dissidents and political opponents, the agency's Secretary General Jurgen Stock was quoted by Reuters as saying that the organisation had "significantly increased" its vetting of red notice requests and that last year "99 per cent" of them complied with its internal regulations.
Among those targeted by the system are dissidents such as Dolkun Isa, the general secretary of the Munich-based World Uygur Congress, and US-exiled pro-democracy activist Wang Zaigang.
In April, Beijing also requested a red notice be issued for controversial fugitive tycoon Guo Wengui, who is wanted in China on corruption charges.
Bates Gill, an expert on Chinese foreign policy at both Macquarie University and Australian National University, said it was likely that Beijing was seeking a greater role in Interpol as it has not been able to establish judicial cooperation with some countries and needed more help to track down suspects.
"The problem for PRC [China] is that lots of countries don't believe in its justice system," he said. "They haven't been able to achieve the right kind of treaties and arrangements with other countries that would allow them to bring people they want back to justice."
Maya Wang, a Hong Kong-based researcher at Human Rights Watch, said she was worried that China was trying to use Interpol to further its own interests.
"The Chinese government is influencing these international organisations ... it tries to export its world view internationally ... to push for rules, changes to the rules, and to push for a world view that is more congruent to the Chinese government," she said.
This article appeared in the South China Morning Post print edition as: Xi seeks greater interpol role for all