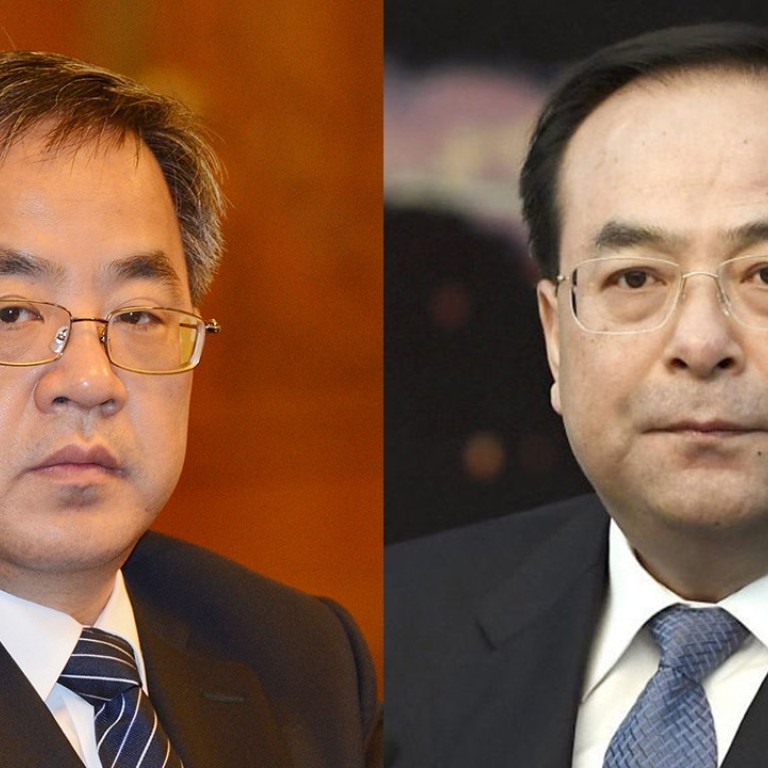 Chinese 'leader-in-waiting' joins chorus of condemnation of former high-flyer Sun Zhengcai
Guangdong chief Hu Chunhua tells local Communist Party members to 'learn a lesson' from demise of former Chongqing boss
Hu Chunhua, the man once tipped to take over China's reins as a leader alongside disgraced Chongqing chief Sun Zhengcai, has thrown his weight behind Beijing's decision to expel the former high-flyer.
Chairing a meeting of senior cadres on Saturday, the Guangdong provincial party boss passed on details of the investigation and dismissal of Sun, urging Communist Party members to learn a lesson from the case, according to official media reports.
He also called for loyalty to Xi and the party's central leadership "everywhere, at all times, and in all matters".
"The meeting called on attendees to firmly support the party's decision to probe Sun Zhengcai," Nanfang Daily reported on Sunday. "It fully underlined the resolution of the party's central leadership to rule the party strictly."
Hu – like Sun before he came under investigation in July – is seen by many as a possible future leader of China.
Both men were promoted to the 25-strong Politburo in 2012, when President Xi Jinping came to power. They were also widely seen as outgoing president Hu Jintao and premier Wen Jiabao's preferred candidates to eventually succeed Xi and Premier Li Keqiang.
Beijing-based political commentator Zhang Lifan said Beijing's decision to bring down Sun also underlined Xi's rejection of the party's informal succession rules, under which state leaders decide who succeeds their successors – rather than who follows immediately in their own footsteps.
"Rejecting such rules will not only affect Sun, but also Hu Chunhua," Zhang said. "Hu Chunhua's political future will not be easy."
The announcement of Sun's expulsion came less than three weeks before the party's five-yearly congress and changing of the leadership guard.
Xinhua reported on Friday that Sun had been handed over to prosecutors on corruption charges.
It earlier cited the Central Commission for Discipline Inspection investigation as saying that he had "seriously violated party discipline and rules" and his communist "belief was shaken".
He was accused of a long list of wrongdoings – from nepotism to leaking party secrets – it said, without providing details.
Since the announcement of Sun's expulsion, many individuals and organisations have expressed their support for the decision and publicly criticised the once rising star.
Hu Chunhua's comments were mild compared with those of many cadres who described Sun's behaviour as "shocking".
In Chongqing, the party committee said there were serious lessons to be learned from the case, while in Jilin province, where Sun had previously been party chief, cadres accused their former leader of "ignoring the development of Jilin and thinking only about his political future".
In Beijing, the municipal party committee claimed Sun's discipline violations started in the nation's capital, where he rose from an agricultural researcherto become the secretary general of the capital's party committee.
Hunan province's leadership referred to Sun as a "double-faced man", a Chinese expression for a political chameleon.
This article appeared in the South China Morning Post print edition as: rising star turns on disgraced Sun