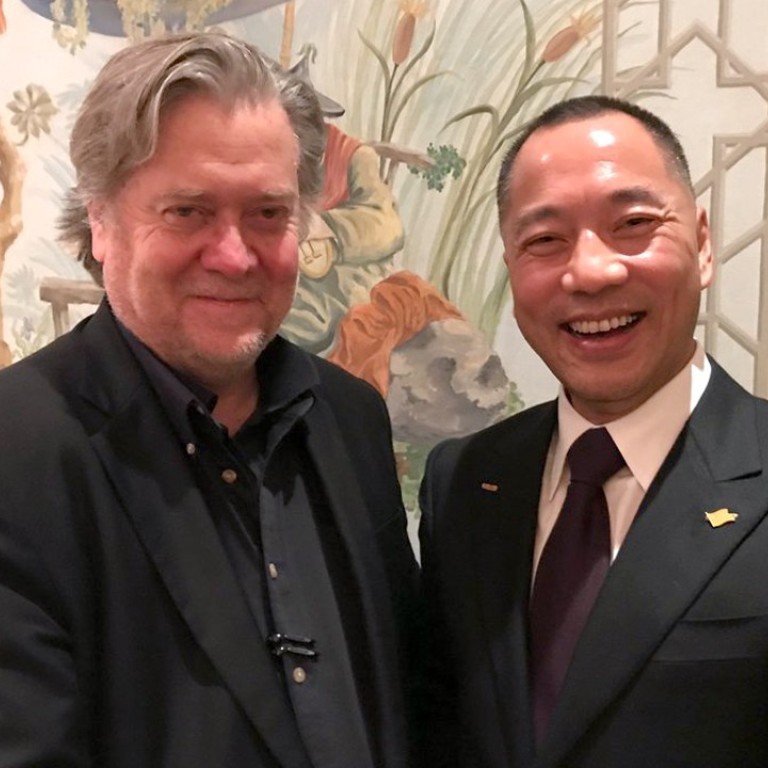 Chinese fugitive Guo Wengui tweets images of two meetings with ex-White House strategist Steve Bannon
Exiled businessman says pair met twice in less than a week – for lunch and dinner – but discloses no information about their talks
Chinese fugitive tycoon Guo Wengui on Tuesday posted photographs on Twitter of himself meeting former White House chief strategist Steve Bannon twice in less than a week.
In the post, the billionaire businessman, who is wanted in China on corruption charges, said he first met Bannon for lunch in Washington on Thursday after attending an event at the National Press Club. The second meeting came on Tuesday, when Bannon and his team visited Guo's home in New York for a 3½-hour dinner.
The post was accompanied by four photographs of the two men. It did not say what they talked about, but said Bannon had agreed for the images to be posted on the social media site.
Neither Guo nor Bannon's spokesperson immediately responded to requests for comment from the South China Morning Post.
The Twitter post came after Bannon was reported to have met Wang Qishan, head of China's Central Commission for Discipline Inspection, which has spearheaded the Communist Party's anti-graft campaign, in Beijing last month.
Wang is at the centre of the unsubstantiated corruption allegations made by the exiled businessman against senior members of the party in the run-up to the 19th national congress, which starts next week.
According to unnamed sources cited by the Financial Times last month, Wang and Bannon met for about 90 minutes at the party's headquarters in Zhongnanhai. The report said Wang asked Bannon, who left US President Donald Trump's administration in mid-August, about economic nationalism and populist movements – the subject of Bannon's speech at an investor conference in Hong Kong in mid-September.
The Chinese government has made various attempts to discredit Guo, who is wanted in connection with several alleged crimes including bribery, fraud and rape. He is also the subject of an Interpol red notice that Beijing requested in April.
While speaking at the National Press Club event on Thursday, Guo said China had sent dozens of spies to the US, but his claims were later dismissed by the Chinese Ministry of Public Security.
As well as visiting China, Bannon last month travelled to the United Arab Emirates, where he met the crown prince of Abu Dhabi, Sheikh Mohammed bin Zayed Al Nahyan, The New York Times reported.
Chinese financial magazine Caixin reported in July that Guo had been introduced to bin Zayed in 2013, and that the prince had helped him to raise US$3 billion for a fund jointly held by Guo and Abu Dhabi authorities.