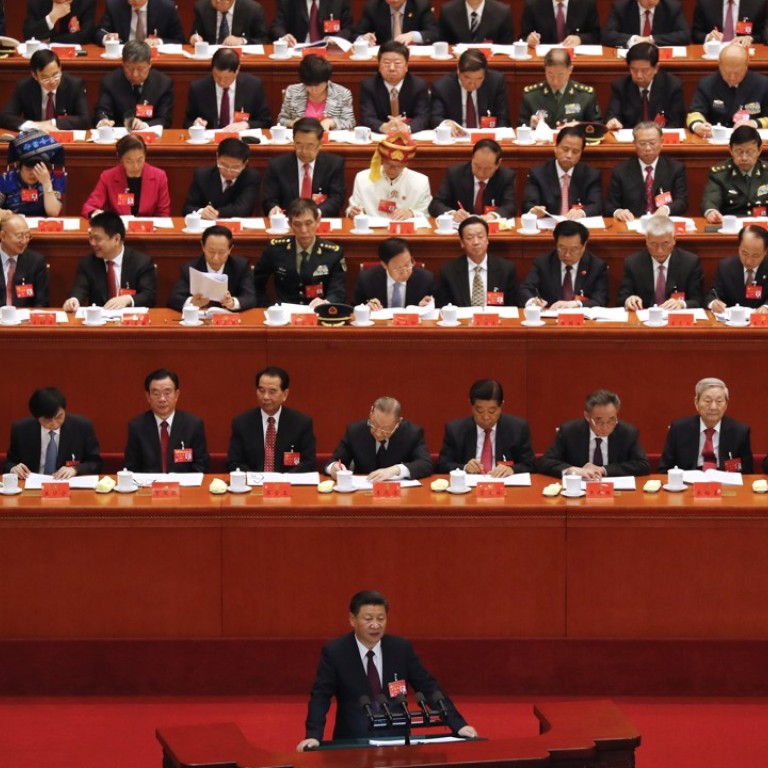 Xi warns party to tackle challenges as China moves into new 'modern socialist' era
President looks beyond 2020 towards 'modern socialist country' but warns of tough challenges ahead
Chinese President Xi Jinping mapped out a confident vision of China's rise as a global power by 2050, opening a twice-a-decade party gathering on Wednesday by reaffirming the Communist Party's continued control and pledging the start of a "new era".
In one of his most important political addresses since taking power five years ago and underscoring his own pivotal role since then, Xi declared China had entered a new phase to create a "modern socialist country", a declaration analysts saw as a prelude to the omnipresent party-state under his governing philosophy.
"Right now both China and the world are in the midst of profound and complex changes," he told more than 2,300 delegates at the Great Hall of the People in Beijing.
"China is still in an important period of strategic opportunity for development. The prospects are bright, but the challenges are severe."
In an all-encompassing, 3½-hour speech that will set the tone for the country's development over the next decade, Xi urged the party to tackle these severe challenges, from widespread corruption and imbalances in the economy to mounting social unrest and a long list of other social and environmental woes.
Despite criticism of his tightening grip on power and narrowing space for civil society, Xi signalled his confidence that relatively high economic growth combined with deepening reforms and better income distribution, a continuing crackdown on corruption and the shaping of its political system on its own terms would engender the party's legitimacy.
Xi appeared to be more ambitious than his predecessors, as he unveiled a two-stage plan to transform China into a "great modern socialist country" by mid-century. Under the plan, China will realise a moderately prosperous society by 2020 and socialist modernisation by 2035. China would become a modern socialist power that was "prosperous, strong, democratic, culturally advanced, harmonious and beautiful" by 2050.
Observers said this was the first time the party had set out a post-2020 plan.
Amid widespread speculation that his development philosophy will be enshrined in the party's constitution at the end of the week-long congress – giving him the same stature as Mao Zedong and Deng Xiaoping – Xi said the country had formed "thoughts on socialism with Chinese characteristics for the new era".
In separate panel meetings with provincial delegates, Politburo Standing Committee members Zhang Dejiang, Liu Yunshan and Yu Zhengsheng labelled these ideas as "Xi Jinping's thoughts on socialism with Chinese characteristics for the new era", hinting at their impending elevation into the constitution.
In a politically choreographed show of unity, former presidents Jiang Zemin and Hu Jintao followed Xi as he walked into the hall, flanking him at the rostrum while dozens of party elders rarely seen in public in recent years were seated in the same row.
Xi conceded during the televised event that the survival of one-party rule would be decided largely by the fight against corruption, which remained "grave and complex" despite the much-touted success in snaring a long list of corrupt officials.
"The people resent corruption most … Only by intensifying efforts to address both the symptoms and causes of corruption … can we avoid history's cycle of rise and fall and ensure the long-term stability of the party and the country," he said.
Xi struck a nationalistic chord throughout his speech, calling for the party to not only safeguard China's sovereignty but also to assert itself in every possible aspect of Chinese people's lives in an ideological crusade to crush any attempts to undermine the party leadership or copy Western-style democracy.
"No one political system should be regarded as the only choice, and we should not just mechanically copy the political systems of other countries," he said.
Xi also pledged further controls on the media and the internet while strengthening the country's soft power, such as building more think tanks "with Chinese characteristics" and promoting so-called socialist moral values.
"The great rejuvenation of the Chinese nation is no walk in the park or mere drumbeating and gong-clanging. The whole party must be prepared to make ever more difficult and harder efforts," he said.
Stressing that a nation would prosper only if its youth were allowed to thrive, he said: "To all our young people, you should have firm ideals and convictions, aim high, and have your feet firmly on the ground."
He also said China would push for innovation and give priority to projects such as genetic technology.
Xi listed his bold military reforms, the strengthening of one-party rule, poverty reduction, and Beijing's controversial push for artificial island construction in the disputed South China Sea as topping his trophy list over the past five years.
He also touted China's "Belt and Road Initiative" to revive trade along the old Silk Road and maritime routes as having "created a favourable environment for the country's overall development".
He stressed the party's absolute control of the armed forces, adding that the aim of military reform was to realise modernisation by 2035 and to transform the People's Liberation Army into a world-class outfit by 2050. "A military is built to fight," he said.
Military analysts said Xi was yet again underlining his ambition to turn the PLA into a modern fighting force with a combat capability comparable to its US counterpart.
"This is a new 15-year plan initiated by Xi to use the country's growing economic clout to push for a stronger PLA, which is aimed at making China a global military power like the US around 2049," Hong Kong-based military observer Liang Guoliang said.
Amid concerns and suspicion about the intention behind China's rise and his plan to build a world-class military in the next three decades, Xi pledged that Beijing would never seek regional hegemony or an expansionist policy at the expense of other countries.
"China will never advance itself at the expense of the interests of other nations, but we will never give up our lawful rights," he said. "No one could expect us to swallow consequences that damage our sovereignty, security and developmental interests."
At the same time, "China will continue its efforts to safeguard world peace, contribute to global development, and uphold international order", he said.
Xi highlighted the mounting uncertainties and challenges facing the world, such as regional and economic instability, a widening wealth gap, terrorism, major epidemics, cyberspace insecurity and climate change.
In a reference to rising protectionism and anti-globalisation sentiment in the United States and Europe, and America's declining global leadership under President Donald Trump, Xi said: "No country alone can handle all sorts of challenges that humanity faces and no country can slide back into isolation."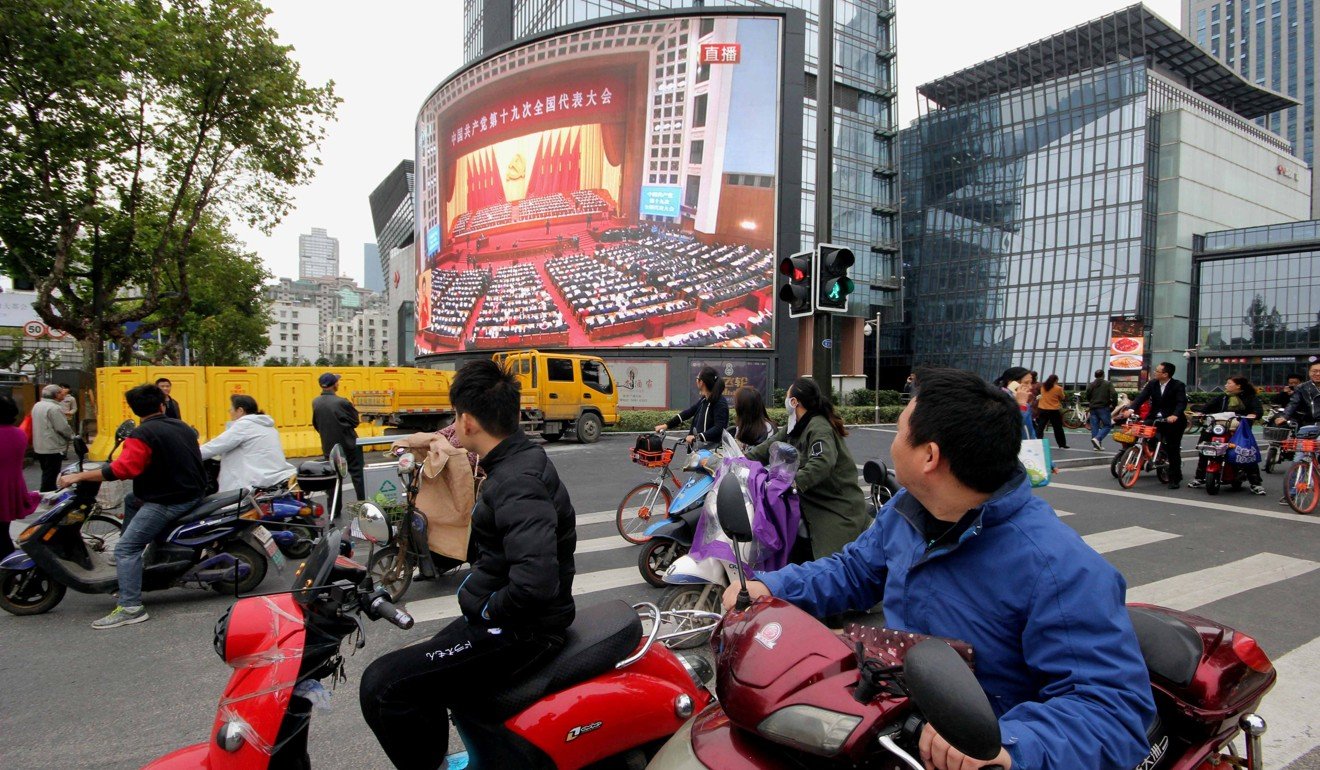 Setting out a new relationship with Hong Kong, he said the high degree of autonomy that the city enjoyed would be coupled with the central leadership's "comprehensive jurisdiction".
Without naming Taiwanese President Tsai Ing-wen and her ruling pro-independence Democratic Progressive Party, Xi vowed to crush any attempts to separate Taiwan, which Beijing considers a breakaway province, from the mainland.
Beijing would not allow "any individual, any organisation, any political party, at any time or by any means, to split any single piece of the Chinese territory", he vowed, to rapturous applause from the delegates.
Xi pledged that China would continue to open up, grant greater market access to foreign investors, make state-owned enterprises bigger and stronger, deepen financial reforms and fend off systemic financial risks.
"Development remains the foundation and the key to all the problems China faces," he said.
He also raised the need for wealth distribution, environmental protection and poverty reduction, identifying the widening income gap as one of the grave issues that had not been adequately addressed.
He promised to extend land-use contracts for farmers for another 30 years after expiration, to motivate them to invest in collectively owned land.
Christopher Balding, associate professor at Peking University's HSBC Business School in Shenzhen, said it was a bit confusing to read into a speech packed with political slogans and clichés.
"One of the things that's going to be very interesting is, what does it mean going forward and how do [the slogans] play out in practice for China's development? Right now I don't think anybody really knows," he said.