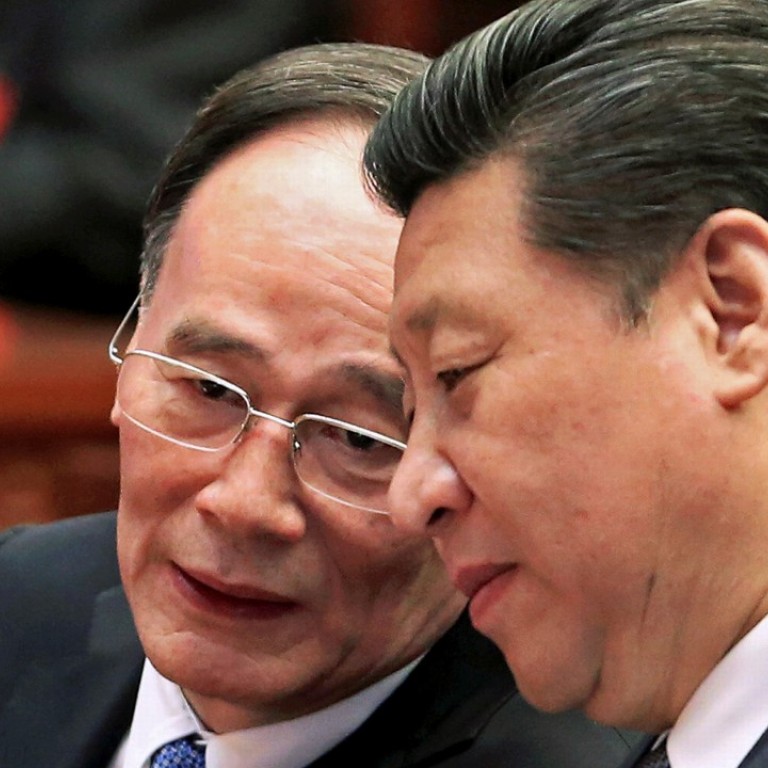 Exclusive
He's the anti-graft tsar about to leave China's top leadership. So what will happen to Wang Qishan?
Wang Qishan, a key ally of President Xi Jinping, could be given position on powerful National Security Commission
Wang Qishan, the feared anti-graft tsar billed as "China's second most powerful man", is likely to step down from the ruling Communist Party's supreme Politburo Standing Committee on Wednesday, sources have told the South China Morning Post.
On Sunday, delegates to the party's national congress in Beijing held closed-door meetings to discuss the lists of candidates for its elite Central Committee and anti-graft watchdog, the Central Commission for Discipline Inspection. Two sources who have seen the lists confirmed to the Post that Wang was not among the names, meaning he will step down from the Politburo Standing Committee.
Zhao Leji, the party's organisation chief, appeared on both lists, confirming an earlier Post exclusive report that he is expected to take over anti-corruption responsibilities from Wang.
But the trusted ally of President Xi Jinping is unlikely to go into full retirement. Nicknamed the party's "fire chief" for his ability to manage political crises, Wang could still help Xi in some other capacity, sources familiar with the top-level discussion said.
Speculation about Wang's future dominated overseas media discussion of the party's national congress – which will usher in sweeping leadership changes – ahead of its opening on Wednesday. That is a reflection of the weight Wang carries as the galvanising force behind Xi's popular anti-corruption campaign, a role that has made him widely respected and feared within the party.
It is understood that Xi has carefully weighed his options and consulted Wang. In the end, the president decided to let Wang retire from the Politburo Standing Committee largely because he had reached the unofficial retirement age.
An unwritten party rule dictates that all members of its top decision-making body aged 68 or older at the time of a party congress should step down. Wang turned 69 in July.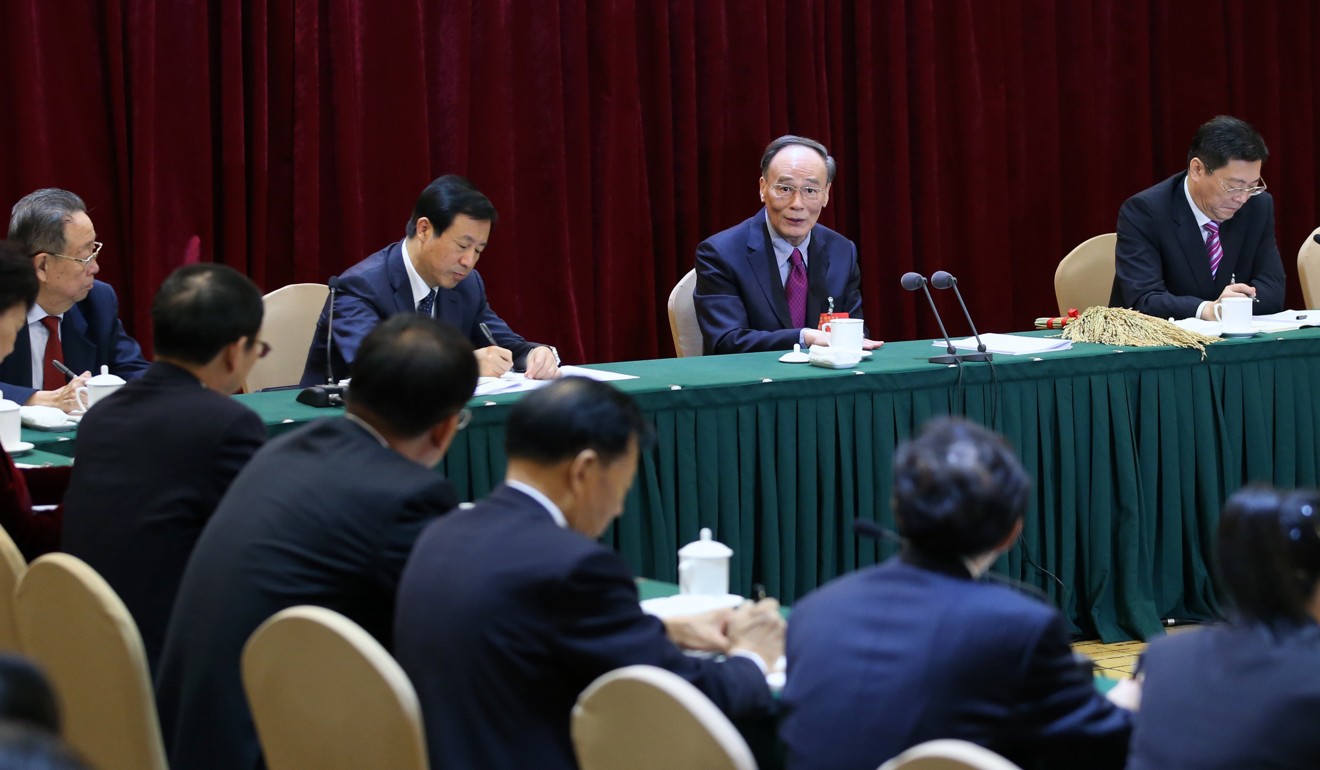 There were earlier indications the rule might be relaxed, paving the way for Wang to remain a Politburo Standing Committee member. But sources said that Xi ultimately leaned towards maintaining political continuity and stability when deciding the leadership line-up.
"The age limit and seniority still matter in deciding a candidate," a source said. "These norms are important to forge consensus [among different factions] and maintain stability."
China watcher Trey McArver, co-founder of Beijing-based research firm Trivium China, said Xi valued the importance of established political norms.
"Xi first and foremost is a party man, and his main goal is to strengthen the party," he said. "As a child of the Cultural Revolution, he understands the importance of the political norms … he definitely does not want to do anything that would be destabilising to the system that has been created and has been very successful and stable over the past 40 years."
McArver said Xi could change or negotiate some sort of exception to the norms if necessary, but he would back off if it risked undermining party stability.
"Part of the reason Xi is so powerful is because he has a broad range of support at the top of the party," he said. "He would seek consensus if he wanted to keep Wang on … if he did perceive there would be a political cost, or there was no buy in from other members of the political elite, I think he might back off."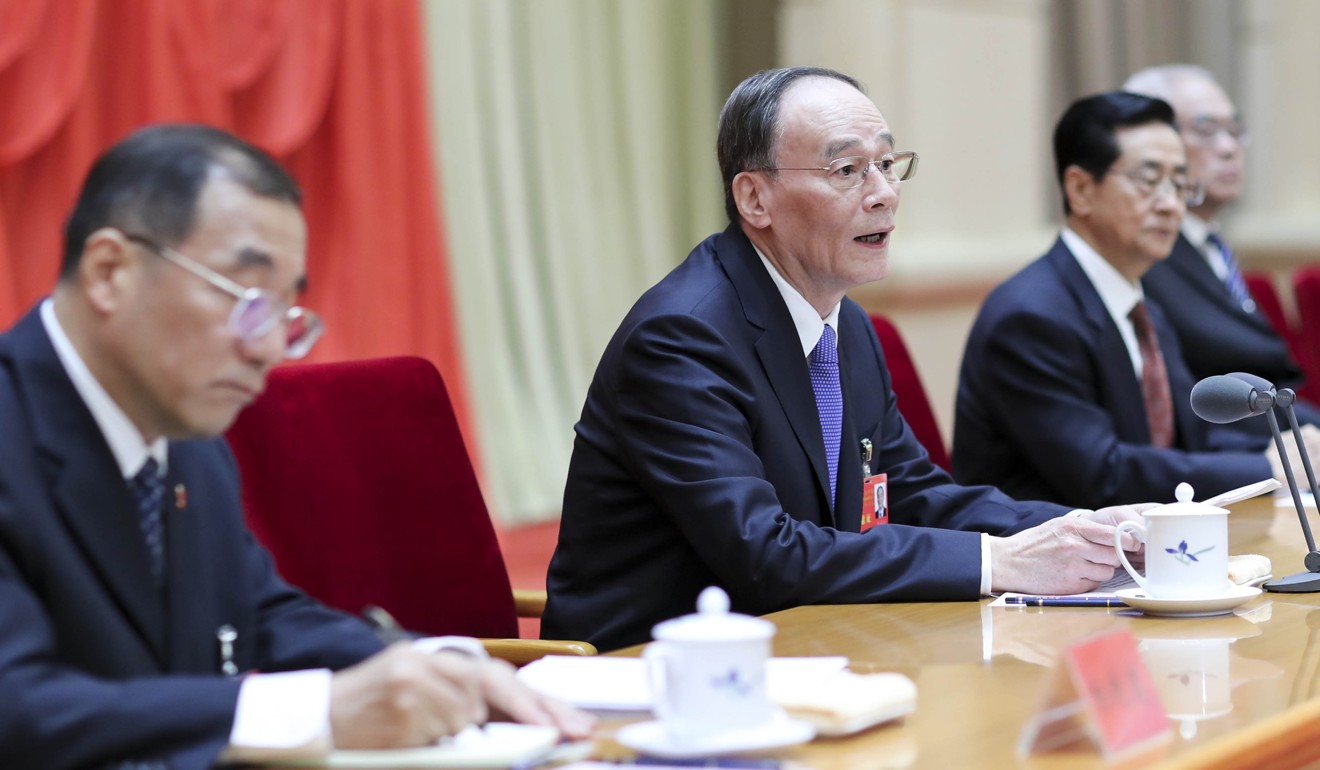 Another factor is Wang's own preference. Having enjoyed a successful career, a source said Wang wanted to "bow out on a high note". He is understood to have asked people close to him whether he should stay, and in the end decided it would be better to take a more back-seat role rather than stay on the front line.
"I don't think Xi is going to keep somebody on if they don't want to stay there," McArver said.
With his wealth of political experience and influence, it is unlikely Wang will go into full retirement, with a source saying Xi would carve out a new role for his trusted ally.
It is not immediately clear what that new role would be. One suggestion is that Wang might take up a position at the powerful National Security Commission (NSC).
Established in 2014, the NSC provides unified leadership for different security apparatus. It wields tremendous power and is headed by Xi himself. Photos from its first publicised meeting – on April 15, 2014 – showed that its members include 12 Politburo members and eight top officials from the government and military.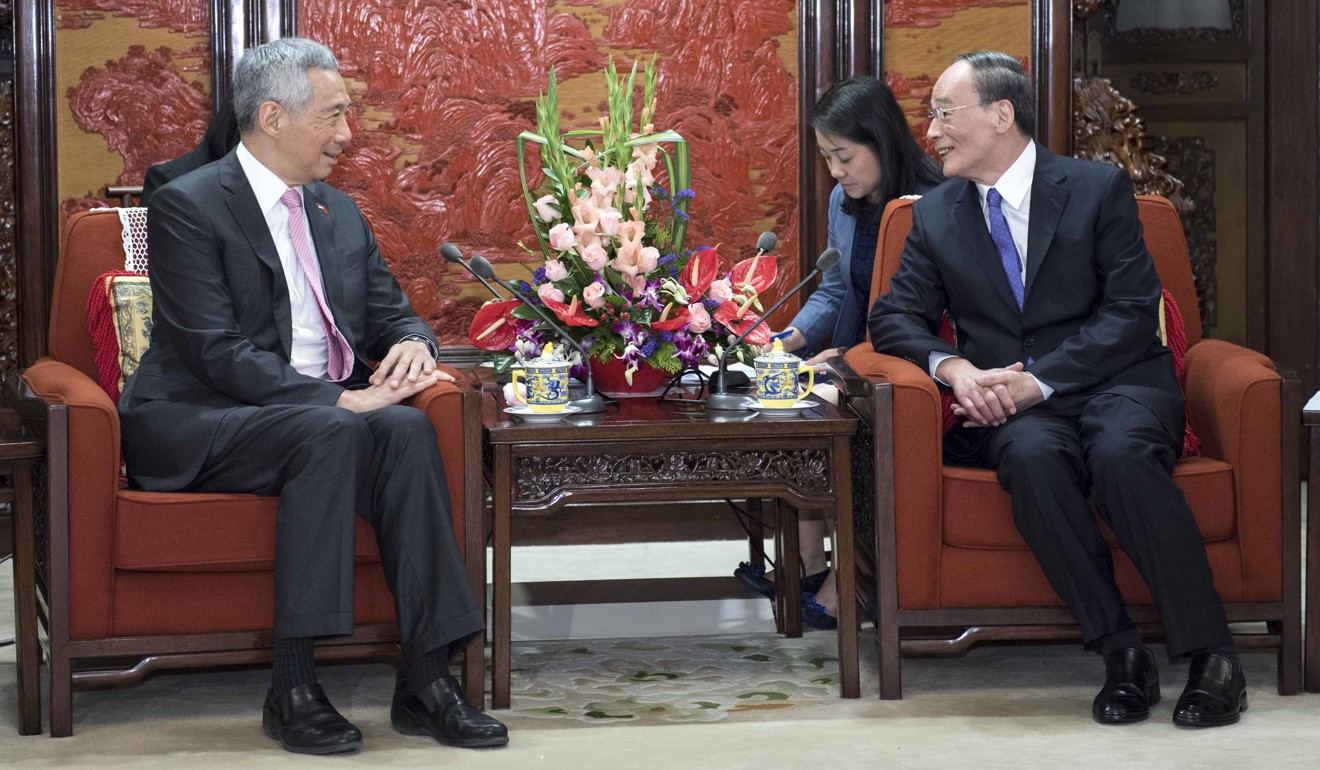 Some of them, such as former Chongqing party boss Sun Zhengcai, have since fallen from grace. Others are due to retire at the end of the party congress on Tuesday, opening up the opportunity for sweeping changes.
Last month, just weeks before the opening of the party congress, Wang met Singaporean Prime Minister Lee Hsien Loong in Beijing at the latter's request. A few days later he met American President Donald Trump's former chief strategist Steve Bannon, who stepped down from the US National Security Council in April.