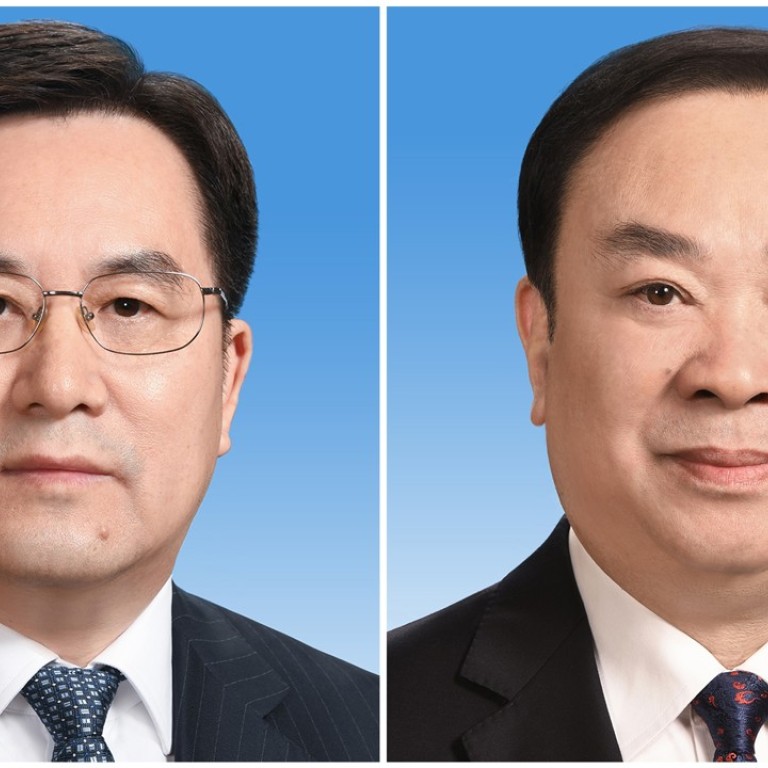 Xi Jinping's allies named as head of propaganda, chief of staff as president tightens grip on power
Move comes after other trusted associates were named party bosses of Shanghai, Guangdong over the weekend
Two more of Chinese President Xi Jinping's close allies have landed senior positions in the ruling Communist Party – as head of propaganda and Xi's chief of staff.
Huang Kunming, 60, on Monday attended a meeting of the central propaganda department as its chief, while Ding Xuexiang, 55, was made the director of the general office of the Central Committee, state media reported.
Both were formerly second in command of their respective departments and were waiting in the wings for promotion.
The two men were among a slew of Xi loyalists promoted to the party's powerful 25-member Politburo during the leadership reshuffle at the 19th national party congress that ended last week.
At the weekend, Xi's allies Li Qiang and Li Xi were named party bosses of the economic powerhouses of Shanghai and Guangdong, respectively.
Meanwhile, a former deputy to Li Zhanshu, Xi's closest ally who now ranks third on the Politburo Standing Committee – the party's apex of power – is the front runner to lead the world's largest police force, sources told the Post.
Huang worked with Xi in Fujian and Zhejiang provinces from the mid-1980s to 2007. In 2013, two months after Xi delivered a hardline speech about propaganda and ideology, the Fujian native was promoted to deputy director of the central propaganda department.
Under Xi, the party has further tightened its control on the media, the internet and ideology through a wide range of measures from intensifying and extending censorship, and warning professors to steer clear of topics such as democracy and universal values, to dispatching discipline inspectors to party-run media organisations and top universities.
Huang himself has expressed a deep mistrust of Western powers.
In an article he wrote for party mouthpiece People's Daily in 2015, Huang said the "international environment is getting more complicated, as hostile Western forces intensify [efforts] to divide and Westernise us".
Ding's relationship with Xi dates back to March 2007, when Xi was named Shanghai party chief. He spent seven months working as Xi's secretary, which it now appears was long enough to win the future president's confidence.
He was promoted to deputy director of the General Office in 2013 and soon after was given a new title of director of Xi's personal office. He has since accompanied Xi on many of his foreign and domestic trips.
Meanwhile, two sources told the Post on Monday that Zhao Kezhi, the former party boss of northern China's Hebei province, was a front runner to take over from Guo Shengkun as China's top law enforcement official.
Zhao, 63, was deputy party chief, under Li Zhanshu, of the impoverished Guizhou province from 2010 to 2012, and the two are reported to have built up close ties.
Zhao replaced Li as boss of Guizhou in July 2012 and became Hebei party chief three years later.
This article appeared in the South China Morning Post print edition as: Two more Xi allies given powerful roles within party