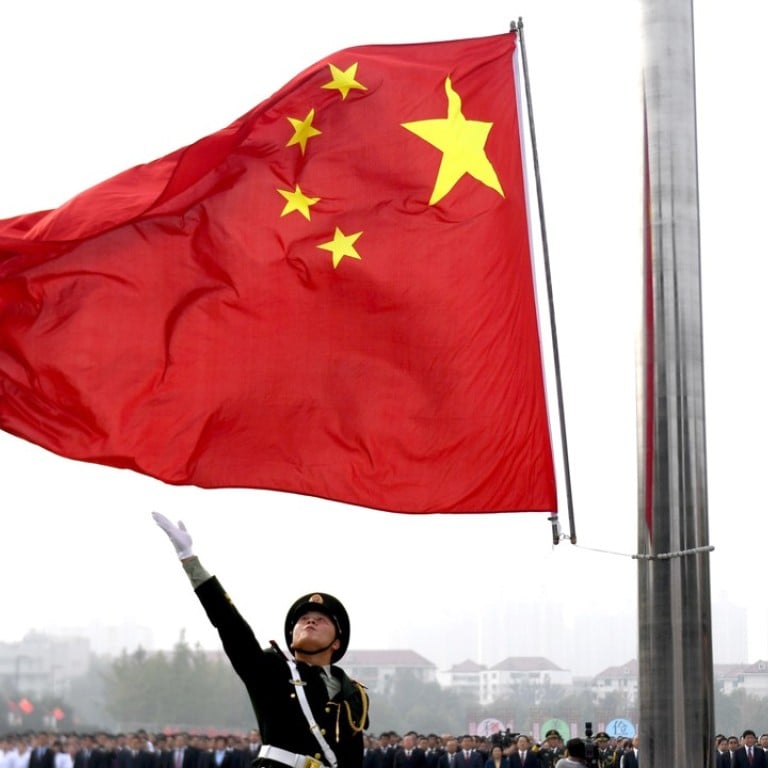 Hong Kong may get to decide own penalties for disrespecting national anthem
While China's top legislature is discussing a three-year jail term under anthem law, how the city will follow is causing controversy
China's top legislature is considering tougher punishment for those who disrespect the national anthem, but Hong Kong may be allowed to decide its own penalties, and the law will not have a retroactive effect in the city.
The National People's Congress Standing Committee (NPCSC) on Tuesday discussed introducing an additional clause to China's Criminal Code to make abuse of the national anthem or flag punishable by up to three years in prison.
The National Anthem Law, which was approved at an NPCSC session in September and came into effect on the mainland at the beginning of the month, is being closely watched in Hong Kong, which will adopt it through its mini-constitution, the Basic Law.
The NPCSC on Tuesday also discussed adding the bill to Annex III of the Basic Law, which would enable the city to adopt the legislation.
"When Hong Kong is transforming the clause into local law, the matching penalty should not be lower than the national standard otherwise it will be seen as violating the implementation of the higher-level law," said Tian Feilong, an academic at Beihang University's law school in Beijing.
But Ip Kwok-him, a Hong Kong deputy to the NPC, noted that the bill did not specify any retroactive effect or stipulate the same penalties.
"The details of the national anthem law to be adopted by Hong Kong will be worked out by the local government. It should be allowed to set the penalty level on its own," he said.
Barrister Ting Wong, a core member of the pro-Beijing CA Legal Exchange Foundation, agreed that it was up to Hong Kong's legislature to decide the penalty.
"While the three years' jail term as proposed by the mainland may be a good reference, it is up to the Legislative Council to decide when the local bill is put to it for examination," said Ting, an expert in criminal law and constitutional law. "Of course, our legislators can say two years may be more suitable, but if so, they may have to give reasons."
Executive councillor and barrister Ronny Tong Ka-wah also agreed that it was not a must for Hong Kong to impose the same penalties decided in mainland China, but suggested following the levels set under the city's existing National Flag and National Emblem Ordinance – also three years' imprisonment and a fine of HK$50,000.
According to the National Anthem Law, anyone who maliciously modifies the lyrics, or plays or sings March of the Volunteers in "a distorted or disrespectful way in public", can be detained for up to 15 days and face criminal charges. The draft amendment would stiffen that punishment.
Tian argued that three years behind bars was not too harsh for "hurting national dignity" as it was meant "to suppress calls for Hong Kong independence".
But he expected a backlash in Hong Kong that could see heightened tensions, protests and judicial challenges.
This comes after President Xi Jinping, at the Communist Party's twice-a-decade congress, asserted Beijing's "comprehensive jurisdiction over Hong Kong, where some have been giving China's leadership cause for concern with calls for independence.
The Asian Football Confederation on Tuesday gave the Hong Kong Football Association a "stern warning" for violating its disciplinary and ethics code after some local fans displayed pro-independence banners and booed the national anthem during a soccer match earlier this month.
"In recent years, incidents of disrespecting the national anthem have occurred in Hong Kong, challenging the bottom line of the principle of 'one country two systems' and social morality, and triggering rage among Chinese, including most Hong Kong residents," said Zhang Rongshun, deputy director of the NPCSC's legislative affairs commission. "It is urgent and important to apply the national anthem law in Hong Kong to prevent and handle such offences."
Civic Party legislator Dennis Kwok reflected opposition politicians' concerns that the anthem law could freedom of expression, and called for public consultation first.
This article appeared in the South China Morning Post print edition as: tougher national ANTHEM sentence being considered