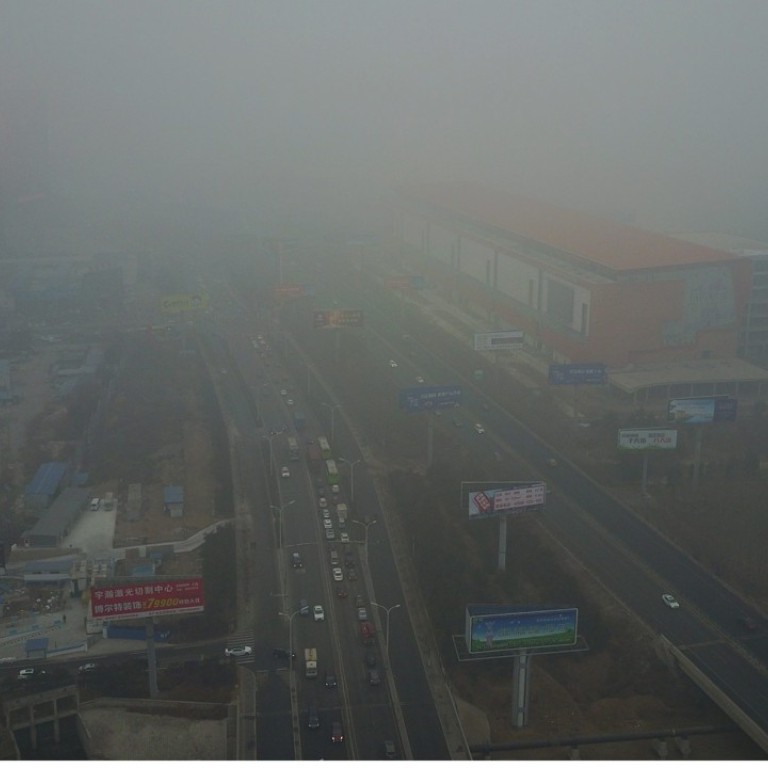 Smog returns across north days after China claims progress in winter pollution campaign
Air quality readings above 400 mark in Shanxi and well over level considered harmful to health in other cities in the region
Smog blanketing northern China has pushed air quality readings in Shanxi province well past the level deemed hazardous to health.
By noon on Monday, the air quality index for the city of Linfen had shot up to 428, according to the China National Environmental Monitoring Centre's real-time data.
The number refers to the concentration of small, breathable and toxic particles known as PM2.5. Smog levels above 300 are considered dangerous and the scale tops out at 500.
Elsewhere in the north, the index for the city of Anyang in Henan province reached 388 on Monday, while Weinan in Shaanxi hit 384 and Handan in Hebei was 382.
It said levels of PM2.5 in Beijing, Tianjin and 26 other cities in the northern region had declined by 33.1 per cent between October and December from a year earlier.
China's weather bureau on Monday said the widespread pollution had been worsened by stagnant air conditions.
On Sunday, state news agency Xinhua reported that three cities in Hebei province had raised their air pollution alerts to red – the highest in a four-tier warning system. Hebei, the country's biggest steelmaking region which surrounds Beijing, has taken a series of measures including halting industrial production and halving the number of private vehicles on the roads by restricting cars on alternate days based on whether the last digit of their number plates is odd or even.
The province had not seen any heavy pollution from January 1 to 13, and the average concentration of PM2.5 was 60 micrograms per cubic metre – down 60 per cent from the same time last year.
China has declared war on smog, launching a five-year national air quality action plan in 2013 with 10 major measures to tackle atmospheric pollution including stepping up controls, industrial restructuring, technology upgrades and establishing a monitoring system.
Beijing, Tianjin and 26 surrounding cities that are prone to severe smog were also asked to reduce their average levels of PM2.5 by about 15 per cent in a six-month campaign to curb winter air pollution. The drive has seen smoke-stack factories closed, ineffective officials punished and coal use reduced across northern China. But a sweeping coal ban left many households without heating because of a natural gas supply shortage and the government was forced to back down on the policy.
This article appeared in the South China Morning Post print edition as: Smog in northern mainland reaches hazardous level