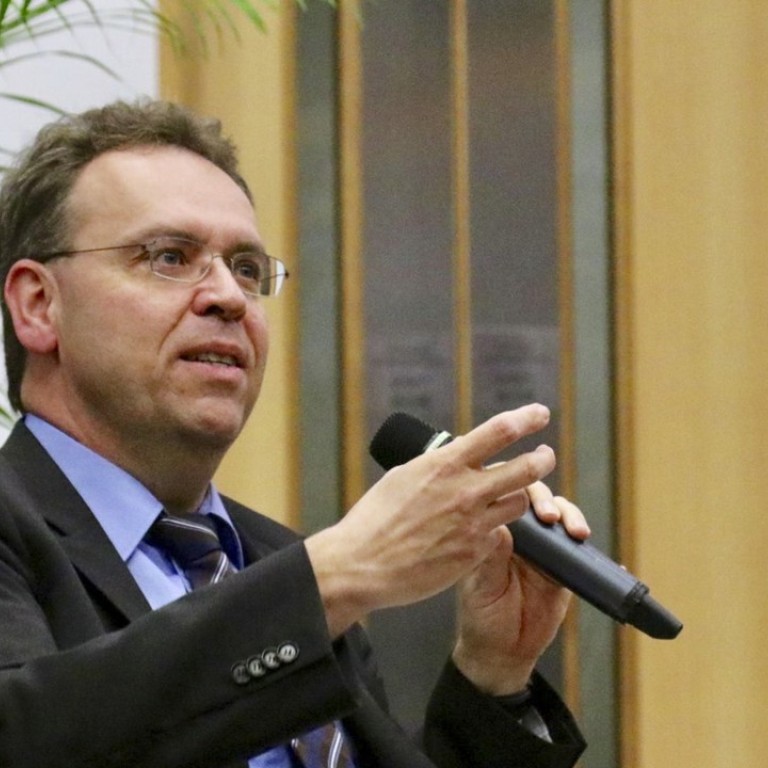 In China, big data is watching you … and that could be a huge 'challenge to the West'
Political scientist Sebastian Heilmann says the reality of Beijing's digital surveillance exceeds the vision of Orwellian fiction
China's authoritarian party-state regime will mount a greater global challenge to Western democracies through its embrace of big data, a force that many governments in the West have underrated, according to a prominent Berlin-based political scientist.
Sebastian Heilmann, who coined the term "digital Leninism" based on developments in China, said the discipline and obedience of Leninism were a tight fit with the digital surveillance and big data technologies that the Chinese government under President Xi Jinping had pushed over the past few years.
One such data-driven system that has been ringing alarm bells is the government's "social credit" platform, which generates ratings for each Chinese citizen, business and authority and affects everything from loan approvals to permission to board flights. The system was introduced in 2014 and is expected to be in place nationwide by 2020.
"A social credit system is a completely new perspective on regulating not just the economy and market but also society. It's really comprehensive, big data enabled, for both regulations and surveillance," Heilmann, president of the Mercator Institute for China Studies, said.
"This is more serious than anything we have seen in literature. It's going beyond what George Orwell had in his vision [in Nineteen Eighty-Four] … because it's a daily update, something that constantly moves with you, a perfect kind of control mechanism."
He said Western economies often viewed digital technology as "an add-on" or "a freewheeling networking and communication device" whereas China's Communist Party saw it as a transforming force.
"For [China] it's very clear from the beginning that this is a watershed and they have to use and manage it," he said.
Heilmann said that despite the privacy concerns the social credit system raised, it could make government more efficient and the Chinese development model "more plausible", offering the developing world an alternative to the market-based democracy of the West.
In his book, Red Swan: How Unorthodox Policy-Making Facilitated China's Rise, Heilmann says one part of the model China is promoting is the continued roll-out of comprehensive and effective state surveillance systems based on new IT and communications technology.
"Commercial interest will drive this development globally, as China exports its increasingly powerful security and surveillance technology," he wrote.
Since Xi came to power in 2012, China's state media have taken aim at Western market-based economic and political systems, reviving the socialist crisis theory of capitalism.
"The inward part is they want to modernise socialism within China to make it fit for the 21st century, but the interesting part is the outward message – the Western system in US, [Britain], and [the European Union] is in severe crisis or maybe terminal crisis," he said.
"There is going to be a systemic competition. It has to do with the next crisis also. If there is a major financial crisis, for example, starting from the US or Europe, this will be strong support for the Chinese model."
Heilmann also argues that Xi has fostered a crisis mode of governance by centralising decision-making around himself and a small circle of trusted officials, giving local governments less room to experiment with reform.
"The impetus for restructuring [state-owned enterprises] … has declined. On the other hand, they believe in the force of technology transforming the whole economy including state-owned enterprises," he said.
This article appeared in the South China Morning Post print edition as: Big data to give China edge over the West