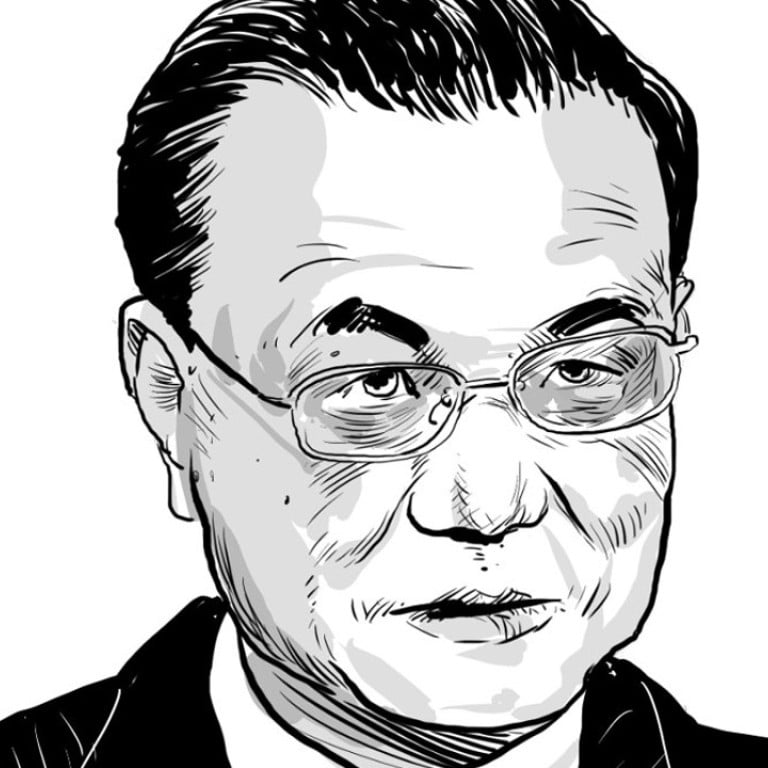 China to be more open to foreign investment, speed up Beijing-led trade bloc and strengthen its military: Li Keqiang
Beijing will also raise its military budget by 8.1 per cent
The annual session of the National People's Congress opened on Monday amid a major shift in Chinese politics.
It was the first session of the legislative body since the new Communist Party leadership was installed at its 19th congress in October. It was also China's first big political event since it became clear that President Xi Jinping intends to stay in power beyond his second five-year term, with the party proposing the constitution be changed to remove the limit.
Premier Li Keqiang delivered his work report at the opening ceremony on Monday. The annual budget was also released.
Beijing has announced an increase in defence spending of 8.1 per cent this year. It will also lower its fiscal deficit target to 2.6 per cent of GDP for 2018, down 0.4 percentage point compared with last year. China's GDP target in 2018 is likely to be about 6.5 per cent this year, the same as in 2017.
Read SCMP's live coverage here:
10.50am: Closing
As Li was reading the report, Wang Qishan removed his glasses and laid them on the report. Xi did not touch the report in front of him at all – he mostly sat still, leaning back and looking down at the stage. The only time the president laid his hands on the report was when he reached forward to sip from his cup of tea.
Li ended his speech after almost two hours. As he finished delivering his report, the delegates began filing out of the hall.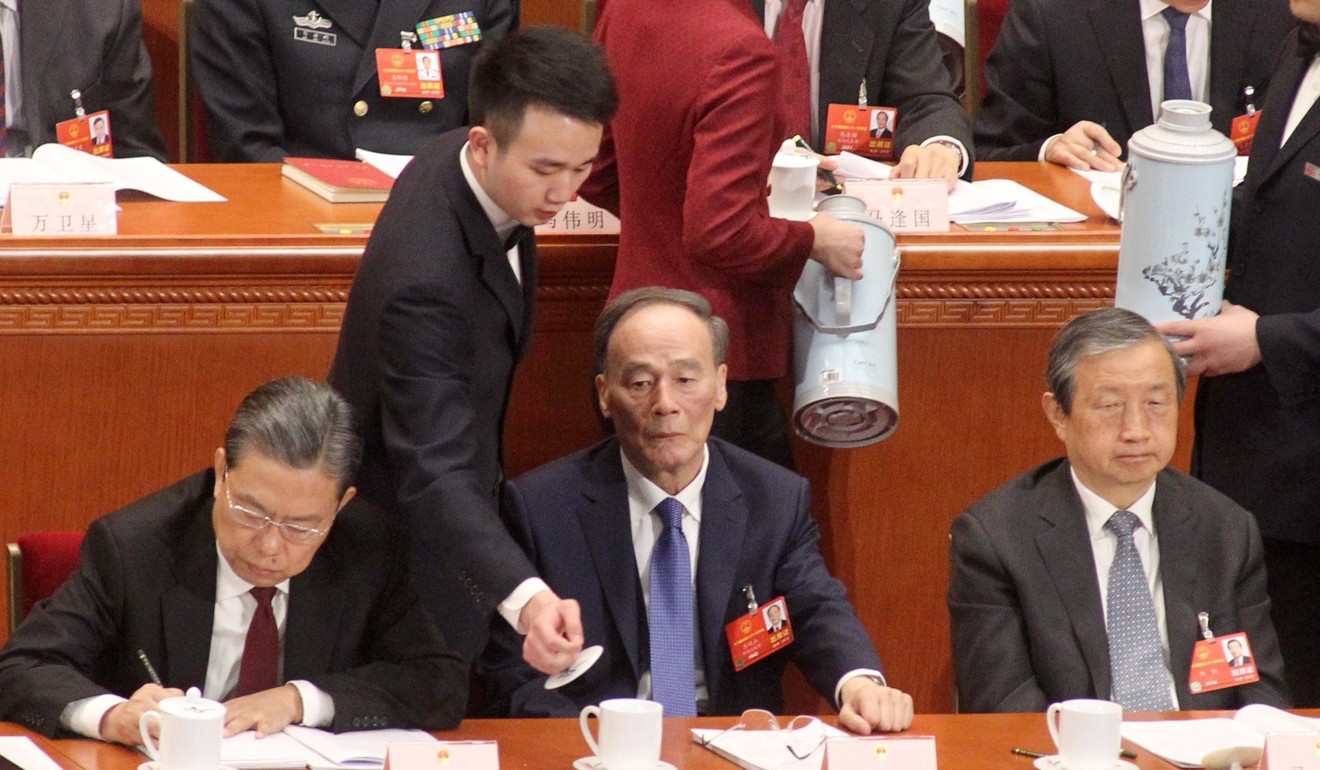 10.48am: Hong Kong
In his closing remarks, Li said Beijing would continue to implement both to the letter and in spirit, the principle of "one country, two systems" and fully support the governments and chief executives of Hong Kong and Macau in "exercising law-based governance and in their efforts to achieve economic growth, improve living standards, progressively advance democracy, and promote social harmony".
He said Beijing would provide support for Hong Kong's integration with the mainland's development and boost exchanges and cooperation. "We have every confidence that Hong Kong and Macau will develop and thrive together with the mainland," he said.
10.47am: Military and defence
As Li wrapped up his government report, he stressed that China would build massive and strong air and naval defences. The Chinese armed forces would rally around the leadership of Xi as it continued to press on with military drills and combat preparations, he added.
Li said China's national security environment was going through profound changes, a veiled reference to a changing international landscape, with an emerging rivalry between a rising China and a United States in perceived decline under US President Donald Trump.
He said the country would stick to its own path of building a world-class military and advancing "all aspects of military training and war preparedness, and firmly and resolvedly safeguard national sovereignty, security and development interests" amid growing concerns over the strengthening of the party's authoritarian rule and Xi's ambitions to take China to the world centre-stage.
Li also said the leadership of Xi and the party over the military must be fully observed while China continued to modernise military technology and equipment and build strong border, coastal and air defences.
10.46am: Taiwan
On Taiwan, he said Beijing would advance its goal of peaceful reunification with the self-ruled island despite growing speculation that Xi is becoming impatient and wants to take control of the island before he steps down.
"We will remain firm in safeguarding China's sovereignty and territorial integrity, and will never tolerate any separatist schemes or activities for 'Taiwan independence'," he said to applause from nearly 3,000 delegates.
Over the past two years, Beijing has suspended official talks with Taiwanese President Tsai Ing-wen's government, accusing her of pursuing pro-independence policies and seeking external support from the US and Japan.
In a direct message to people in Taiwan, Li vowed Beijing would expand cross-strait economic and cultural exchanges and cooperation, and ensure that the Taiwanese people would be able to "enjoy the same treatment as mainlanders when they pursue study, do business, work or live on the mainland".
"As fellow Chinese living on both sides of the Taiwan Strait, we share a bond of kinship. As long as we go with the tide of history and work together for our nation's greater good, we will together create the future – a beautiful future of national rejuvenation," he said as he neared the end of his 100-minute speech.
10.45am: Opening up to foreign investment
Li said China would open up the telecom, health care, education and new-energy vehicle sectors to foreign investment. Li said China would in an "orderly" fashion open up bank card clearing businesses to foreign competition and remove caps on foreign stakes in banks, securities brokerage houses and fund management firms. He also said China would have a standard market access rule for both domestic and foreign banks.
10. 44am: Xi Jinping's authority and anti-graft super agency
Li pledged his government would uphold the authority of the Communist Party and Xi Jinping, who was confirmed in October as the nation's most powerful leader since Mao Zedong.
He made no mention of
the proposed removal of the constitutional limit for presidential terms
, paving the way for Xi to rule the country well beyond the end of his second term in 2022. Approving the proposal and other constitutional changes including enshrining Xi's "thought" in the national constitution and the establishment of a super anti-graft agency are high on the agenda of this year's parliamentary session.
10.42am: Diplomacy
On diplomacy, the premier said China had risen to become a major international power since Xi took office in 2012 and was ready to make further contributions and offer its solutions to wide-ranging global governance woes in a fast-changing and uncertain world order.
10.35am: Food safety
China will use big data to improve food safety by tracking production and supply chains. It would also cut import tariffs on cars and some consumer goods, Li said.
10.31am: Without directly mentioning any country, Li said China would fight protectionism and firmly defend its own interests. He also said China would reform personal income tax to raise the taxable threshold, and deduct education and health care from its taxable base.
10.30am: China's reaction to rising trade tensions
Li said China should accelerate the building of the China-led Free Trade Area Asia-Pacific (FTAAP) trade bloc. He also repeated China's opposition to trade protectionism. His remark was made as
China and US are moving closer to a trade war
.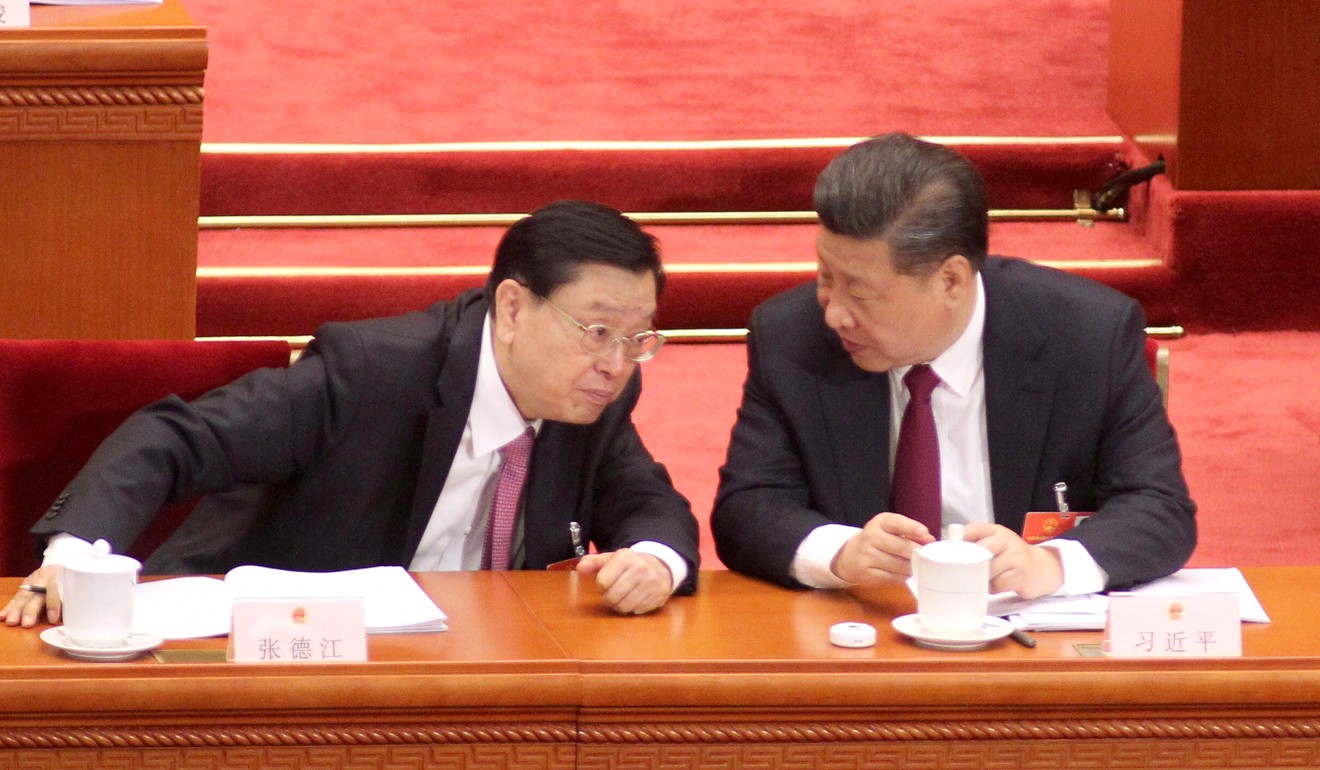 10.20am: Environment
On the environment, Li admitted China still faced an uphill battle to control and cut widespread pollution woes. Setting a series of pollution-reduction targets for 2018, Li said reducing key air pollutants, such as particulate matter, sulphur dioxide and nitrogen dioxide, remained the government's top priority.
As he has done in previous government work reports, Li vowed to tackle soil, water and marine pollution, which remain a major source of public discontent and unrest. He said Beijing would roll out bans and restrictions on land reclamation from the ocean in coastal regions and plug loopholes in environmental laws and their enforcement. He did not elaborate.
10.19am: Poverty alleviation
Li said China would further reduce the population living below the poverty line in rural areas by 10 million and move 2.8 million poor people to other areas. He said China would also increase support for vulnerable groups, including the elderly, disabled and seriously ill. Xi earlier set the target to eliminate absolute poverty by 2020.
10.18am: Economic risks and currency
China had achieved notable progress in addressing "key risks", with overall economic and financial risks under control, Li said. China will "strike hard" at illegal fundraising and financial fraud.
10.15am: China would keep the yuan exchange rate "basically stable" at a reasonable level in 2018, Li said.
10.13am: Overseas Chinese
China would enable more overseas Chinese to work and start businesses in China to help the country's innovation drive, Li said. He said China would expand the "channels" for overseas Chinese to work in China.
10.08am: Innovation
Li vowed his government would further boost innovation-driven development by focusing on major projects, such as tackling smog and cancer and other major diseases, building world-class national laboratories and encouraging cooperation between enterprises with scientific institutions and colleges.
10.06am: Achievements in military reform, Hong Kong and Taiwan
Under the leadership of the party and Xi, Li said the Chinese military had reformed itself to become a strong, world-class army and played important roles in safeguarding the nation's maritime rights, fighting terrorism and maintaining social stability.
He said China had successfully met the target of cutting its troop numbers by 300,000 and seen major advances in military technology and equipment as well as civilian-military integration, which Xi listed as his priorities.
On Hong Kong, Li said that under "one country, two systems", the authority of China's constitution and the Basic Law had been further upheld despite mounting criticism over Beijing's increasing, omnipresent control over the city.
On Taiwan, he said Beijing adhered to the "one-China" principle and the 1992 consensus – which allows each side to interpret what "one China" means – over the past five years. He also said – without naming independence-leaning President Tsai Ing-wen – that China had successfully reined in separatist attempts by pro-independence forces and maintained peace and stability across the Taiwan Strait.
10.02am: Economy
Li won applause as he said the government would reduce the tax burden on enterprises, as well as cut telecom fees. Li said China planned to cut 800 billion yuan in taxes for companies and individuals this year. He did not mention Trump's tax-cut plans.
Li said China would cut mobile data communication charges by at least 30 per cent this year. Meanwhile, China would continue its "Made in China 2025" plan by creating "example areas" for this state plan.
The country would also phase out 30 million tonnes of steel capacity and 150 million tonnes of coal in 2018. China would halve construction project approval times in 2018 to boost government efficiency, he added.
9.58am:
Li said China budgeted a fiscal deficit for 2018 at about 2.6 per cent of GDP, a ratio 0.4 of a percentage point lower than 2017. A lower ratio of fiscal deficit to GDP would leave more policy leeway for China's macroeconomic control, Li said. The
South China Morning Post
reported yesterday that
China is set to cut its fiscal deficit ratio in 2018
.
9.56am: Li set 2018 growth at about 6.5 per cent. In addition, Li said China's consumer price index would rise to 3 per cent in 2018, the surveyed jobless rate would stay below 5.5 per cent, and unit GDP energy consumption would fall by at least 3 per cent.
Li said China included the "surveyed jobless rate" in the government report for the first time because this jobless rate covered China's migrant workers and reflected the country's real employment situation. Previously China only used the urban registered jobless rate, which does not cover the country's 270 million migrant workers, who leave their rural homes to seek jobs in cities and towns.
9.55am: He said there were growing protectionism and geopolitical risks in the world, but China was able to achieve better, fairer and more sustainable economic growth.
9.45am: Religion
"We will persist with the direction to localise religions," Li said.
9.38am: Environmental protection
Li said the government had paid particular importance to reducing the nation's reliance on dirty coal and cutting persistent smog, with the concentration of particulate matter in the most polluted areas, including Beijing, dropping by over 30 per cent in the past five years.
Coal consumption has been reduced by 8.1 per cent and the use of clean, alternative energy increased by 6.3 per cent.
China had played an important role in the global fight against climate change since the Paris Climate Accord, he said.
9.29am: China had risen to become a global hub for innovative businesses and a world leader in scientific and technological innovation, Li said.
9.25am: China's growth had shifted from reliance on investment and exports to a healthy cocktail of consumption, investment and exports, Li said. China's economy is now relying more on services than industrial production. "This is a significant structural change that we had been longing to achieve but had failed to achieve," he said.
9.23am: Li said China had shut down 170 million tonnes of steel production capacity in the last five years and 800 million tonnes of coal mine capacity, involving 1.1 million workers.
9.20am: Li said China had avoided any systemic financial risks, partly citing a rise in foreign exchange reserves.
9.18am: Key achievements
The premier said China had achieved its 2017 economic and social development goals and the results were "better than expected". Li said China had successfully managed economic downward pressure and avoided an economic "hard landing".
Reviewing the performance of his government since 2013, Li said China made major progress in innovation-driven development, which contributed significantly to the transformation of its economic structure.
Its investment in research and development had grown at an average annual rate of 11 per cent, the second highest in the world, he claimed.
His long trophy list included Chinese-built aircraft carriers, manned space flight, deep-water exploration and quantum communication.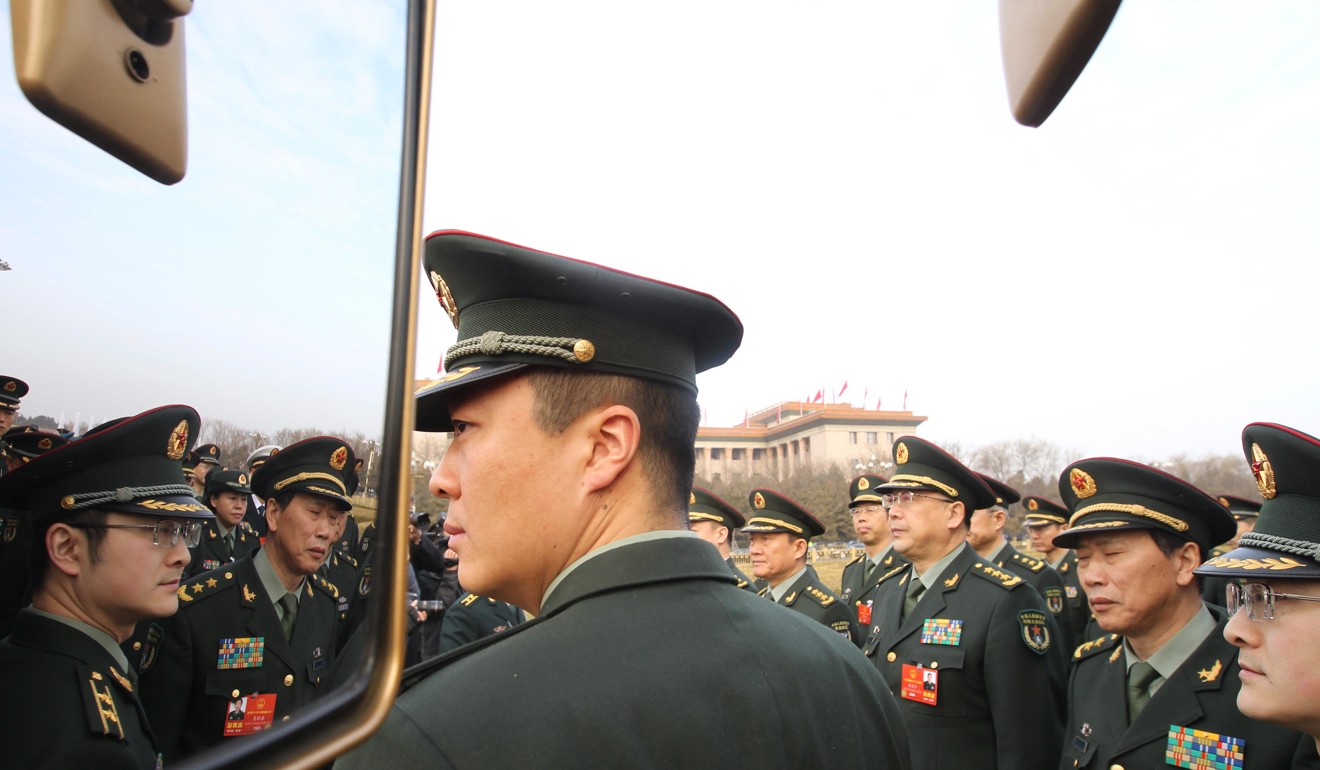 Li said China had become a world leader in areas such as high-speed rail, e-commerce and mobile payments.
He also mentioned his signature "Internet Plus" policy, which he said was among the hallmarks of China's innovation-driven development.
9.15am: Li told delegates China had reduced the number of people in poverty by 68 million over the past five years and that the nation's poverty alleviation efforts had achieved "decisive" progress. Meanwhile, Li said China's basic pension covered more than 900 million people and health care insurance 1.35 billion as China created "the world's largest social welfare network".