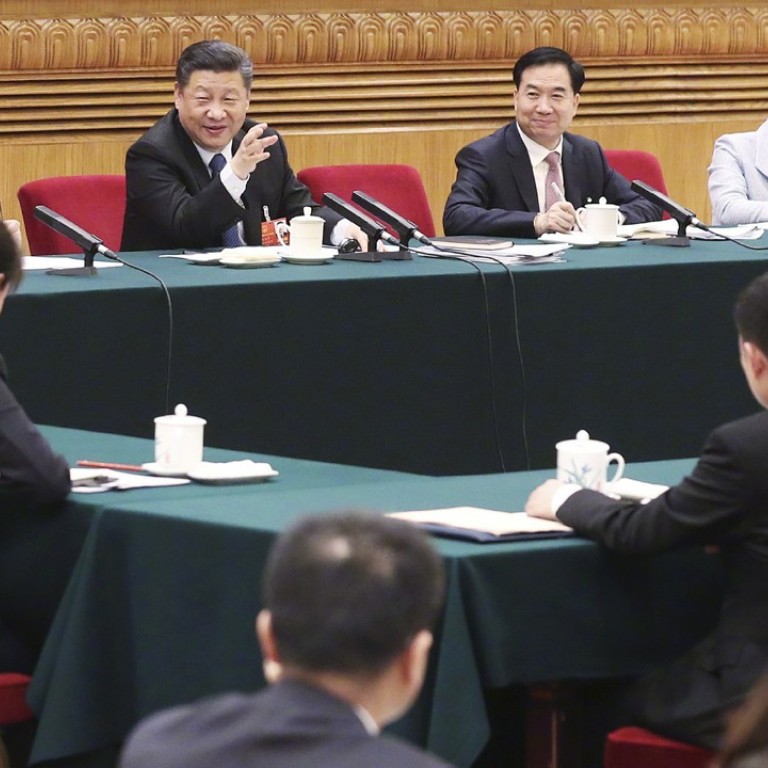 Xi Jinping tells Guangdong to lead the charge on 'full opening up'
Chinese president also calls on delegation from the economic powerhouse to work with Hong Kong and Macau to make 'Greater Bay Area' a world-class hub
President Xi Jinping told liberal economic powerhouse Guangdong on Wednesday to push for "full opening up", sending a message in a year that marks the 40th anniversary of China's open-door policy.
Speaking to the delegation from the southern province at the annual legislative session in Beijing, Xi said luring and nurturing talent was critical to his vision of making China strong, including the ambition to take a global lead on technological and industrial change.
He also told the province to work with Hong Kong and Macau to develop the "Greater Bay Area" – linking the two cities with nine southern mainland ones – into a world-class economic and business hub.
Xi's top economic aide Liu He told the World Economic Forum in Davos early this year that China would introduce more reform measures and that some of them "will exceed the expectations of the international community", without offering further details.
Soon after Xi took the helm of the ruling Communist Party in late 2012, he visited Guangdong in an apparent homage to late paramount leader Deng Xiaoping's southern tour in 1992 that relaunched China's opening up and reform programme initiated in the late 1970s.
Xi's late father Xi Zhongxun was also Guangdong's party boss during the early years of opening up that saw the province take the lead on reform. Xi last attended a Guangdong delegation meeting at the National People's Congress in 2014.
"If we do not take the path of innovation-driven [growth], we will not be able to transform from old to new economic drivers, and China will not be able to become a truly strong nation. It takes innovation to be strong, and it needs talent to bring innovation," Xi said.
State television reported that Xi told the Guangdong officials to take the lead on developing new institutional infrastructure for high-quality growth, building a modern economy and pursuing a comprehensive system to open up.
Xi said the province should expedite development of a "new model" for its trade sector and join the country's belt and road trade and investment strategy, and it should also improve collaboration on innovation.
State media also reported for the first time remarks by Xi on controversial changes to the constitution that include removing the two-term limit on the presidency.
Xi said the party had sought input from various sectors on the proposed revision and that it "reflected the common will of the party and the people", according to a China Central Television report.
The carefully scripted report also went into detail about senior party officials' pledges of support for the amendments made during panel discussions at the national legislature and political advisory body sessions.
At the meeting with Guangdong lawmakers and leaders, Xi also urged the province to develop its economy along a more sustainable and environmentally friendly path.
He called on the officials to maintain balanced development between its urban and rural areas, saying China will still have 300 million to 400 million people living in the countryside even after rapid urbanisation.
Xi also asked Guangdong cadres to explore new approaches to social governance, and to include migrant workers in the management of local community affairs.
This article appeared in the South China Morning Post print edition as: Xi tells Guangdong to lead way forward