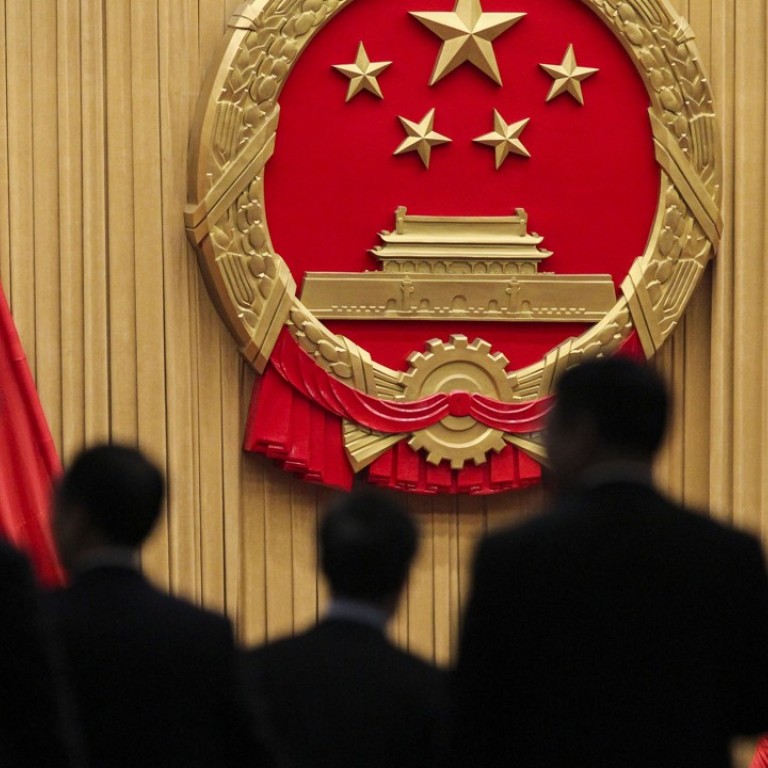 China sets up new super agency to fight corruption
National Supervisory Commission has been written into constitution, while a new law detailing how it will operate is to be put to a vote on March 20
China's legislature officially set up the country's new super anti-graft agency on Sunday, but the most contentious part – giving it the power to deny suspects access to lawyers – will be voted on at the end of the annual session.
As well as repealing the presidential term limit, the legislature added a clause to establish the National Supervisory Commission, which will have a status close to the cabinet and is ranked higher than the supreme court and top prosecutor's office.
With the constitution revised, the chief of the new agency will be formally appointed by the legislature next Sunday.
The commission is Beijing's answer to controversy over the current shuanggui system, under which the party's top anti-corruption body, the Central Commission for Discipline Inspection, has the power to summon and detain without charge any member it suspects of breaching party rules and regulations.
Suspects are barred from seeing a lawyer while they are detained under this system, which is laid out in party regulations but not the law.
A new supervision law detailing how the new super agency will operate is to be put to a vote on March 20, the last day of the legislative meeting.
The party is seeking to boost the legitimacy of its anti-corruption campaign by setting up the commission, said Xiao Pei, a deputy secretary of the CCDI.
"It will definitely give anti-graft work a legal and standardised basis," he told Xinhua on Saturday. "It will also add to people's confidence and trust in the party, and consolidate the foundation of the party's rule."
While the CCDI has authority only over members of the party, the new agency will have jurisdiction over all public sector bodies. The supervision law will apply to everyone in public service, including judges and lawyers, according to state media.
The agency will be a merger of several government and prosecutorial anti-graft departments with the CCDI, as well as the supervision ministry under the State Council – so Sunday's constitutional change also removed the supervision role from the cabinet's powers.
A whole chapter in the amended constitution is dedicated to the new agency. Its chairperson will be appointed by the National People's Congress, which is the only body overseeing the commission. The legislature also has the power to dismiss the agency's chairperson.
CCDI chief Zhao Leji is expected to be named chairman of the commission, with a limit of two five-year terms, and will hold both roles concurrently.
The term limit is consistent with most top-level offices, including NPC chairman, premier, vice-premiers, state councillor, the top judge and top prosecutor.
The agency is expected to begin operating after the NPC Standing Committee confirms the appointments of all the members.