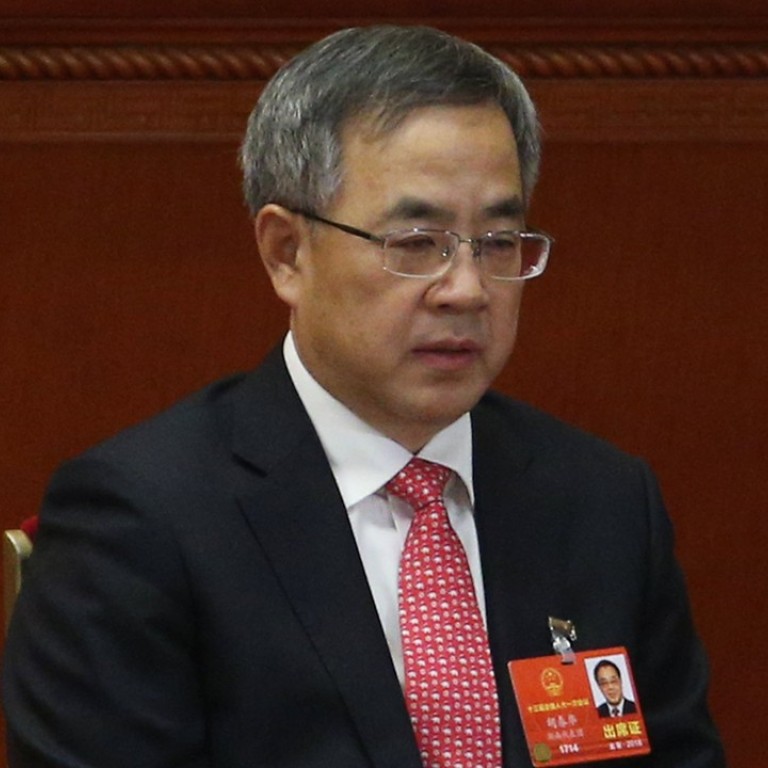 Man once 'most likely' to replace Chinese President Xi Jinping named as a vice-premier
Former party chief of country's richest province expected to be tasked with driving out poverty
Once considered a possible future president, Hu Chunhua was on Monday installed as one of China's four vice-premiers on the penultimate day of the National People's Congress in Beijing.
His appointment, along with those of fellow deputies Sun Chunlan, Liu He and Han Zheng, and five State Councillors, was confirmed as President Xi Jinping put pen to paper in front of almost 3,000 lawmakers at the Great Hall of the People.
The former Communist Party chief of Guangdong province – China's richest – Hu was the only one of the four vice-premiers to receive no opposition votes, although one delegate did abstain.
While the deputies' precise portfolios have yet to be announced, the 55-year-old is expected to drive Xi's campaign to stamp out poverty, and oversee agricultural affairs.
From humble beginnings – he was born into a poor family in central China's Hubei province – Hu has steadily climbed to the highest ranks of China's power structure. As well as being a vice-premier he is also one of the 25 members of the party's Politburo.
Hu was given a seat on the decision-making body in 2012, and at the time was one of only two members that had been born after 1960. His relative youthfulness made him a possible future presidential candidate, but that possibility later faded.
As a younger man, Hu spent 19 years – in two stints – living and working in Tibet. While there he learned the Tibetan language and mixed with the local people, which is not the typical behaviour of ethnic Han cadres sent to the region. He relinquished his Guangdong post in October.
Another of the four vice-premiers confirmed on Monday was Han Zheng, who as part of the seven-member Politburo Standing Committee, is the highest ranking of the State Council quartet.
Han, who is a former party boss of Shanghai, is known for his ability to work with different factions and survive political shake-ups.
He took over in Shanghai in 2006, when his boss Chen Liangyu was sacked on corruption charges. Han also worked with Xi when the then future president spent six months in the city in 2007.
In his role as vice-premier, Han is expected to oversee environmental protection, the international trade and infrastructure development plan known as the "Belt and Road Initiative", tax revenue and budgeting.
Harvard-trained economist Liu He, 66, is the lowest-ranked of the vice-premiers named on Monday, but he is expected to be a leading figure in the country's new-look economic and financial team.
A source familiar with government operations said earlier that Liu was also likely to chair the Financial Stability and Development Commission, a new agency tasked with supervising China's monetary policy and financial regulation, and formulating policies to eradicate systemic financial risk and maintain financial security.
He is also expected to continue to direct the Office of the Central Leading Group on Financial and Economic Affairs, and oversee China's foreign trade, which will include managing its delicate relationship with the US.
Another vice-premier named at the NPC session was Sun Chunlan. The only woman on the Politburo, she is expected to assume the portfolio held by outgoing Vice-Premier Liu Yandong, which covered culture, science, education, sports and health.
This article appeared in the South China Morning Post print edition as: Quartet of vice-premiers ready to perform