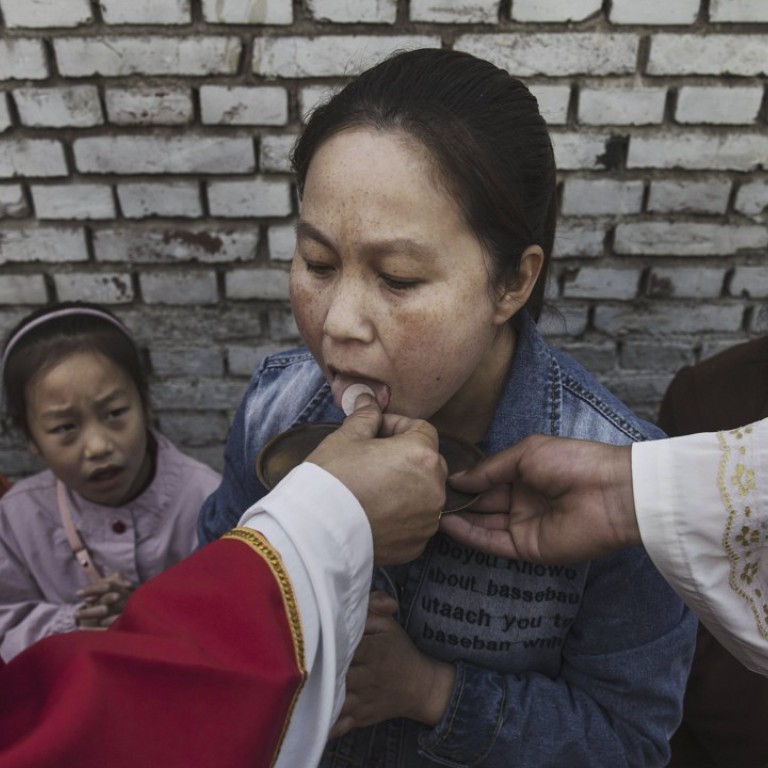 Betrayed and abandoned: why China's underground Catholics feel like Jesus on Good Friday
A Sino-Vatican deal to end a long-standing dispute over bishops' appointments could heal divisions, but for some the price to be paid is too high
The surveillance cameras pointing at the entrance of the humble three-storey building in eastern China are not enough to stop daily masses from being held at Father Matthew's home.
The priest, who spent decades in jail on account of his faith, has no assistants and uses a dining table in lieu of a proper altar.
A picture of Jesus wearing the crown of thorns hangs on the wall, along with other religious paintings and statues, overlooking the congregation of 40 – mainly elderly – people.
They sit on stools and kneel on mats to pray and receive communion just as they have done for the last 30 years.
But soon this will all come to an end.
Father Matthew (not his real name) is planning to retire in silence after the "unorthodox" news broke in January that two underground bishops Zhuang Jianjian and Guo Xijin, both appointed by the Vatican, had been ordered by the Roman Catholic Church to make way for two bishops supported by the Communist authorities in defiance of the Church's own long-standing teachings.
The arrangement is part of a series of quiet negotiations between the Vatican and Beijing with the aim of reaching a formal agreement on how bishops will be appointed in China in future.
On Wednesday Bishop Guo Jincai, secretary-general of the Beijing-sanctioned Bishops Conference, told state-owned tabloid Global Times that the negotiations had reached their "final stages".
"If everything goes right, the deal could be signed as early as the end of this month," he said. "The timing depends on details of the deal or technical issues." 
But Father Chang Sang-loy, a Hong-Kong-based priest with knowledge of the talks, warned that if things could not be finalised by Easter, "we might need to wait until June to see if a deal can be reached".
The groundbreaking deal would represent a historic development after decades of hostility between the two sides.
The agreement is expected to highlight Beijing's willingness to accept the Pope having a final say over candidates for bishoprics, according to Chang – something that is widely seen as the first priority before ties can be normalised.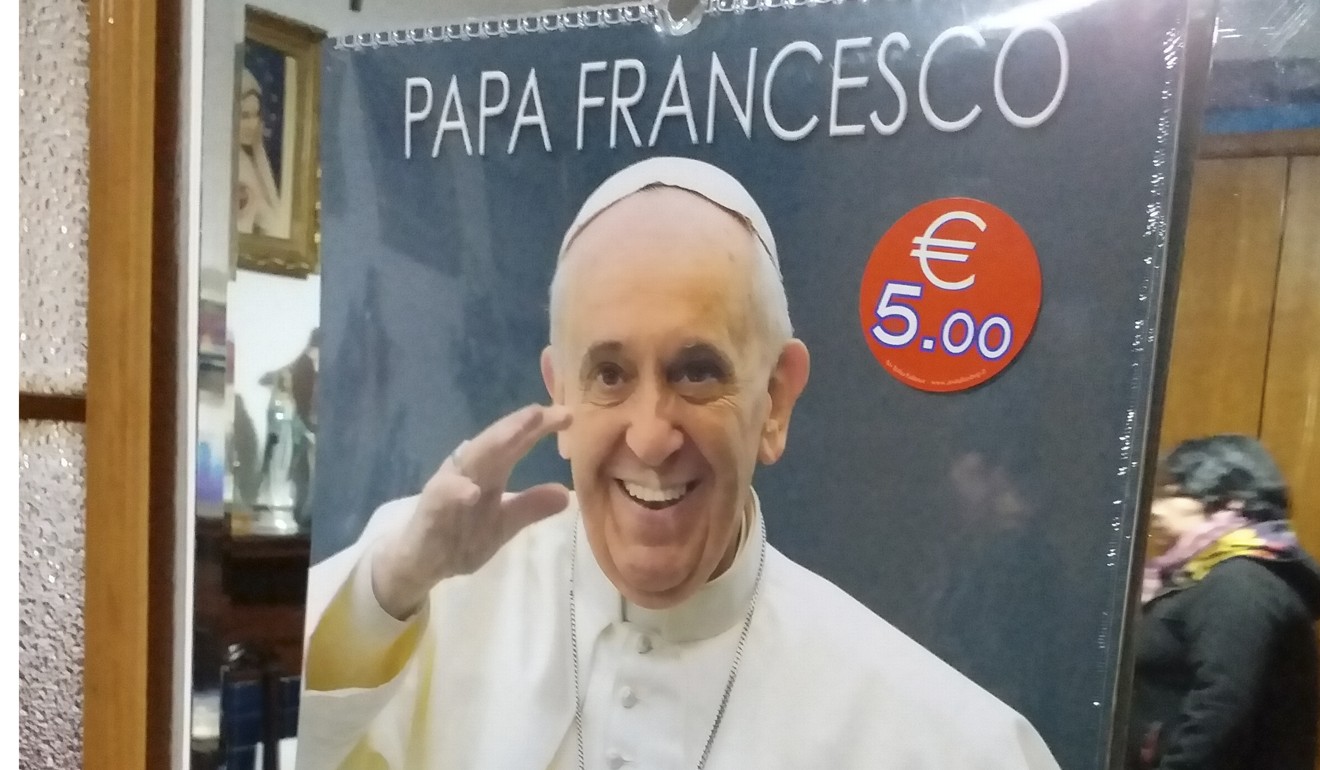 Observers are watching closely to see whether the deal will promote mutual respect and understanding and improve the situation of the 30 or so underground bishops and enhance the religious freedoms of the mainland's estimated 10 million Catholics.
Earlier this month Fang Jianping, deputy chief of the bishops' conference from the state-approved Catholic Church, told reporters on the sidelines of the National People's Congress that he welcomed the "historic breakthrough in the history of China and the Vatican". 
"There shouldn't be any obstacles now. Talks and dialogue must be continued to dissolve conflicts and build consensus," Fang said. 
But the Vatican's shift in policy has been fiercely criticised. One of the most outspoken opponents of the move was Hong Kong-based Cardinal Joseph Zen Ze-kiun who called it a "suicide deal" and accused the Church of "selling out" the underground worshippers who had endured years of oppression for staying loyal to the Pope after Beijing cut ties with the Vatican in 1951.
Earlier this week human rights groups said Guo, one of the underground bishops, had been detained for around 24 hours. 
Today, about 60 per cent of mainland Catholics worship in state-sanctioned churches but many, especially the younger ones, are oblivious to the rift between Beijing and Rome. 
Others have been left confused by recent developments and think reconciliation between the Church and an atheist government that has a long history of closing down churches and prosecuting priests is a bad move.
According to Father Pedro, who leads a state-approved church, the latest U-turn from the Vatican came as a huge shock to mainland Catholics. 
"Quite a number of underground parishioners who would never walk into an official church approached us recently asking if the Vatican is really giving up on legitimate underground bishops for illicit ones. No one can wrap their head around the Vatican's rationale," he said.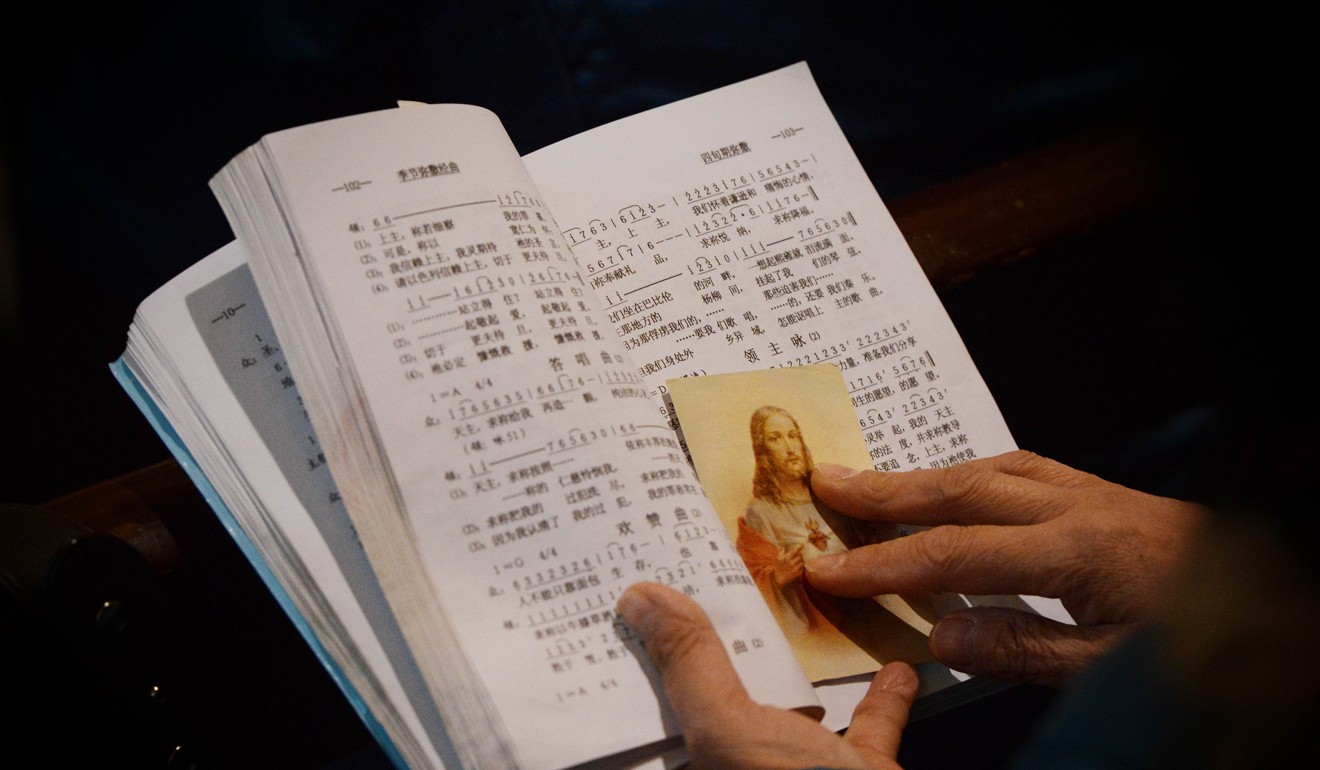 But some Chinese Catholics say making a bad move is better than no move at all and there are those who will submit to the Pope's commands even though they cannot understand the Vatican's thinking.
"We might fail to see the rationale for now but we must trust that the Holy Father has divine guidance," said a 56-year-old Catholics from an underground church in Shanghai. 
However, for people like Father Matthew, the detente is too much to take. 
The veteran priest is built of stern stuff after spending three decades in jail, but the latest news truly broke his heart. 
"Not a moment was regrettable since I've pledged my life to the Virgin Mary … but if [former] Pope Benedict XVI had not retired, none of this would have happened," he said. 
The priest and other family members have between them spent over 150 years in Chinese jails for standing by their faith. 
"I'm disappointed but nothing else can be done. I plan to just retreat quietly," he said.
Anne, a middle-aged nun who served in a rural church was "extremely saddened" by the Holy See's decision, which she said was "abandoning the interests of underground churches just to make friends with a totalitarian regime".
"This is no difference to a father giving up his own children to strangers who set out to harm them. Why is the Pope adding new pain to unhealed injuries?" she said.
"Many underground priests I know want to retire for they no longer see the point of holding on to faith-based principles that are already compromised by the Holy See.
"The truth needs to get out, the Vatican has no idea how we suffer here. There is no prospect of caving in to a totalitarian regime. I would much rather things remain unchanged," she said.
Father Pedro also warned there was a risk of widening the divisions between China's Catholics. 
"This may further shake up Chinese Catholic churches and eventually give rise to heterodoxy and even heresy. More might want to do things their own ways, deserting both state-controlled churches and the Pope, " he said. 
One example is Father Paul Dong Guanhua from Hebei province who broke away from both the underground and state churches in 2016 and declared himself to be the Bishop of Zhengdian and claimed the right to ordain his own bishops, defying both the government and the Vatican. 
A senior priest who has advised government officials told the South China Morning Post that "one must seize any opportunity available as freedom to worship has been increasingly restricted". 
He added: "It's better to get dialogue going and have some doors opened while we still can. 
"No one can benefit from complete stagnation. If we allow this to drag on, who knows what shape and form Chinese Catholic churches will take in the future?" he said.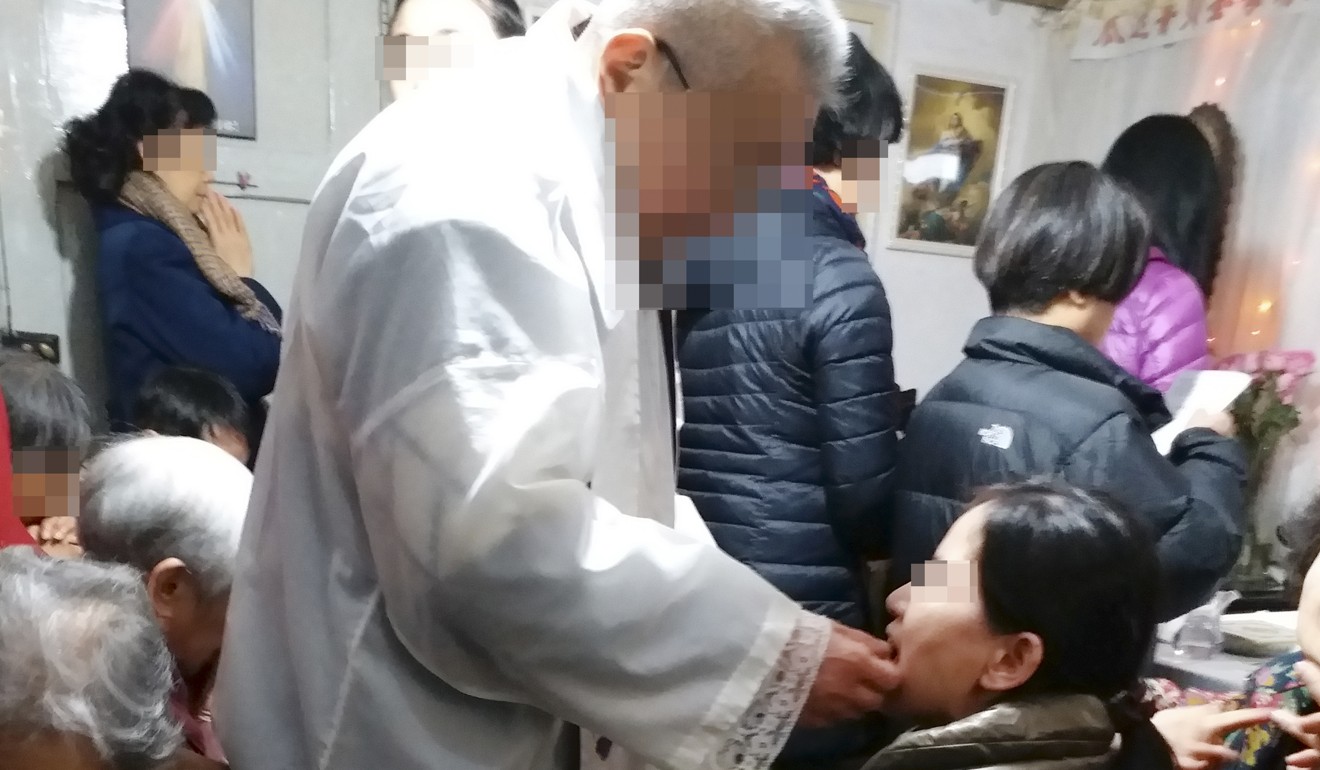 The state wants religious activities to be consistent with the official socialist ideology. 
Under an amended Religious Affairs Regulation that took effect in February, officially sanctioned religious bodies will face more scrutiny while unauthorised gatherings face harsher penalties. 
State-sanctioned churches are supervised by the State Administration for Religious Affairs. 
But it was recently absorbed by the United Front Work Department – which manages the Communist Party's relations with non-party bodies inside and outside the mainland – and the move has prompted concerns that the party will seek to tighten its grip over religious groups. 
In 1957, the Chinese Catholic Patriotic Association was established to make sure priests and bishops toed the Communist Party line. China's Bishop Conference selects and independently appoints bishops – sometimes without the Pope's approval.
The northern province of Hebei remains one of the strongest centres of underground Catholicism despite extensive monitoring from the authorities.  
In one particular village that could not be named for safety reasons, most of its 3,000-plus residents are underground Catholics who attend unauthorised gatherings. 
This is probably one of the most closely monitored rural areas in China, where countless surveillance cameras and plainclothes religious officials have been dispatched to turn outsiders away. 
Their morning mass usually starts at 5.30am and evening mass is often held late in the evening either in abandoned yards or in open fields.
"Crackdowns are part of our everyday life but we would rather endure the cold weather and scorching sun outdoors than compromise the integrity of our faith to enter into a fancy cathedral," the village's priest said. 
But despite the hardships, the priest said he was willing to accept an accord between Beijing and the Vatican.
"We understand the Pope and his advisers are doing everything they can to reunify the church. The final goal is to have all bishops in China submitting to his authority and eliminating the Patriotic Association," he said.