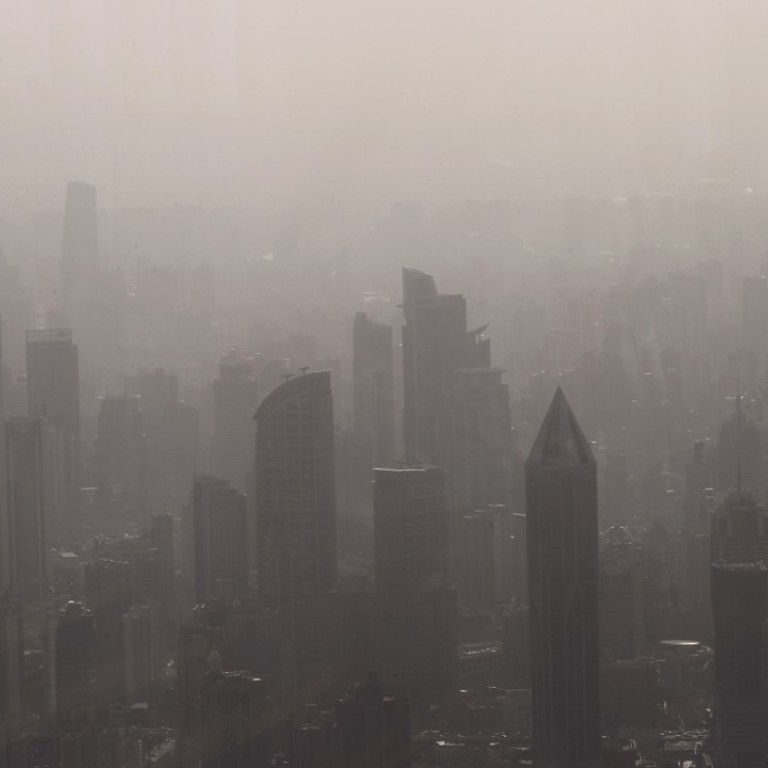 Air quality worsening in China's Yangtze River Delta in 2018, figures show
Region around Shanghai experiences rise in lung-damaging particles PM2.5 in the period from January to April
Air quality in the major Chinese manufacturing hub around the Yangtze River Delta worsened in the first four months of the year, largely because of a 20 per cent surge in emissions in January, environment ministry data showed on Wednesday.
In the region, which includes Shanghai, concentrations of the lung-damaging particles PM2.5 (particulate matter) rose 1.9 per cent from a year earlier to hit an average of 55 micrograms per cubic metre over the period, the Ministry of Ecology and Environment said in a statement.
The particles have a diameter of less than 2.5 micrometers, so small that they can be detected only with an electron microscope.
Environmental groups have said they are worried that the government's focus on smog in northern China has driven industrial production and pollution further south.
China is currently drawing up a new 2018-2020 action plan to further improve air quality after meeting its 2013-2017 targets.
The government aims to bring down national concentrations down to its "interim" standard of 35 micrograms by around 2035. Average PM2.5 concentrations in 338 cities across China stood at 39 micrograms in the first four months of 2018, unchanged from a year earlier.
PM2.5 readings for January to April in the key smog control area of Beijing-Tianjin-Hebei fell 18.8 per cent on the previous year to 69 micrograms, nearly double the national standard, although Beijing's year-on-year reading rose 20.8 per cent in April alone.
Six of China's 10 most polluted cities for the period were in Hebei province, China's biggest steel-producing region.
A senior Ministry of Ecology and Environment official said last month that China had reached a "stalemate" on improving air quality, with smog abatement measures often counterbalanced by unfavourable weather.
China President Xi Jinping promised in a speech on Saturday that the might of the Chinese Communist Party would be used to tackle the nation's environmental problems, with the aim of achieving fundamental improvements by 2035.
This article appeared in the South China Morning Post print edition as: Smog in Yangtze River Delta worsens since January