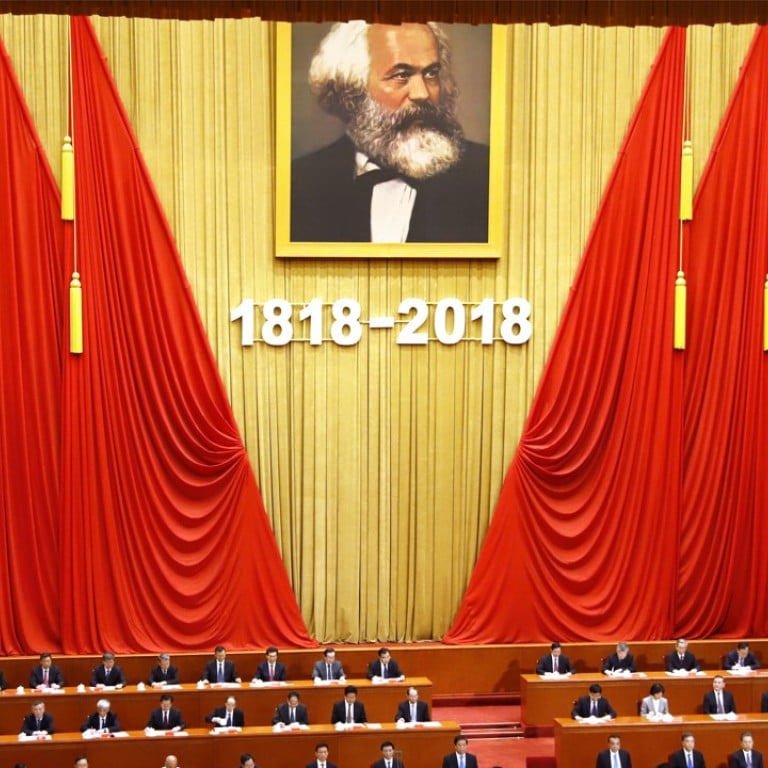 Why Beijing isn't Marxist enough for China's radical millennials
President Xi Jinping may have called for a recommitment to Karl Marx's ideology, but excuse some young Marxists if they are a little sceptical
"If we have chosen the position in life in which we can most of all work for mankind, no burdens can bow us down, because they are sacrifices for the benefit of all."
This quote, by a 17-year-old Karl Marx, was recently cited in China by two people who have made national headlines but have vastly different views over what their "burden" is.
The first was Chinese President Xi Jinping, who delivered an hour-long speech at Beijing's Great Hall of the People on May 4 – just ahead of the May 5 bicentenary of Marx's birth – focusing on how the Chinese Communist Party had inherited Marxism and evolved the German thinker's philosophy.
"Writing Marxism onto the flag of the Chinese Communist Party was totally correct," Xi said. "Unceasingly promoting the sinification and modernisation of Marxism is totally correct."
The second was Yue Xin, a student feminist and labour activist who called for her school, Peking University, to be transparent about the investigation of a 20-year-old rape case that had ended with the suicide of the victim – one of China's most discussed #MeToo incidents.
Yue had written the same Marx quote Xi cited on the bulletin board of her dorm at Peking University soon before she pressed for answers in the rape case and became a young symbol of rights activism in China.
Beijing has long gone far to teach China about the father of Communism. Classes on Marx and Marxism are routinely part of the country's educational curriculum, especially at the university level.
Ahead of the bicentennial, state-run television staged serial shows aimed at making Marxism interesting to the younger generation. Even members of the decision-making Politburo were not spared: Xi convened a studying session on The Communist Manifesto.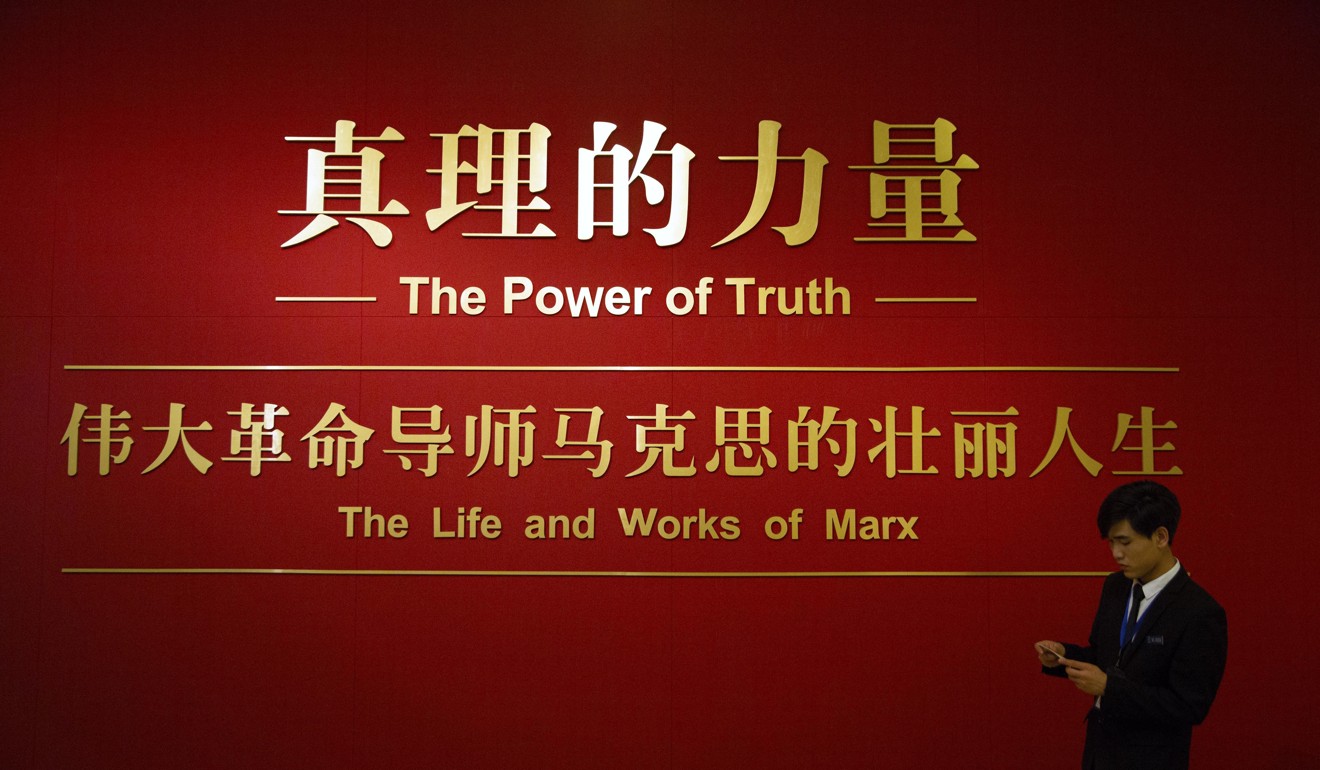 When the Chinese Communist Party first organised in 1919, the "Manifesto" – which Marx wrote with Friedrich Engels – was a foundational document and a wellspring of many of its policies.
But in recent years, Marxism has also inspired some young activists in China, who have seen in it the motivation to boldly press ahead on issues of feminism, workers rights and income equality.
In sharp contrast to the official Marxist line, this new generation of Marxists has emphasised individual freedoms, with some even expressing some interest in a constitutional democracy – a stand that the country's mainstream Marxists and Maoists usually dismiss as hypocritical.
For their part, despite Beijing's official narrative that the party upholds Marxism, some young leftists, appalled by China's poor protection of workers, rampant corruption and wealth gap, are not convinced.
As true believers of Marx's theories of class, exploitation, his critique of capitalism and even his ideas on individual freedom, they tend to be indifferent towards Beijing's interpretation of Marxism, and the economic policies built on it.
This handful of activists have grown to their 20s during the most oppressive time for China's civil society in decades, as Beijing in recent years introduced new, strict laws on non-governmental organisations, rounded up hundreds of rights lawyers and activists in the "709" crackdown of 2015, and tightened control over all religious groups.
That tight control over all social activities makes it impossible to estimate the number of pure Marxists in China. And the young activists recently in the news are hardly recognisable as an organised group of political dissidents.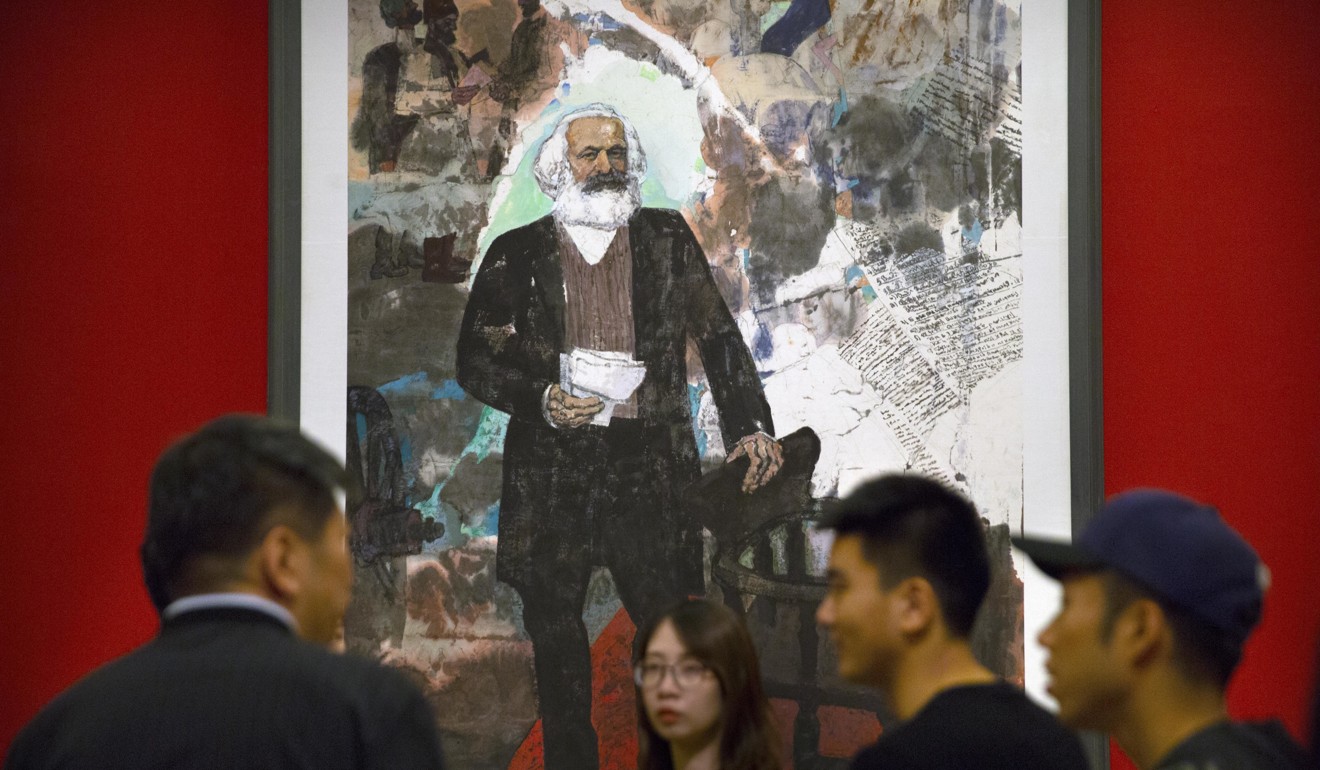 Yet they have already unnerved the party, which has used harassment and detention to effectively silence a number of Chinese advocates of the Western notion of constitutional democracy.
One of these young Marxists is Yue, now a final-year student at Peking University, who became an unlikely representative of feminism in China's most talked-about #MeToo case. Not a victim herself, she was among the very few students who cared enough about a 20-year-old rape case to press the university, which had employed the suspect, for answers.
In April Yue and other students filed a formal request for information about the investigation of an alleged rape by a university employee of a 21-year-old university student, who went on to kill herself. The investigation's findings were never disclosed, while the suspect incurred only a minor administrative punishment after the girl's death and continued to work at the university until he was transferred to another college.
The suspect was fired after the case resurfaced amid the trending topic of #MeToo. Yet for seeking an accounting, Yue paid a high price.
She was repeatedly questioned, sometimes until midnight, by university staff, who also threatened to withhold her degree if she continued to speak out on the matter. But she refused to yield to the pressure, pledging to stay vocal on sexual harassment and labour issues.
Given her background, it may have seemed that Yue – who grew up in a middle-class family in Beijing, and is soon to graduate from Peking University, which some critics call a cradle of egotism – made for an unlikely Marxist. But she was deeply influenced by the ideology.
On her social media account, Yue wrote extensively about how she was inspired by Marxist students she met on the campus, and how uneasy she felt about the poor conditions confronting China's workers. She even called family "a product of private property" – a typical Marxist view – and called for a Marxist approach to solve China's labour issues and widening wealth gap.
Yue, who could not be reached for comment for this article, also made it clear that the type of Marxism that the party played up in education and propaganda campaigns was far different from the original version.
"Marxist theory is a mandatory course in China ... but if you want to learn original Marxism, you need to read on your own," she wrote on her social media account.
In the past years, she has also been active calling for increased political participation, sex education for students and improved conditions for workers.
Yue is not the only Marxist-inspired youth to draw recent attention for pressing for civil rights.
A month before she sought answers about the rape case, a handful of leftist youths showed up in the Ministry of Public Security to submit a petition. The group, all of whom had once been arrested or wanted by police for holding reading and discussion sessions about political and social issues and for doing labour-related volunteer work, demanded their records and names be cleared, saying they were only exercising their constitutional rights.
Zhang Yunfan, 25, was one of two attendees taken away by the police in Guangzhou on November 15 in the middle of a reading and discussion session about censorship, labour rights and the pro-democracy movements in 1989, which ended with a violent crackdown by the army. It has remained a taboo subject in China.
Police arrested two more of Zhang's friends at their homes by police a week later. One compared the raid to an "action movie", when his door was kicked open before seven policemen pressed his neck down on his bed and took him away.
Zhang and his seven leftist friends, all university graduates, had held the sessions among themselves since September to discuss issues including China's market reforms and Mao Zedong's Cultural Revolution – which Beijing now calls a political catastrophe but China's Maoists still mostly praise.
Zhang declined to be interviewed by the South China Morning Post, citing security concerns. But in online statements, Zhang and his friends said police had focused on their leftist thoughts and their volunteer projects organising events for local workers.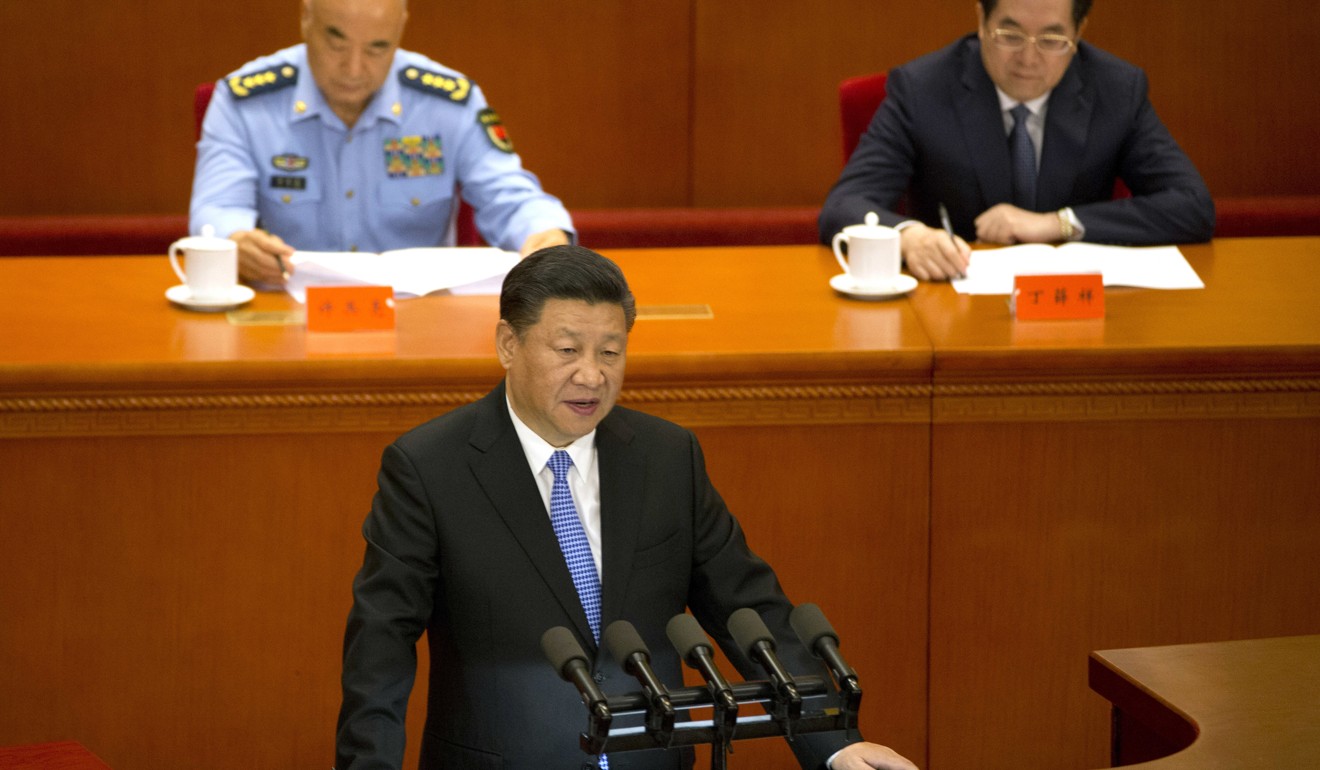 During a month of criminal detention and another two weeks of house arrest, Zhang was forced to admit he had "extreme thoughts" and was ordered to give a list of same-minded people.
His friends were told to "remind the police" of future reading sessions on Marxism and Maoism, and were questioned over why they played to workers The White-Haired Girl, a propaganda ballet opera from the Mao era, which accused landlords in pre-communist China of mistreating peasants.
"I've never imagined we would be arrested for this," said Sun Tingting, who helped organise such events and was detained for a month. "I did sympathise with the workers' condition but I never thought of helping them doing anything more."
While China's economic take-off owes much to its manufacturers, working conditions are notoriously poor. It is not uncommon for employees at private-sector companies to work with no insurance, or see their wage payments delayed.
Labour rights activism could also be highly risky amid the government's heavy clampdown on civil society in recent years. A court in Guangzhou, where Sun was based, sentenced three labour activists who helped with workers' strikes to one to three years of imprisonment in 2016, for "disrupting social order".
Despite a month of detention with suspected drug dealers and thieves, Sun, 26, is not deterred.
"Of course I'll keep helping the workers," she said. "Not doing so will make me feel guilty."
This emergence of Marx-inspired civil activism is a new trend, according to Yuan Yuhua, a prominent Maoist scholar who has lectured at several universities in China.
"Very few students cared about social issues in universities, and among those who did care, they were mostly influenced by liberalism," Yuan said. "Marxist associations in universities then were mostly absorbed by official doctrines."
Most of the leftists from the Guangzhou group, all in their mid-20s, said they became interested in Marxism during their school years, but not from the mandatory Marxist courses.
Some said they joined leftist student groups, where they started reading the original works by Marx, and conducted field research among workers and even took on factory work themselves.
Han Peng, among the leftists once wanted by police, said the rise of labour activism was partly due to the economic impact of the 2008 financial crisis on Chinese manufacturers. The crisis has fuelled criticism of capitalism around the world, and was largely credited for the rise of later anarchic movements like Occupy Wall Street.
"Near my hometown, the leftist groups were primarily focused on rural issues," Han said. "But during the crisis, they came to realise the problem was the lack of demand for products."
The Yangtze River Delta region, where Han is from, is home to numerous private businesses. The region was hit hard amid a drastic fall of overseas demand, with factories shutting down and workers not getting paid their wages – what Han referred to as a deterioration of workers' rights.
Yuan, the Marxist scholar, said the surge of Marxism and Maoism among the young could be at least partly attributed to a relatively recent climate of political tolerance in China.
"From 2008 to 2012, there was a broad diversity of political views in the mainland media and publications, ranging from a multi-party system to the relaunch of a Cultural Revolution," he said. "That was unseen in past decades."
But as Xi came into power in 2013, Beijing adopted a tighter control over the country's ideology. The government clamped down hard on Western notions of constitutional democracy, jailing human rights lawyers and activists in the notorious "709" crackdown, when around 300 were rounded up or harassed starting on July 9, 2015.
The government, beginning with Xi, has also listed some leftist ideas, including beliefs widely held among China's Marxists and Maoists, as "wrongful opinions".
"The ideology area is not peaceful ... wrongful ideas and opinions appear every now and then, some deny reform and opening up in the name of 'reflecting on reform' ... some relentlessly promote Western values," Xi said in a speech dated 2016, according to a book recently released by the party's official publishing house.
According to Roderick Macfarquhar, a professor of Chinese history and political science at Harvard University, regardless of what ideology might be fuelling it, any civil activism in China will be subject to suppression.
"President Xi believes in controlling everything, in case anything gets out of hand," Macfarquhar said. "It doesn't matter whether the activity is pro- or anti- regime, it cannot be allowed."
But Beijing would have no choice but to cling to Marxism and invoke the right to interpret it, he added.
"The regime has to have an ideology that justifies itself and links it to the people. For historical reasons, Marxism is their only answer," he said. "As with any ideology, it will be interpreted by those who have the power to do so."
This article appeared in the South China Morning Post print edition as: Turn left: How Marxstill fires young minds