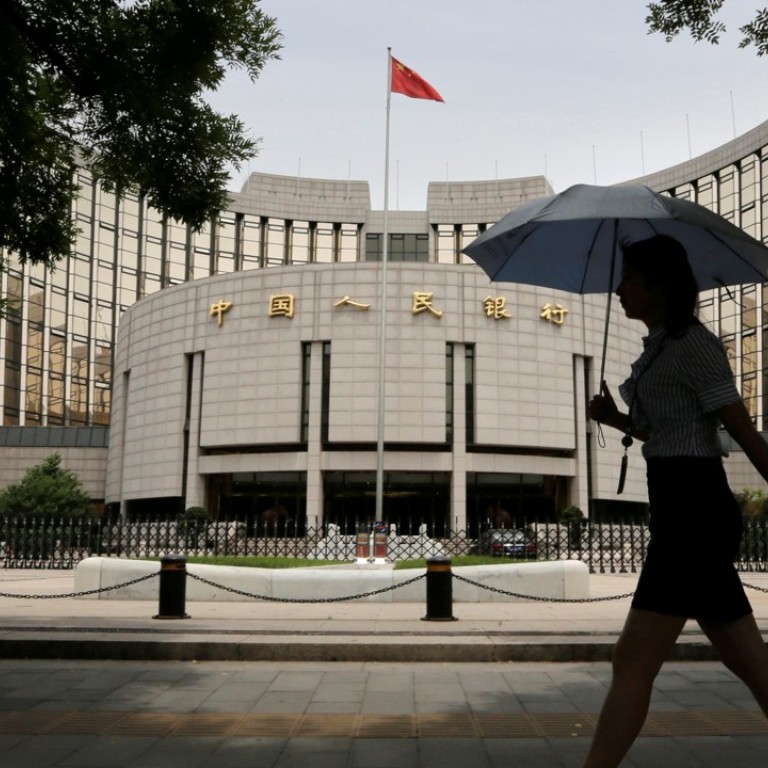 China's central bank frees up US$100 billion in funding as trade war looms
PBOC cuts share of deposits banks must set aside to boost support for small businesses and ailing state firms
China's central bank said on Sunday it would unlock at least US$100 billion for the country's lenders to bail out troubled state firms and to help small businesses, as Beijing tries to shore up growth under the shadow of a trade war with the United States.
The People's Bank of China (PBOC) said in a statement it would cut the reserve requirement ratio, the share of deposits lenders must put aside with the central lender, for commercial banks by half a percentage point from July 5.
The cut would free up 500 billion yuan (US$76.86 billion) in funds for the big banks, including Industrial and Commercial Bank of China and China Construction Bank, to finance debt-to-equity swaps, a measure often used for troubled state enterprises.
It would also free up 200 billion yuan for smaller banks to boost lending to small businesses across the country, the central bank said.
The move is a "targeted operation" aimed at supporting the weak links in the economy and not a change to the country's "neutral and prudent" monetary policy stance, the PBOC said.
Although the statement did not mention China's trade row with the United States, or its recently released weaker economic indicators, the reduction in the reserve ratio will come into effect a day before the first of US President Donald Trump's additional tariffs on Chinese products are due to be implemented.
Deng Haiqing, a visiting scholar at Renmin University of China, wrote in a note that the PBOC's move represented a significant shift in China's policy, and was not just fine-tuning.
"The authorities have started to see the pain inflicted on the real economy from deleveraging, and they are trying to reduce it," he said.
Beijing has been rolling out its debt-for-equity scheme across the country since 2016. The deal involves state companies borrowing money from the big banks to reduce their debt levels, but if they fail to repay their loans, part of the debt can be restructured as an equity stake.
While the scheme has been very popular among banks and state firms, the PBOC said big lenders were running short of funding for it.
It also said that banks should not use the funds to help "zombie companies".
Shao Yu, the chief economist with Orient Securities in Shanghai, wrote in a brief note that the funds, once released by the central bank into the commercial banking system, may flow into places that the central bank doesn't like.
"It's a very twisted way of supplying liquidity -- although the central bank always wants released funds to flow into places where it wants to see, the results can be very different," Shao noted.
China's economic expansion has slowed sharply in recent months with investment and retail sales growth in May falling to their lowest levels in decades.
A flurry of bond defaults also took place in China's onshore market this year, reflecting financial stresses as the central bank kept liquidity supply tight.
Tan Han, a fixed-income analyst at Guotai Junan, a Chinese brokerage, wrote in a note that a cut in required reserve ratio alone can't make a fundamental change to China's economic and financial situation, and Beijing needs to roll out other policies, such as proactive fiscal spending, to bolster growth.
"Just like [Lionel] Messi alone can't save the Argentina soccer team," Tan wrote.
Additional reporting by Orange Wang
This article appeared in the South China Morning Post print edition as: PBOC pumps liquidity as trade row intensifies