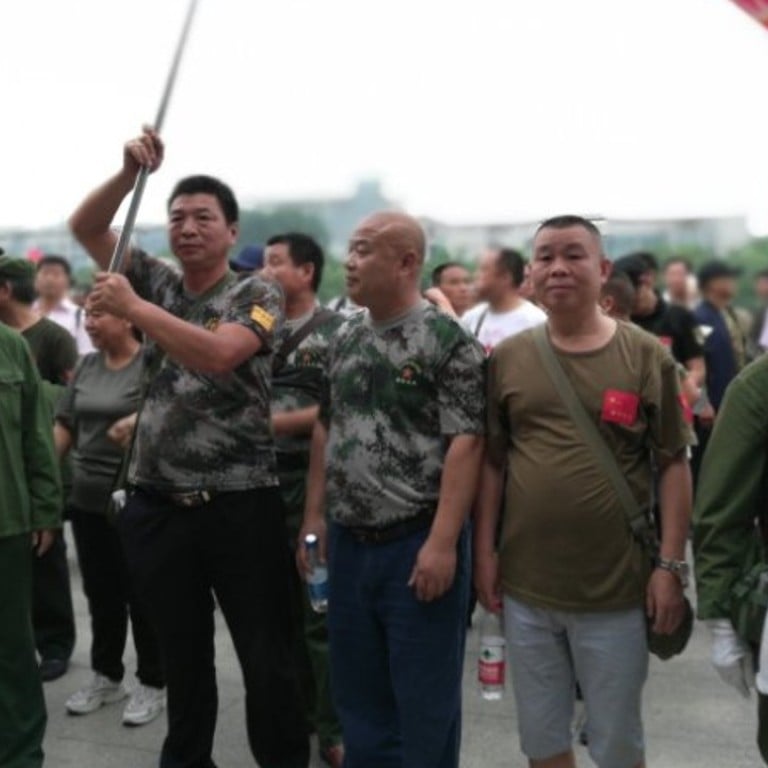 Chinese military veterans' rally for better welfare ends as armed police move in
Several campaigners need hospital treatment after five-day protest comes to violent close, sources say
A five-day protest in eastern China by thousands of military veterans demanding better welfare rights and an end to violence against them was brought to a close on Sunday after armed police were sent in to disperse the crowd.
The mass gathering in Zhenjiang, Jiangsu province, was held following a number of violent attacks on campaigning veterans in other parts of the country.
Several people who took part in the protest told the South China Morning Post that it ended when the Jiangsu government sent in hundreds of armed police. Officials from other provinces and cities also arrived in Zhenjiang to "convince" people to go home, they said.
A former military man from southern China's Guizhou province said he was upset at how the latest protest had ended.
"We had to make a compromise … but we are still very angry," he said. "Assaults on veterans is a public humiliation of China's military, but it's just the tip of the iceberg on the issue."
The veteran, who gave his surname as Liu, said that retired servicemen and women from across the country had joined the demonstration in Zhenjiang after hearing about and witnessing violent attacks against their former colleagues as they campaigned for better treatment.
He said that since May there had been multiple assaults by "gangsters and thugs" hired by local officials to "maintain stability" in Guangdong, Sichuan, Hunan, Hainan, Henan, Anhui and Liaoning, among other places.
He was unable to provide details of those injured or held, and neither the municipal government nor police were prepared to comment on the matter.
On May 22, more than 1,000 retired People's Liberation Army (PLA) soldiers gathered in a square in Luoding, southern China's Guangdong province, to protest against the treatment of a fellow veteran.
Five days earlier, 60-year-old Liu Tianrong had required hospital treatment for cuts to his nose and forehead after being beaten by unidentified assailants for trying to petition Beijing – along with eight others – for better treatment for veterans.
The witness to the alleged attacks in Zhenjiang said: "We veterans realised that we have to join together to fight for our dignity, because even though the central government set up the veterans ministry several months ago nothing has been done."
The new agency is intended to consolidate a range of functions previously distributed across the civil affairs and human resources ministries, and the political works and logistics support departments of the Central Military Commission.
Professor Zeng Zhiping, a military law expert at Nanchang Institute of Technology in Jiangxi province, said miscommunication between the PLA and local governments, as well as a lack of transparency within the PLA was to blame for the long-standing veterans issue, and the knotty relations between ex-military personnel and local governments.
"In China, there is not a channel for local governments to ask the PLA to provide the help and information they need [to identify veterans] … so local officials often regard [protesting] veterans as troublemakers," he said.
"The central government should give local authorities the legal right to demand that information from the PLA."