Energy
Get more with myNEWS
A personalised news feed of stories that matter to you
Learn more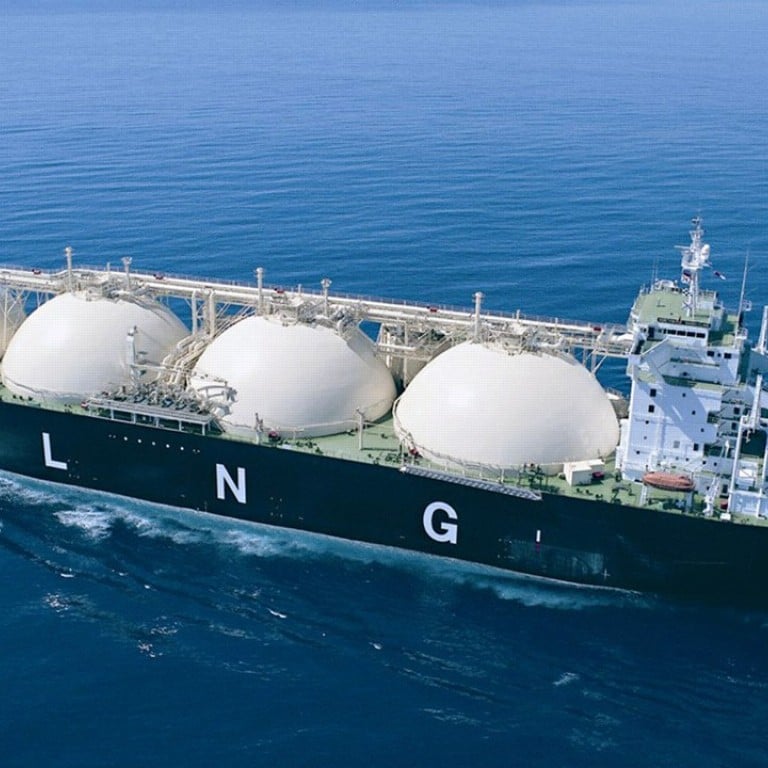 China to become world's top importer of natural gas in 2019, report says
Nation's demand for the fuel to rise by 60 per cent between 2017 and 2023 to 376 billion cubic metres, International Energy Agency says
China will become the world's top importer of natural gas next year, boosted by purchases of LNG as its weans itself off coal-generated power, the International Energy Agency said on Tuesday.
In its "Gas 2018" report, the IEA said Chinese demand for natural gas will rise by almost 60 per cent between 2017 and 2023 to 376 billion cubic metres (bcm), including a rise in its liquefied natural gas imports to 93 bcm by 2023 from 51 bcm last year.
Imports of LNG, natural gas super-chilled to liquid form so it can be transported around the world on vessels, will rise to 505 bcm by 2023 from 391 bcm last year, including China's additional purchases.
Global LNG exports meanwhile will rise 30 per cent by 2023 with the United States becoming the world's second-largest supplier, compared to its negligible exports last year, thanks to the shale revolution that has transformed its energy markets.
The report from the Paris-based agency highlights the might the two powerhouses have over global energy markets just as US President Donald Trump squares off with Beijing over trade.
China's rise to the top spot next year as an importer of both piped gas and LNG will knock Japan into second place but they together with South Korea continue to dominate the markets.
The China-driven global demand boom may lead to a stretched liquefied natural gas market next decade if no new investments are made in production, the IEA said. Sellers need to make decisions to pursue projects in the next few years to ensure adequate supply by 2023, it said.
China's gas use rose 15 per cent last year as the government passed a series of measures to help meet a deadline set in 2013 for ambitious air quality targets.
While the increased gas had some impact on airborne pollution in Beijing, it also created shortages in parts of the country that lacked adequate storage or supply access.
The IEA expects strong air-quality policies to continue driving China's demand, though at a slower rate than last year, towards the country becoming the largest importer of natural gas by 2019.
China will need to expand gas storage capacity to meet increased seasonal needs during winters, the IEA said. China has about 10 billion cubic metres of storage space, or about 4 per cent of its annual demand. Germany and Italy, two other countries with high import dependency, have capacity amounting to 25 per cent and 33 per cent of demand, respectively.
Meanwhile, as demand marches higher, so will China's dependence on imports. Though the country will become the world's fourth-largest producer by 2023 – based on annual production growth of 5.5 per cent – the share of domestic output in the total supply will fall to 54 per cent from 61 per cent, according to the IEA.
China, Japan and South Korea imported 55 per cent of the 391 bcm of LNG sold last year and will buy 48 per cent of the 505 bcm of LNG sold in 2023.
When all of Asia is taken into account, LNG sales there will rise to 75 per cent of all LNG sold globally from 72 per cent last year.
The demand for LNG in the top three Asian buyers has been driven by policy as they move to the cleaner burning energy source from coal-fired power plants.
In Japan, the Fukushima nuclear disaster accelerated demand after nuclear plants went offline.
In other Asian countries such as Indonesia, composed of hundreds of islands, vessel-borne gas is a convenient, cleaner and cheaper way of receiving energy than constructing pipelines for gas or using petroleum products such as diesel.
On the production side, global natural gas output will rise 10 per cent by 2023 to 4.12 trillion cubic metres with the United States contributing by far the largest amount to growth of 160 bcm extra gas in that period.
Much of that excess gas will be liquefied into LNG to be exported, making the US the second-largest seller of LNG by 2023 in the world with 101 bcm, pushing Australia into third place with 98 bcm and biting at the heels of Qatar as the top exporter at 105 bcm.
LNG from the three countries will account for 60 per cent of global sales of 505 bcm.