Taiwan
Get more with myNEWS
A personalised news feed of stories that matter to you
Learn more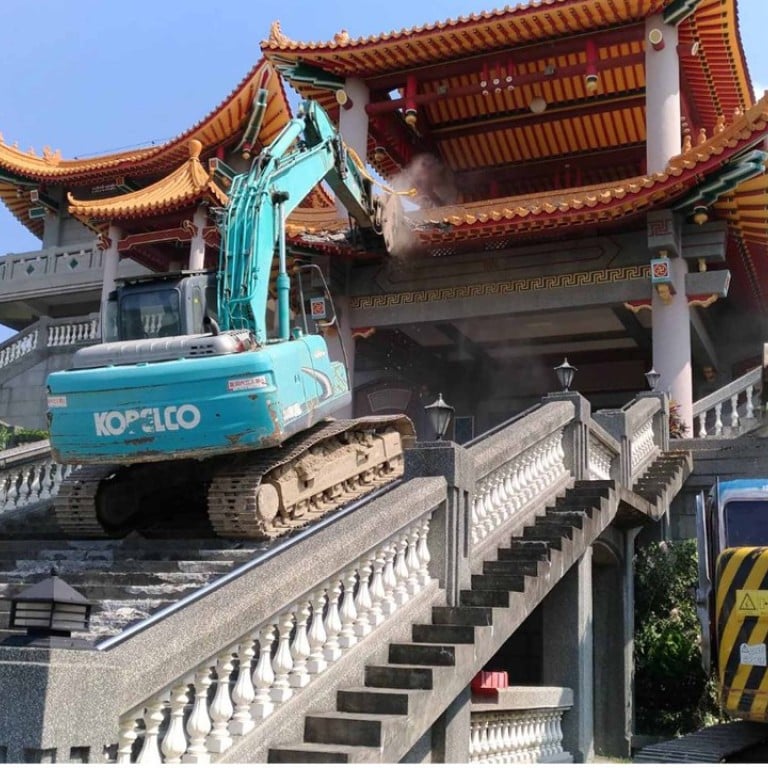 Taiwan bulldozes illegal communist shrine at Buddhist temple
Businessman and his 20 followers shout party slogans at final ceremony before the demolition begins on magistrates' orders
A Buddhist temple in Taiwan that had been turned into a base to promote Chinese communism and cross-strait unification is being demolished by local authorities.
Wei Ming-jen, a Taiwanese businessman, had converted the 96-year-old Biyun Temple into a much larger building and replaced Buddhist paintings and paraphernalia with Communist Party symbols, propaganda posters and portraits of party leaders such as Xi Jinping, Zhou Enlai and Mao Zedong.
But bulldozers were sent in to the site in Ershui township in central Taiwan's Changhua county on Wednesday after a magistrate ruled it was an illegal construction and must be used for its original purpose.
Wei, who ran a construction company before he started promoting communism in 2012, was awarded ownership of the temple six years ago in a legal dispute with the previous owners, a group of nuns who had hired him to renovate it. He renamed it "Socialism, Nationalism and Patriotism Education Base", and surrounded it with mainland flags.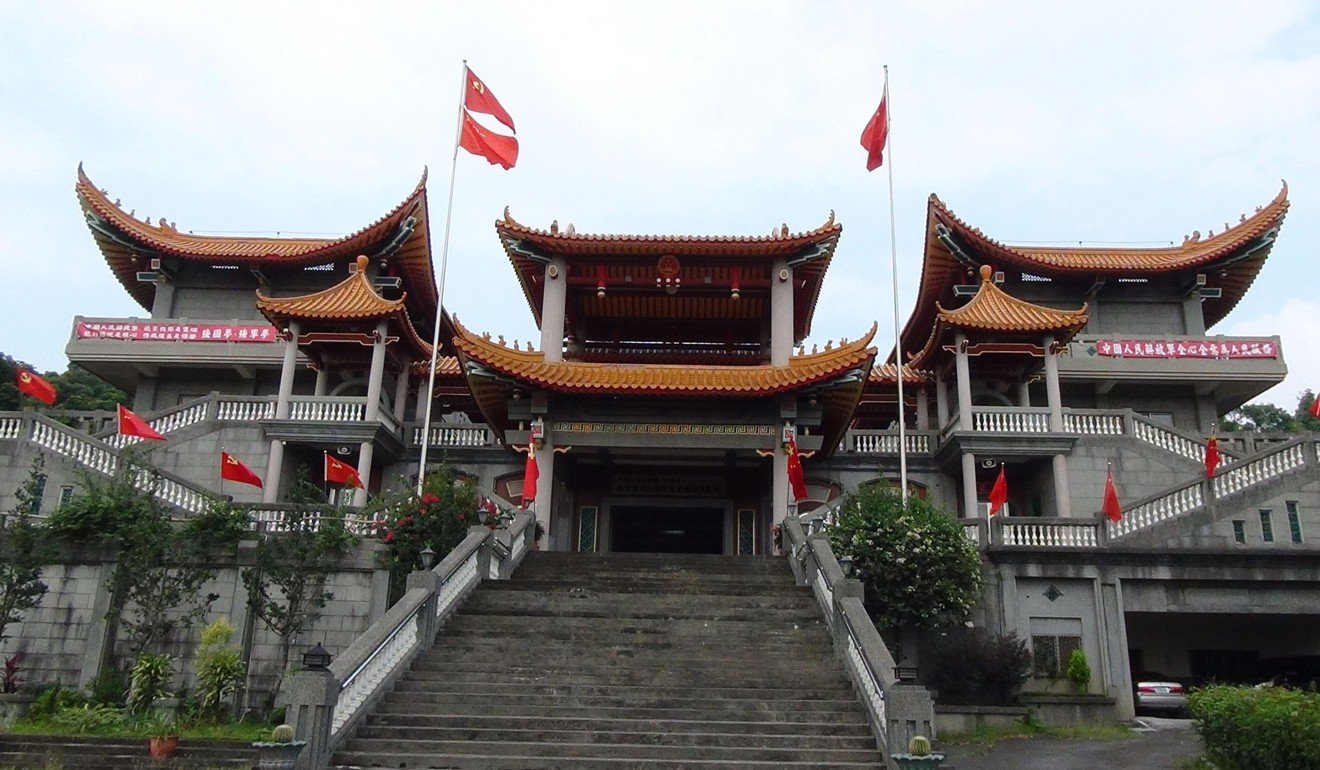 The base proved controversial because of deep-rooted suspicion in Taiwan about the Chinese Communist Party since 1949, when the defeated Kuomintang, or Nationalists, fled to the island from the mainland. The suspicion remains, with Beijing insisting Taiwan is a wayward province to be taken back by force if necessary.
Taiwanese officials said that the self-ruled island was a free society and they would not prevent its citizens displaying a mainland flag, but that additions to the building by Wei had to be demolished because they did not meet safety standards.
Announcing the demolition of the illegally built portion on Tuesday, magistrate Wei Ming-ku ruled that the much smaller original temple was a historic monument that could be used only for its original purpose.
"Nothing, not even a piece of brick, will be left except for the century-old relic," the magistrate said.
The next day, the county government sent 55 engineers and workers, along with 17 bulldozers, cranes and other demolition machines, to tear down the new sections of the buildings.
About 600 police officers and 14 fire engines were also deployed after 15 litres of petrol and several containers of gas were found at the site, according to deputy magistrate Lin Ming-yu.
He said 5,600 square metres of the temple premises was illegally occupied and demolishing it would take five to six days.
Since he began displaying the mainland flag at the site in October 2016, Wei has raised it every morning and lowered it each evening, drawing protests from pro-independence groups in Taiwan. Some have complained to the government of President Tsai Ing-wen, but in vain because Taiwanese law recognises freedom of political advocacy.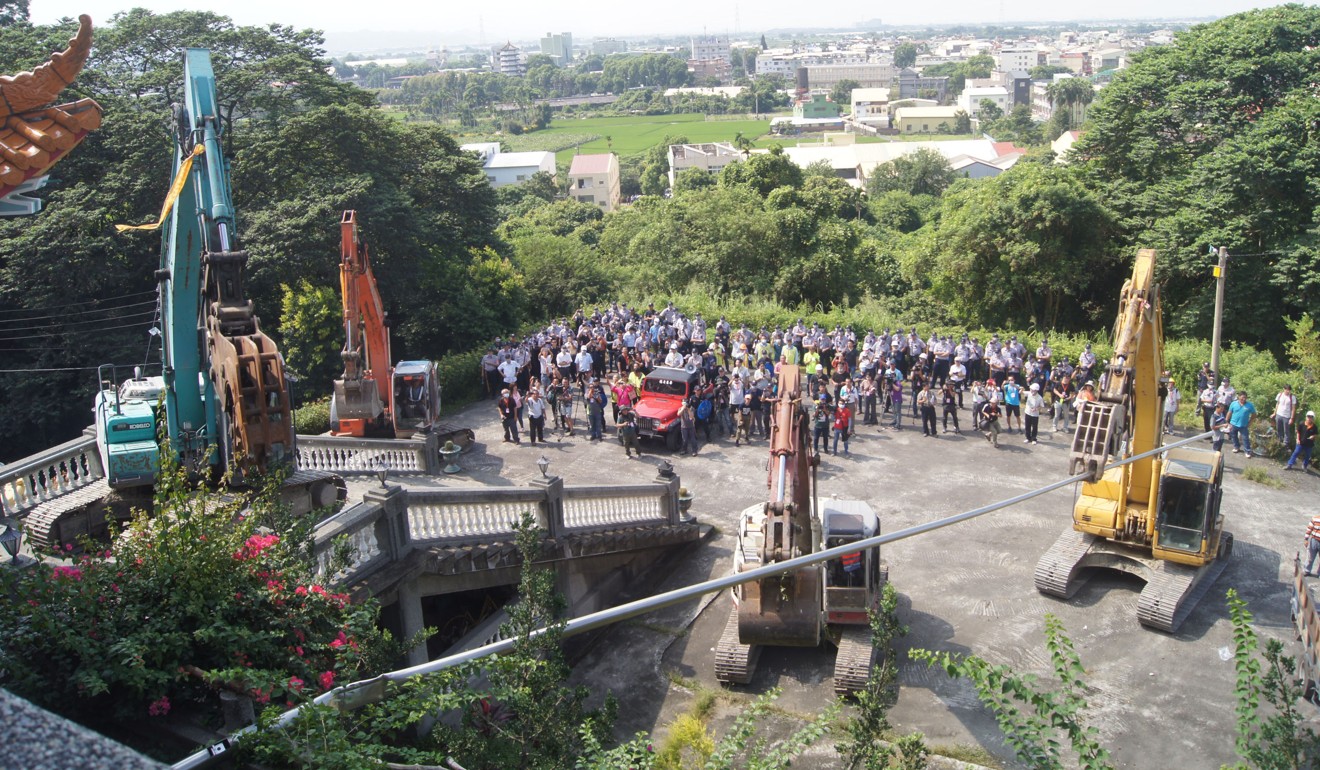 Wei's final flag ceremony, broadcast on local television, took place in front of about 20 supporters, who were led by Wei in shouting slogans such as "long live the Chinese Communist Party", "long live Mao Zedong's Thought" and "long live the People's Republic of China and the Chinese nation". He had played the mainland anthem earlier that morning.
When asked what he would do next, Wei said: "What we will do is something that we will keep to ourselves, and we will never yield, because the court handed the temple to us and we obtained it legally.
"We will wait for the best moment to declare our return, and by that time I pledge that the five-star flags will be flying all over the island."
One of the Buddhist nuns – who now live nearby in a tin-roof shelter – said the group felt sad seeing the temple demolished. "I hope one day our worshippers can help us rebuild the temple," Master Fa Ming said.
This article appeared in the South China Morning Post print edition as: bulldozers move in on shrine to communism