Ex-Interpol chief Meng Hongwei 'was never close' to disgraced former security tsar
Source close to Zhou Yongkang's family dismisses speculation that the two cases are linked
With former Interpol chief Meng Hongwei under investigation in China and the government raising the "pernicious legacy" of disgraced ex-security tsar Zhou Yongkang, there is growing speculation over whether the two cases are linked.
But a source close to Zhou's family has dismissed the suggestion they are connected.
The Ministry of Public Security on Monday accused Meng, who is also vice-minister of public security, of taking bribes. The investigation is being handled by the National Supervisory Commission, the country's top anti-graft agency.
Meng's wife denied bribery allegations against her husband, telling Associated Press that it was just Beijing's excuse to detain Meng. She also detailed the telephone threats she had received that prompted French authorities to place her under police protection.
Zhou Yongkang was once at the pinnacle of the Communist Party and is the highest ranking politician to be convicted of bribery, amid President Xi Jinping's sweeping anti-corruption drive, since 1949.
At the height of his power, Zhou oversaw all of China's domestic security apparatus, courts and prosecutors. He is now serving a life sentence in a Beijing jail.
Meng, a veteran with the national police force, was promoted to vice-minister of public security in 2004 when Zhou was the minister.
Zhou continued to oversee Meng's work when he was promoted to the party's innermost Politburo Standing Committee and put in charge of the powerful Central Politics and Law Commission between 2007 and 2012.
At a midnight meeting on Monday, leaders of the national police force, among other things, vowed to completely cleanse the "pernicious legacy" of Zhou, according to the ministry statement issued hours later.
But the source told the South China Morning Post that Meng had only ever had a working relationship with Zhou and was never a close aide to the former security chief.
"Meng was working for the public security ministry long before Zhou was parachuted in to take the helm of the powerful agency in early 2003," the source said. "Meng was an assistant minister for some time before Zhou was appointed. It was by no means Zhou's idea to promote Meng."
The source added that while some senior police officers had been eager to please Zhou and his family members while he was in charge, "Meng had little interaction with Zhou aside from on work matters during those days".
Beijing-based political commentator Zhang Lifan also said he did not think Meng's fall had much to do with Zhou.
After Zhou retired in late 2012, Meng was tasked with leading the revamped and expanded China Coast Guard. It had come under the ministry's supervision in 2013, when territorial disputes in the East and South China seas were heating up. He was also promoted to the role of senior vice-minister.
In late 2016, a year after Zhou was found guilty of corruption and other crimes – and his close associates in the ministry were either arrested or sidelined – Meng was elected as the first Chinese Interpol president.
"If Meng were really a member of Zhou's clique, he would never have been named [by Beijing] to lead Interpol," Zhang said. "I think Meng may have made other mistakes, rather than being found to have been involved in any of Zhou's conspiracies, or to have been his political ally.
"The statement released after the police leaders met doesn't say if there is any direct link between Zhou and Meng other than them being colleagues in the police force."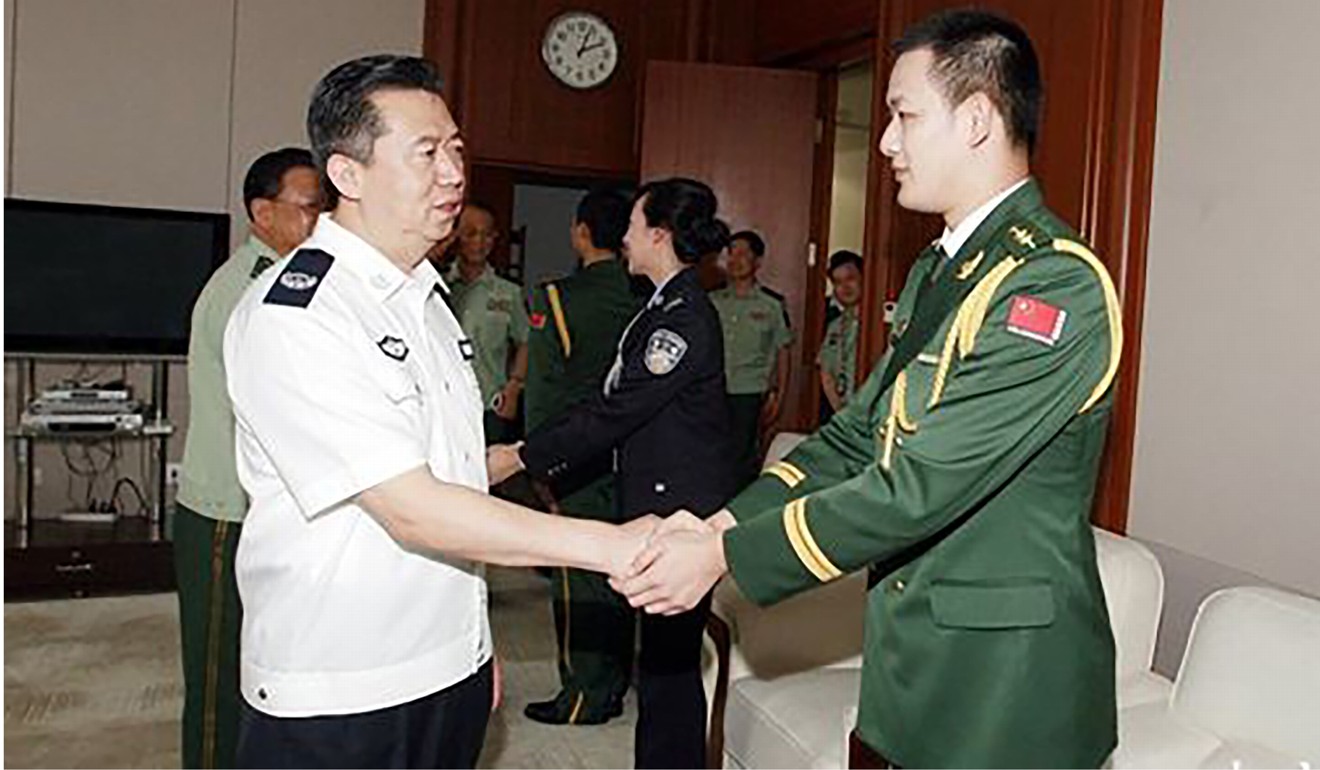 Meanwhile in Lyon on late Monday, Meng's wife told Associated Press that speaking out about the disappearance of her high-profile husband had put her "in great danger", adding that she was told China dispatched teams to find her in France.
Grace Meng said her last contact with her husband was by text message, on Sept. 25, when he wrote "wait for my call" and sent her an emoji image of a knife after traveling back to China.
After a week with no subsequent news, and on an evening when she was at home in Lyon having put their two young boys to bed, she then got a threatening call on her mobile phone from a man speaking in Chinese.
"He said, 'You listen but you don't speak,'" she said. He continued: "We've come in two work teams, two work teams just for you."
She said the man also said, "We know where you are," and that when she tried to ask a question, he repeated: "You don't speak, you just listen to me."
As a result, Mrs. Meng is now under French police protection.
A French judicial official, speaking on condition of anonymity, confirmed to Associated Press that police are investigating the threat against Mrs. Meng, but said the probe has yet to determine whether there were indeed Chinese teams sent to Lyon.
Mrs. Meng suggested that the bribery accusation is just an excuse for "making him disappear for so long."
"As his wife, I think he's simply incapable of this," she said. She said she would be willing to make their bank accounts public.
Mrs. Meng said she still had not been told where her husband was.
Additional reporting by Associated Press
This article appeared in the South China Morning Post print edition as: meng 'not tied' to ex-security tsar