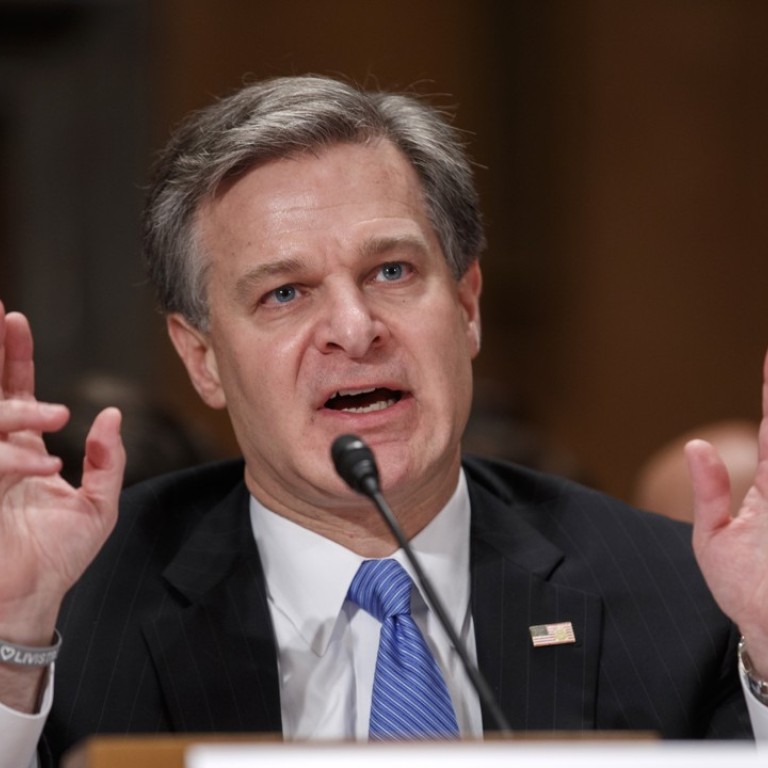 FBI chief tells US Congress that China poses bigger security threat than Russia
In a separate report, a congressional commission urged the Trump administration to challenge Beijing on human rights
China came under renewed criticism by US government officials and lawmakers on Wednesday on a range of issues, including charges of human rights violations against Chinese dissidents and minority groups and being a threat to US security.
"China in many ways represents the broadest, most complicated, most long-term counter-intelligence threat we face," FBI Director Christopher Wray said at a Senate Homeland Security Committee hearing when asked about the threat China poses relative to Russia. "Russia is in many ways fighting to stay relevant after the fall of the Soviet Union. They're fighting today's fight. China is fighting tomorrow's fight."
US Homeland Security Secretary Kirstjen Nielsen, who testified alongside Wray, told the committee: "China absolutely is on an unprecedented – or exerting unprecedented effort to influence American opinion," although she added that "we have not seen to date any Chinese attempts to compromise election infrastructure."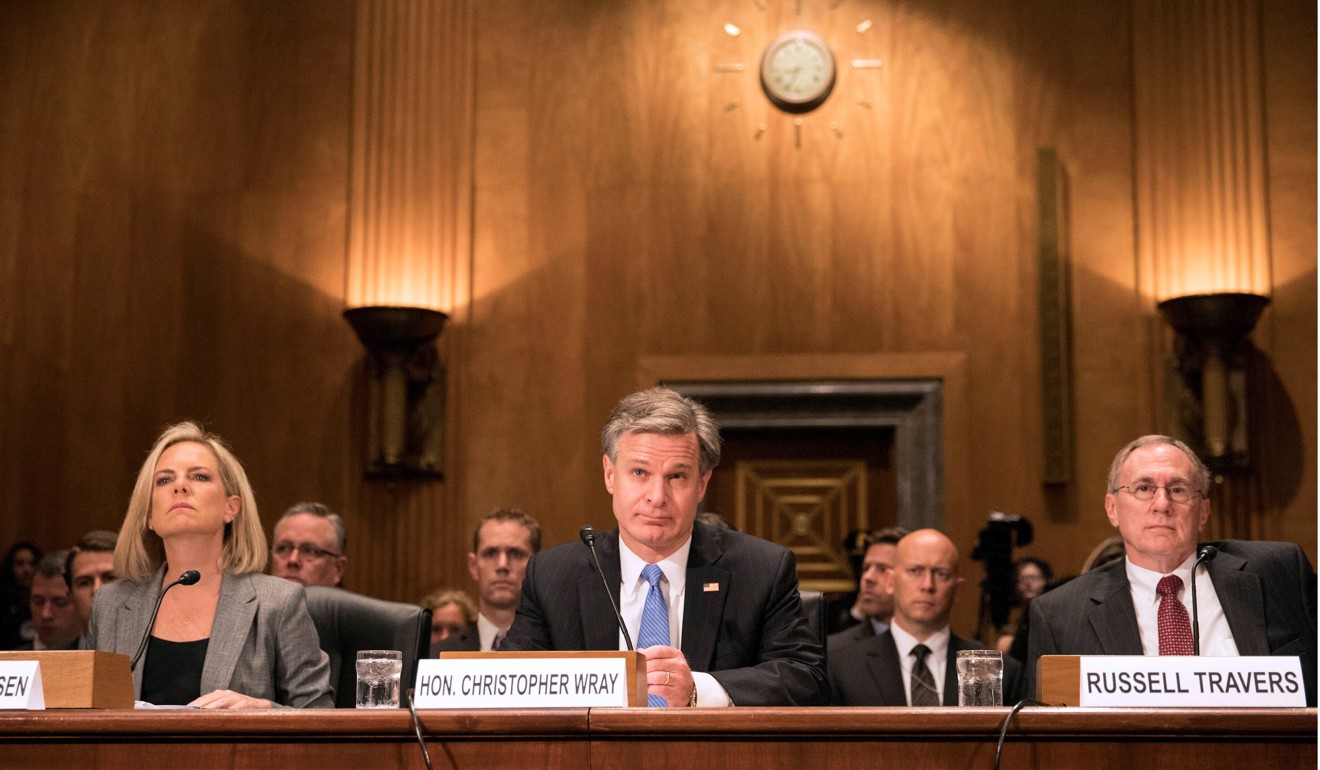 The Senate committee was seeking clarification of comments US Vice-President Mike Pence made last week that Russian meddling in the 2016 presidential election "pales in comparison" to China's influence operations.
Meanwhile, an influential US congressional body told the administration of President Donald Trump that challenging China on its human rights record must play a prominent part in any efforts to redress the US-China relationship.
In a report released amid deepening tensions between Washington and Beijing, the Congressional-Executive Commission on China (CECC) said that commitment to the rule of law was "the foundation upon which cooperative alliances and security partnerships, multilateral consultative mechanisms, and the free flow of trade and investment depend".
"Any effort to rethink US government approaches to the current Chinese government should recognise that pressing for adherence to universal standards and insistence on greater reciprocity advance American economic and security interests," the CECC said in its annual report, released on Wednesday.
The CECC, chaired by Republican Senator Marco Rubio, was established in 2000 to monitor human rights and the rule of law in China. It delivers annual reports to Congress and the president as well as conducting public hearings on matters like the Chinese government's crackdown on Uygur Muslims in the country's far west.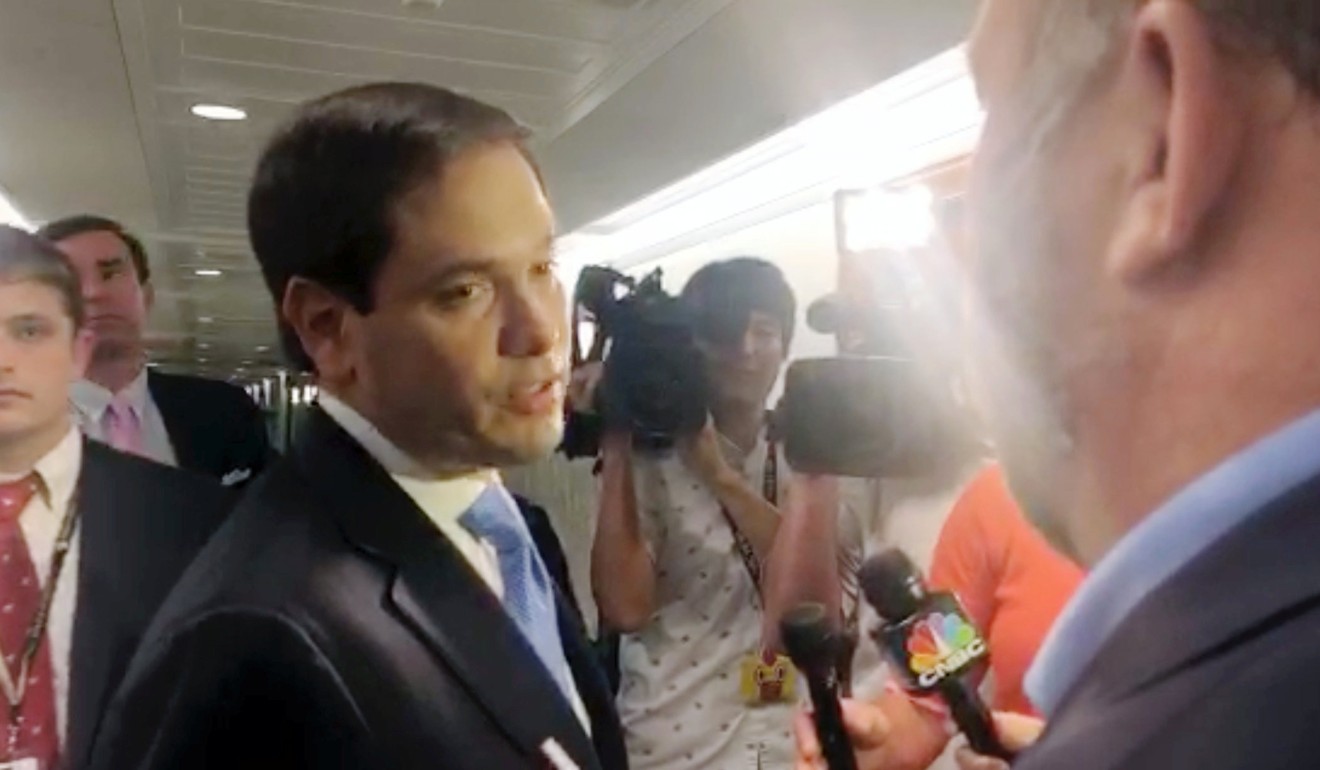 "US-China tensions are high at the moment on many fronts," Republican Representative Chris Smith said at a CECC press conference on Wednesday, adding that he had noticed an eagerness on the part of the Chinese government to get relations back on track.
"Well, when you so grossly mistreat your own people and your own citizens, we care about them first," said Smith, who is co-chairman of the CECC. "Get the human rights part right, and the friendship and the dialogue will accelerate" between the two governments.
The report comes as the Chinese government shows no sign of scaling back its operations in Xinjiang, where reports have indicated that up to one million Muslims are being held in extrajudicial detention and subject to enforced political re-education.
On Tuesday, revisions to Xinjiang's regional legislation gave a legal basis to the use of re-education centres.
With a mandate "to educate and transform people who have been influenced by extremism", such centres are tasked with instructing inmates on subjects like law and the Chinese language, the revisions stated. Chinese officials had previously denied the use of re-education centres, instead claiming only that those guilty of minor crimes have been sent to vocational training schools.
Rejecting "the temptation to view human rights and the rule of law as tangential issues in bilateral relations, sidelined from economic and security interests", the CECC report arrives as the trade impasse between Washington and Beijing has begun to spill out onto multiple fronts, including flare-ups in military tensions in the South China Sea, the cold-shouldering of visiting officials, and an increasingly direct war of words at the highest levels of both governments.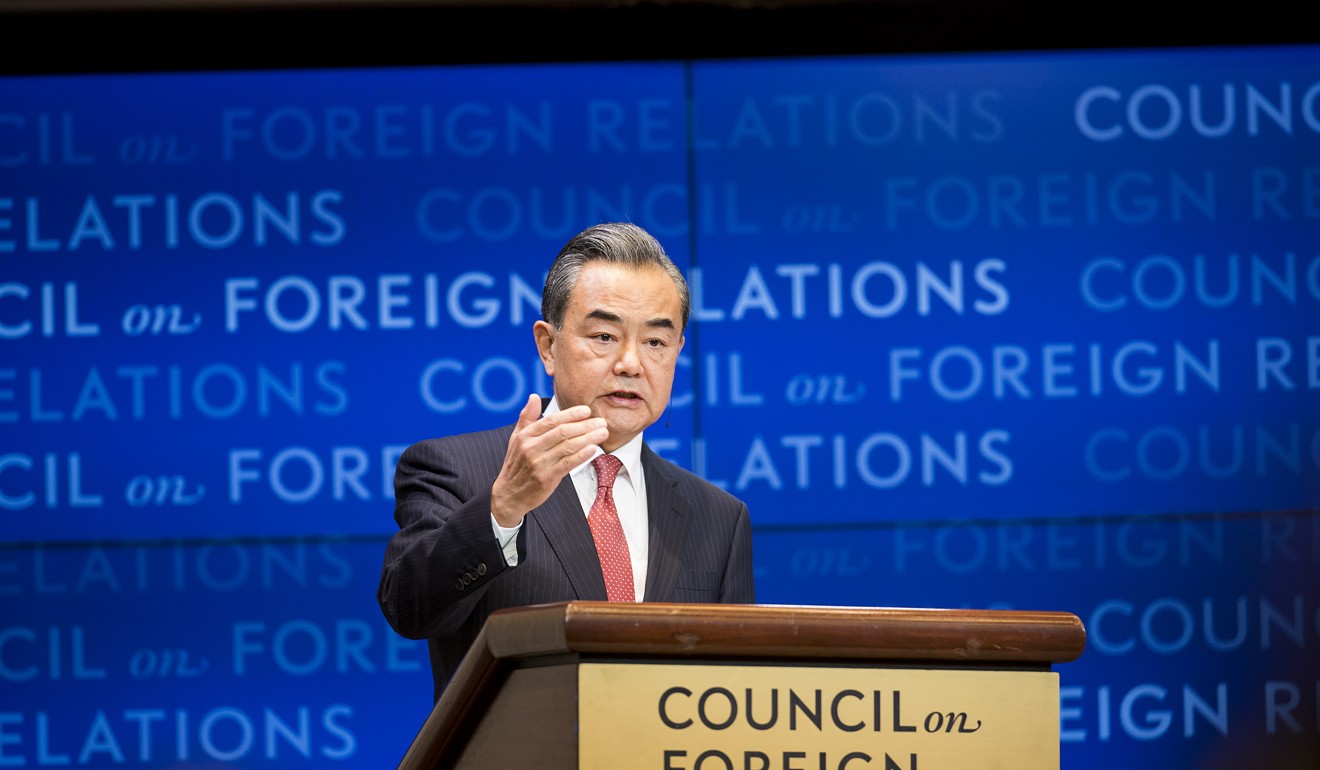 During a recent visit to New York, China's top diplomat, Wang Yi, said the US was making a "serious strategic misjudgment" in its accusations that Beijing was seeking to usurp the US and achieve global dominance, warning Washington that such suspicions would only harm the future and interests of the US.
Speaking in Washington on October 4, Pence issued a wide-ranging attack on Chinese authoritarianism, including an accusation first made by Trump that China was seeking to interfere in the coming US midterm elections, a charge that observers have questioned and Beijing has forcefully denied.
In a speech viewed by many observers as heralding a new low for US-China relations, Pence said that Beijing was doubling down on religious and political persecution; further militarising outposts in the South China Sea; and aggressively financing development projects overseas in ways that saddle the host nations with insurmountable levels of debt.
"This is the first administration that has ever explicitly called China a strategic competitor in a document of national security strategy and national military strategy issued last year," David Shambaugh, a China scholar at George Washington University, said in an interview on Tuesday.
"George W. Bush called China strategic competitor during the campaign, but once he became president he never used the term again. We are now competing with China overall, much more than cooperating with them, but the US will cooperate when we can", on issues including North Korea and security in the West Pacific.
"However, the areas of competition now far outweigh the areas of cooperation. You are going to see a much more assertive America vis-à-vis China."
The vice-president made no substantive proposals in his speech as to how Washington intended to act on these grievances.
Among its wide-ranging list of recommendations to the US administration, the CECC called on high-level US officials to raise the matter of political detention with Chinese officials.
"Sustained and consistent international advocacy on behalf of prisoners can bring results," the report said, referring to the release in July of Chinese poet and activist Liu Xia, the widow of Nobel Prize winner Liu Xiaobo. Liu Xia was released from de facto house arrest and allowed to leave China following behind-the-scenes lobbying on her behalf by German diplomats.
In further recommendations likely to resonate with the current administration, the report also urges the administration to maintain pressure on the Chinese government to cease "harmful practices and policies" restricting US trade and investment in China; strengthen scrutiny of Chinese investment in various US sectors; and publish any information collected from US companies operating in China pertaining to censorship, forced data transfer and surveillance.
The Trump administration should also take action – such as restricting US visas and imposing financial sanctions – on Chinese officials deemed to be responsible for policies and measures that threaten the individual rights of citizens, the report said.
Repeating a call previously made by the commission to US Secretary of State Mike Pompeo and Treasury Secretary Steven Mnuchin in late August, the report appealed to the administration to enforce the Global Magnitsky Act on government officials involved in China's security campaign in Xinjiang. The act authorises the US government to freeze an individual's US-held economic assets and restrict that person's travel.
The administration should also consider issuing a joint statement on the matter with other countries at the UN Human Rights Council or request a debate at the UN Security Council, the report said.
On the question of whether Trump – who has faced criticism over his praise of leaders like Kim Jong-un of North Korea, Russia's Vladimir Putin and the Philippines' Rodrigo Duterte – would be willing to hold human rights abusers to account, Smith said: "Friends don't let friends commit human rights abuses."
"If he does have a cordial friendship with [Chinese president Xi Jinping], it adds additional emphasis to the moral reasons why he needs to raise this," Smith said.
Omer Kanat, director of the Washington-based Uygur Human Rights Project, welcomed the report's recommendations, but warned against the Trump administration's taking up the issue of Xinjiang merely as some kind of strategic component within its broader approach to the trade impasse.
"This shouldn't be one of the things that the US should use against China," said Kanat, who said that US officials – such as Pence – pushing the issue with words alone meant nothing without action. "Nothing has happened."
"Take serious action," Kanat implored the US administration, pointing to economic sanctions on Chinese officials as a feasible example of "concrete action".
"Do something that makes the Chinese back up."
This article appeared in the South China Morning Post print edition as: China 'more of long-term threat' to US than Russia