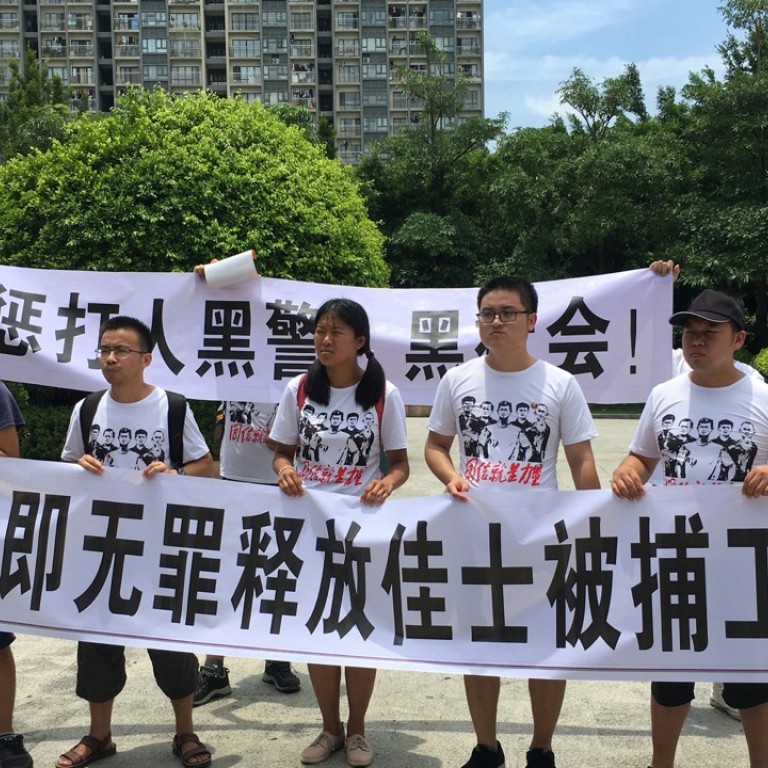 Chinese campus crackdown on young Marxist activists expands in major cities
Students summoned by university and warned to ignore weekend purge
Most of the 22 activists still missing after being violently rounded up
At least 16 of 22 Chinese labour activists – many of them recent graduates from elite universities – who disappeared in five cities over the weekend were still missing early on Wednesday, as authorities widened their crackdown against emerging grass-roots activism led by young Marxists.
Students at Peking University (PKU) who formed a missing alumni concern group have been warned by the university over the past two days – in the presence of their parents and others who appeared to be plain-clothes police – to ignore the weekend purge.
But the group, which gave the estimate of the numbers of activists still missing, has vowed to keep fighting for their freedom.
The latest purge follows the earlier detention of about 50 activists after a labour rights protest that began in Shenzhen at the end of July.
TheSouth China Morning Post reported in October that one of the prominent young activists, 22-year-old Yue Xin, was still missing more than a month after her detention in August.
The Post also reported that Yue's mother, who had been looking for her daughter, disappeared soon afterwards. There has also been no word on her whereabouts.
"Many students were told the weekend incident was a law enforcement action by relevant departments targeting [suspects] of illegal activities," a Peking University student, close to the activist schoolmates, said, refusing to be identified for fear of retribution.
"They also warned students against taking further radical actions as the university would no longer tolerate them. Further moves will be dealt with by law.
"We will not rest until the university can explain what constitutes the radical actions and illegal activities our alumni are accused of."
The disappeared activists are part of the Jasic Workers Solidarity group supporting workers trying to unionise at Shenzhen-based Jasic Technology, a welding machinery manufacturer.
Worker representatives were sacked, beaten and detained at rallies and demonstrations which began in July and led to the arrest of about 50 activists by uniformed police.
The industrial action, although limited in scale, has been a symbolic milestone for the recent emergence of a new generation of left-leaning social activism in China.
The authorities had already stepped up their watch and control on Marxist student groups in universities after the Jasic campaign. But on Friday evening, in an organised effort, 19 people, including young Marxists recently graduated from elite universities, labour activists and workers were violently snatched in Beijing, Shanghai, Guangzhou and Shenzhen.
Three other activists – two workers and a recent graduate of Renmin University of China – were taken away on Sunday afternoon in Wuhan.
A brief statement by the university's security department said the Friday night incident was a police action targeting suspects who were not current students of Peking University. The statement was posted on the university's internal forum and later deleted.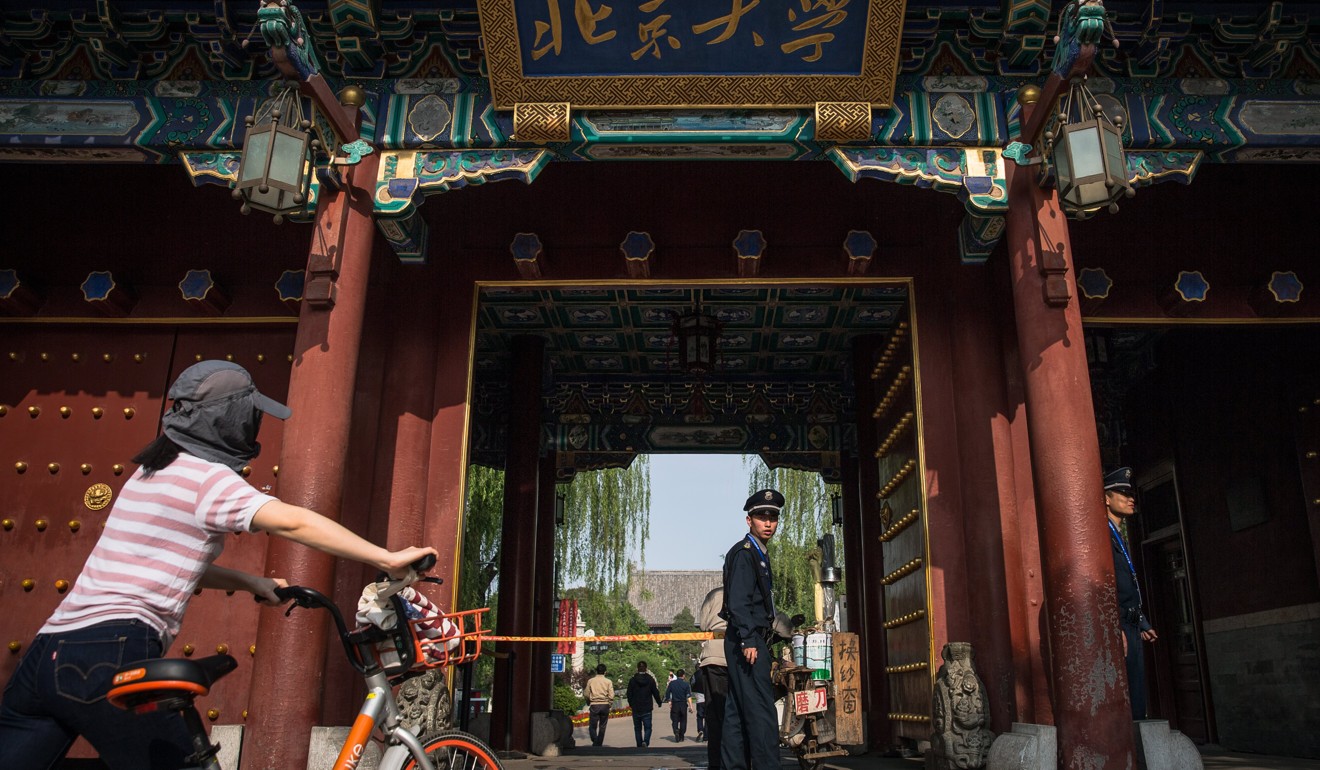 Calls to the public security department in Guangdong province and Wuhan went unanswered while Beijing and Shanghai police declined to respond to the Post's inquiries. The Post could not independently verify the numbers provided by the group.
Yu Tianfu, a fourth year student at Peking University, was removed from campus and taken to his home in Chengde, Hebei province, after sharing his witness account in an online video of the violent snatching of alumni Zhang Shengye.
Yu said he saw Zhang on campus being bundled into a car by a dozen masked men in black clothes.
He said that he and other students were beaten while footage and photos of the arrest were forcibly deleted by the men on site.
According to supporters groups, other missing people on the weekend included He Pengchao and Wang Xiangyi, founders of Shenzhen-based social work organisation Qingying, as well as fellow former Peking University students Sun Min and Zong Yang.
Also missing are Zheng Yiran, Lu Daxing and Li Xiaoxian, who are graduates from other Beijing universities.
They disappeared on Friday along with Qingying staff members Kang Yanyan, Jian Xiaowei, Wang Xiaomei and Hou Changshan, in Shenzhen.
At about the same time, activist Liang Xiaogang disappeared in Shanghai and another activist, Wang Guixia, was among five workers who vanished in Guangzhou.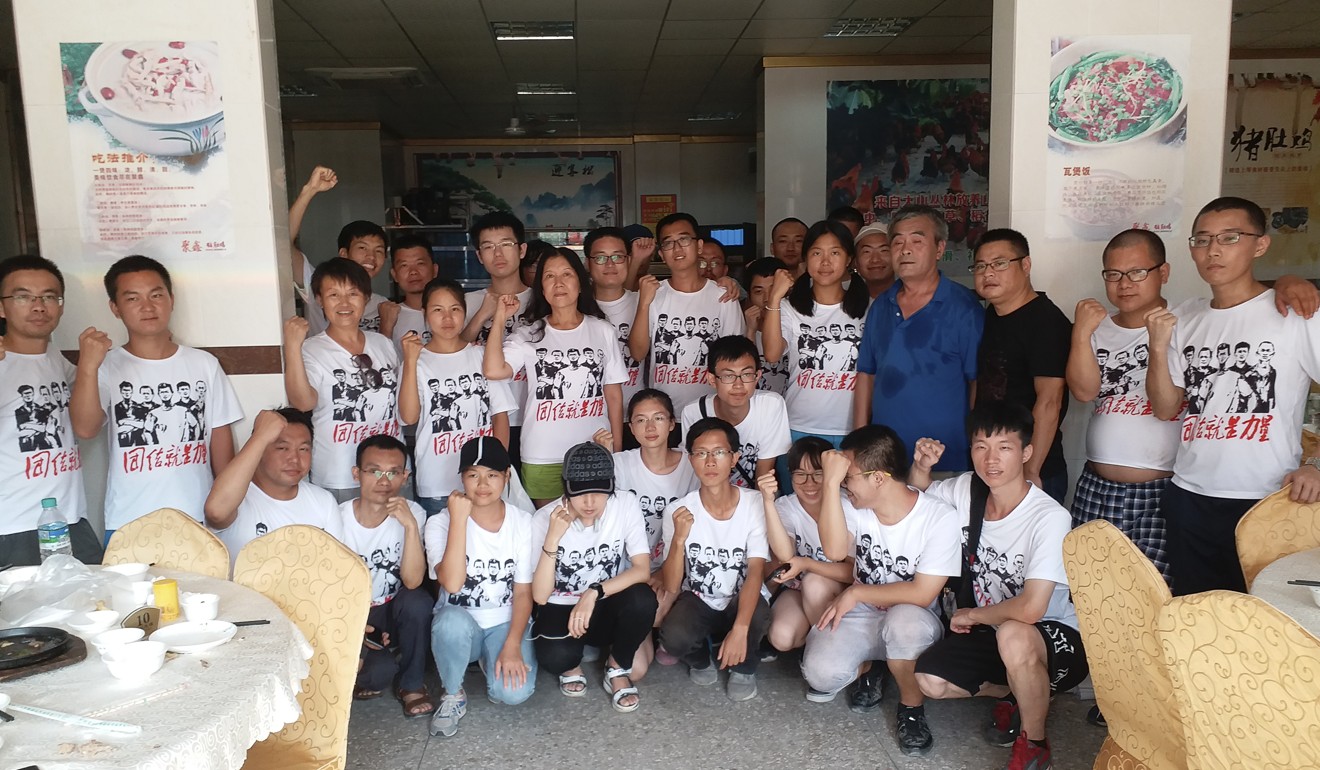 In the Wuhan operation, Renmin University graduate Wu Jiawei and activists Tang Xiangwei and Zheng Youshi were netted by plain-clothes police in Wuhan on Sunday, according to a third year university student who witnessed the arrest. Wu was released on Monday afternoon.
"About 10 men in black stormed into a noodle shop near the South Central University for Nationalities and they immediately contained three men, one against the wall, another one on the ground and the third one on the table," the student said.
He said that he heard one of the men say he was police while quickly flashing his identification to one of the men being held.
"Everyone was so scared," said the student, who declined to be identified.
Meanwhile, the five workers from Guangzhou who were snatched on Friday were released on Saturday.
One of them, a migrant worker, said six men dressed in black stormed into his flat in the Huangpu district of Guangzhou as he was leaving for work.
"They held me on the ground and handcuffed me. One of them said he was police and they searched my flat before interrogating me in Huangpu police station," he said.
The man said he used to work with a young Marxist activist who was detained following the Jasic demonstrations. He said the activist was of particular interest during his interrogation.
"I was not allowed to sleep for 30 hours and they forced me to dictate a statement accusing the activist of mobilising workers to join an organisation endangering state security or they wouldn't let me go.
"I had no idea what that was but I was so scared, my mind was muddled and all I wanted was to get out of that place as soon as possible," he said.
"But I regret it so much for accusing [the activist] of something they never did."
He said he knew he might face further consequences but wanted to speak up to restate the activist's innocence.
"Otherwise I just can't live with myself," he said.
Seven of the solidarity group detained as a result of the Jasic campaign remain incommunicado, including Shen Mengyuand Xu Zhongliang. Other members have continued to campaign on labour rights as well as for their missing fellows.
Some students have also defended their Marxist societies on campuses, as several of these student bodies faced difficulties in renewing their registration with school authorities in the new academic year.
"Our universities' campuses are in white terror where students' safety is taken as a joke. We fear more students will disappear," said another member of the Jasic solidarity group.
"We hope academics from home and abroad will support students' actions," said the student, who cannot be named.
This article appeared in the South China Morning Post print edition as: Marxist crackdown widens to five cities