Taiwan
Get more with myNEWS
A personalised news feed of stories that matter to you
Learn more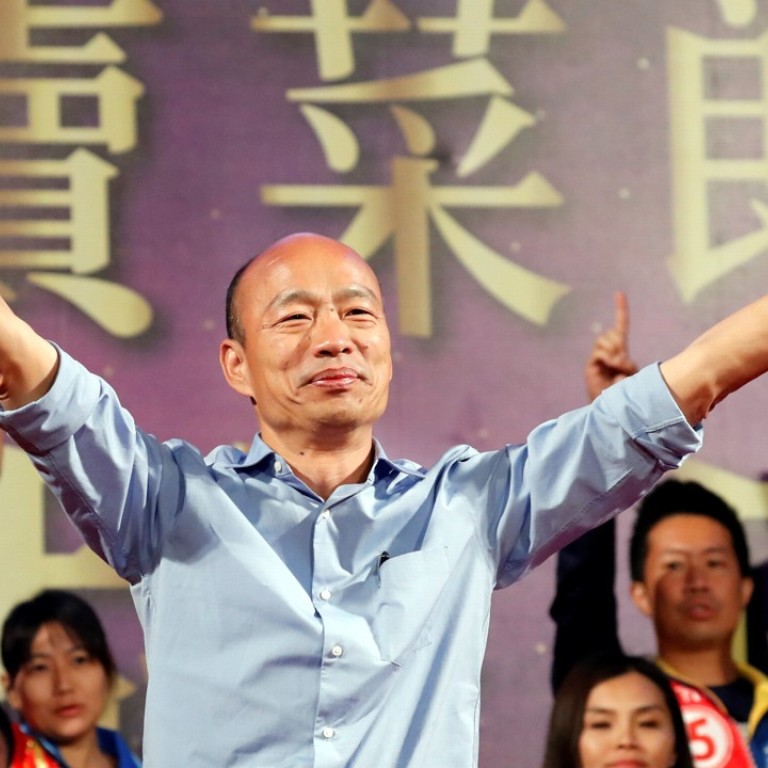 From rank outsider to mayor of Kaohsiung: meet the man who wooed Taiwan's electorate
Han Kuo-yu was considered to have no chance when he was named as the Kuomintang's candidate, but his bold promises and clever use of social media saw him home
After breaking two decades of control by Taiwan's ruling Democratic Progressive Party (DPP), all eyes are now on the new mayor of Kaohsiung Han Kuo-yu.
The 61-year-old, whose parents came from central China's Henan province, won a crushing victory for the opposition Kuomintang (KMT) over the independence-leaning DPP in the polls, which proved to be a difficult midterm test for embattled President Tsai Ing-wen.
Four years on from its own humiliating election defeat, the elections saw the KMT more than double its political control in the self-ruled island to 15 cities and counties, including three special municipalities.
Such a result would have been thought fantastical a few months back, but now it raises the stakes in the run-up to the 2020 presidential election.
Tsai resigned as chairwoman of the DPP after her party lost seven counties and cities, including two special municipalities – the central city of Taichung and Kaohsiung in the south.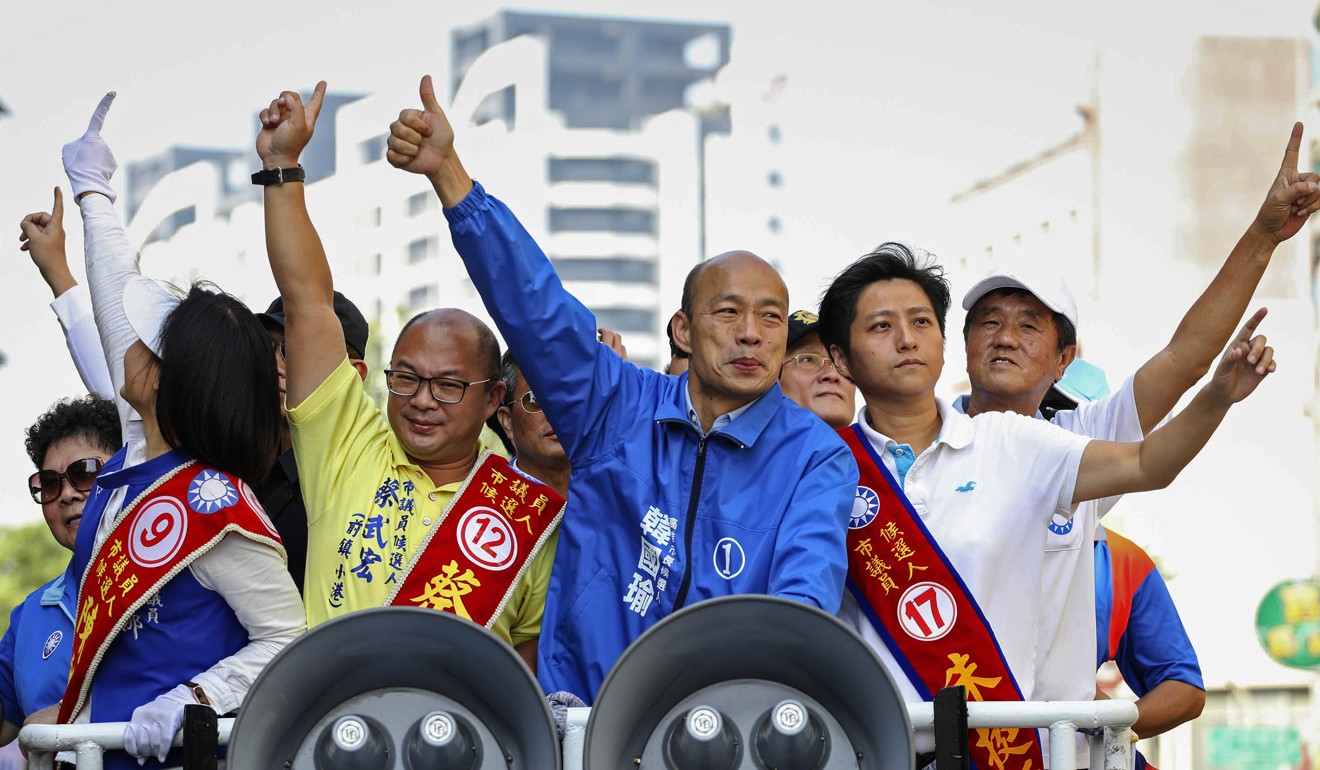 Born in Taiwan, Han studied English literature at Soochow University after graduating from the military academy. He then went on to gain a master's degree in law at National Chengchi University.
He is married to Li Chia-feng, a local councillor in Yunlin, southwest Taiwan, and has three children.
After eight years as a lawmaker for the KMT he left politics in 2002 and took up a job as the head of a farm produce marketing association in Taipei.
In May he was nominated to run for mayor of Kaohsiung. But with almost no support from his party – he received neither money nor resources – Han was seen as little more than electoral cannon fodder in the race for a seat his party had no expectation of winning.
But in just six months, his popularity soared. Such was the groundswell of support for his campaign that his fellow candidates from the KMT also benefited. Once shunned, Han became the must-have campaign accessory.
On the streets, his supporters shouted slogans like: "Han Kuo-yu, get elected!" and "Kaohsiung, turnaround". Dressed casually, Han used the language of the people to canvass support, and it worked.
In his final campaign rally in Kaohsiung on Friday, a day before voters went to the polls, close to 200,000 supporters filled the park. And when he promised to "make Kaohsiung great" again, the crowd roared.
"In the past 20 to 30 years, Kaohsiung people have led a difficult life in this city drowned by political ideology, full of pathos and grievances, especially at times of elections," he told the rally.
"If I was elected mayor, I would return the city to its former glory, when people were rich and young men were able to find a decent job," he said.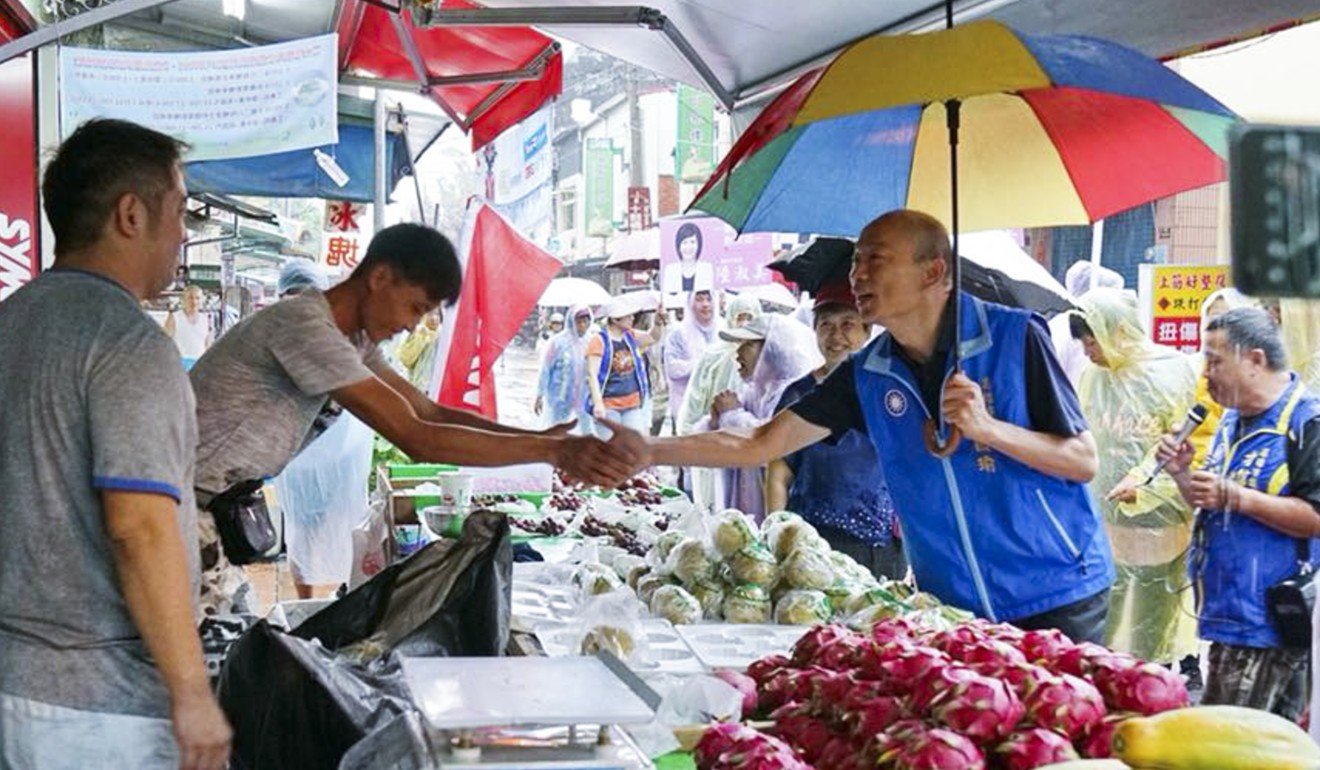 Analysts said Han struck the Achilles' heel of the DPP, which ran the city on a political, rather than economic agenda.
"Speaking in the local tone and dressed like a member of the working class, Han succeeded in making a good impression with the locals who have often found themselves inferior to the citizens of Taipei," said commentator Huang Wei-han.
"By not criticising his DPP opponent Chen Chi-mai or anyone else who was critical of him, and by promising to make Kaohsiung rich so that young people don't have to move to Taipei he won the hearts of the old and young," he said.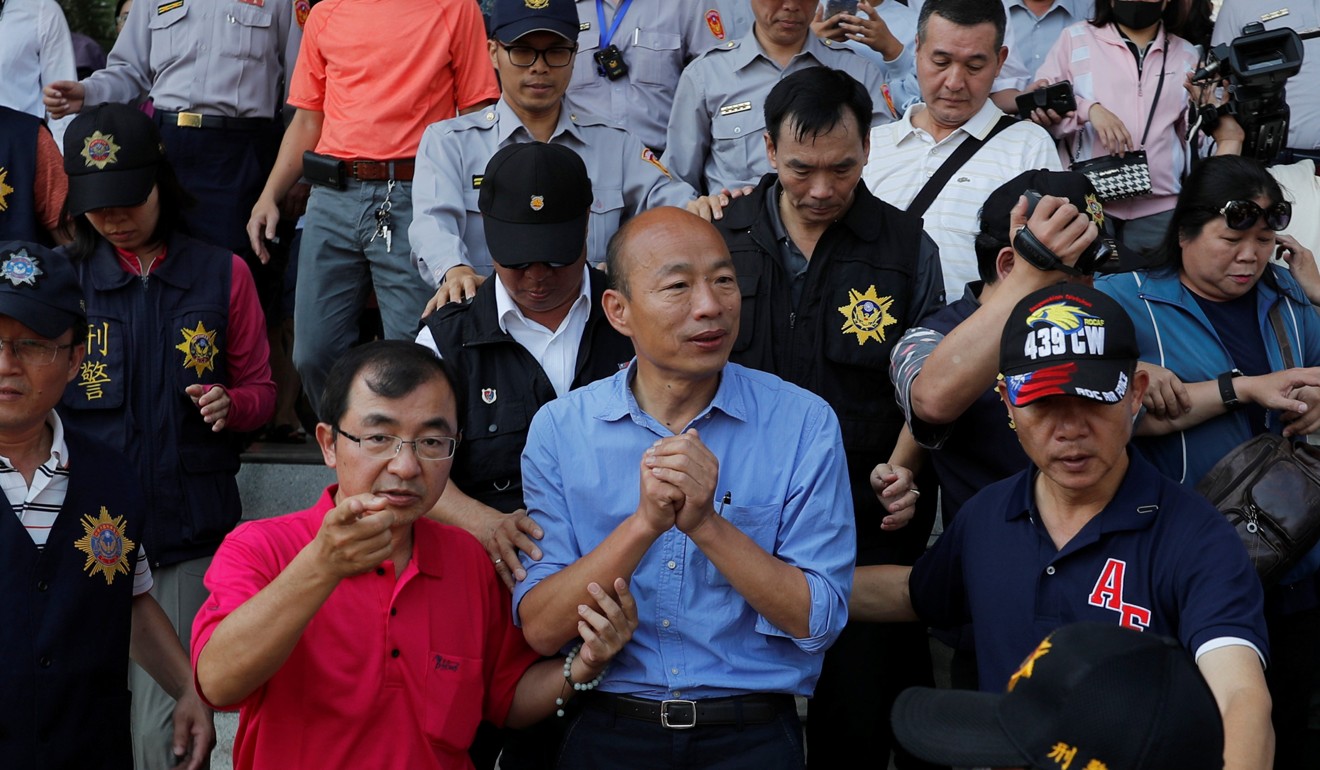 The race between Han and Chen was described by news media and analysts as a battle between a "vegetable vendor" and a "political elite born out of a rich and political family", or as an "unconventional politician" versus a "conventional politician".
Wang Kung-yi, a political-science professor at Chinese Culture University in Taipei, said it was the ability of Han – who sparred with disgraced president Chen Shui-bian when they were both legislators – to relate to the people that won him the support.
Lin Yu-fang, a former KMT legislator, said people were fed up with the performance of the Tsai government and used their ballots to teach her a lesson.
"Han happened to strike a chord with the public's disgruntlement at the Tsai government, which allowed him to solicit huge support," he said.
Observers said another element of the "Han phenomenon" was his effective use of social media, including live streaming, to air his campaign views and promises to restore Kaohsiung's fortunes.
All he has to do now is deliver on his pledges.
"I perfectly understand how big a decision Kaohsiung voters have made to elect me mayor because I have only lived here for a short time," he said on Saturday in his acceptance speech.
"I promise to build a clean government, and use whoever is good for the city, regardless of their political affiliations, and do all I can to make Kaohsiung rich and great."
This article appeared in the South China Morning Post print edition as: kmt maverick who hit right chord on street