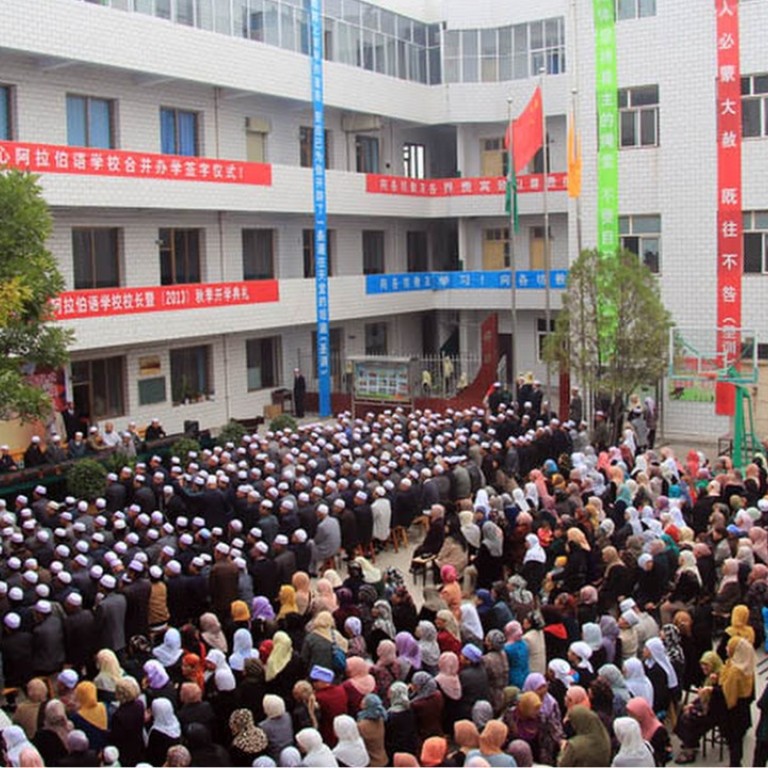 Chinese Arabic school to close as areas with Muslim populations are urged to study the Xinjiang way
Teacher in Gansu says authorities are denying underprivileged an education
Ningxia political chief says Xinjiang's 'religious and terrorist' curbs are good model

The imminent closure of a 34-year-old Arabic language school in China's northwestern province of Gansu has raised fears that draconian religion policies adopted in the Xinjiang Uygur autonomous region are applied to other Muslim-populated areas.
Pingliang Arabic School, a charity that caters to underprivileged students, has been told by city education officials to close by December 17 and send its 200 students and 20 teachers home.
Officials claim the school does not have the operational permits it needs although it has been in business since 1984. Pingliang is a small city on the border between Gansu and Shaanxi province – one of China's poorest areas.
"It seems that the officials are not interested in talking to us at all," said a teacher who requested anonymity.
In an effort to save the school from closure, teachers last week sent a petition containing more than 1,000 signatures to the education bureau.
"Our students are all from very poor families. With the language training, many of our graduates are able to find jobs such as translators for Middle Eastern traders who do business in provinces like Guangdong," the teacher said. "If the school is closed, they could end up as dropouts on the street."
The demise of Arabic language schools is a symptom of Beijing's increased control of Muslim-populated regions and was urged on by a call three years ago from President Xi Jinping to "Sinicise religions", assimilating them with traditional Chinese culture and socialist values.
The push has stoked fears that the authorities are purging influences such as Islam and Christianity, afraid that the growing popularity of such faiths would pose a threat to the Communist Party's absolute authority.
Muslims make up less than 2 per cent of China's population, or about 22 million people. There are 10 predominantly Muslim ethnic groups, the largest of which is the Hui, an ethnic group closely related to the majority Han population and largely based in the Ningxia Hui autonomous region and Gansu, Qinghai and Yunnan provinces.
The Uygurs are Turkic-speaking Muslims who primarily live in Xinjiang. Unlike the Uygurs, Hui Muslims have been able to enjoy greater religious freedom. While they also wear the white caps and headscarves according to Muslim traditions, they are otherwise indistinguishable in appearance from the majority Han Chinese population.
The restive Xinjiang has exercised tight controls over the Uygurs keeping close tabs on their overseas contacts and visitors, and monitoring their daily lives. A United Nations human rights panel recently claimed that the region was holding up to more than 1 million Uygurs and other Muslims in internment camps.
However, officials in other Muslim-populated regions have looked to Xinjiang as an example.
Zhang Yunsheng, party secretary in charge of political and legal affairs in Ningxia, was quoted by the local media as saying the region should learn from the Xinjiang model in curbing "religious extremism and terrorism" – China's code for anti-government activities.
"We should draw experiences from the good practices and measures of Xinjiang," he said after visiting the neighbouring province.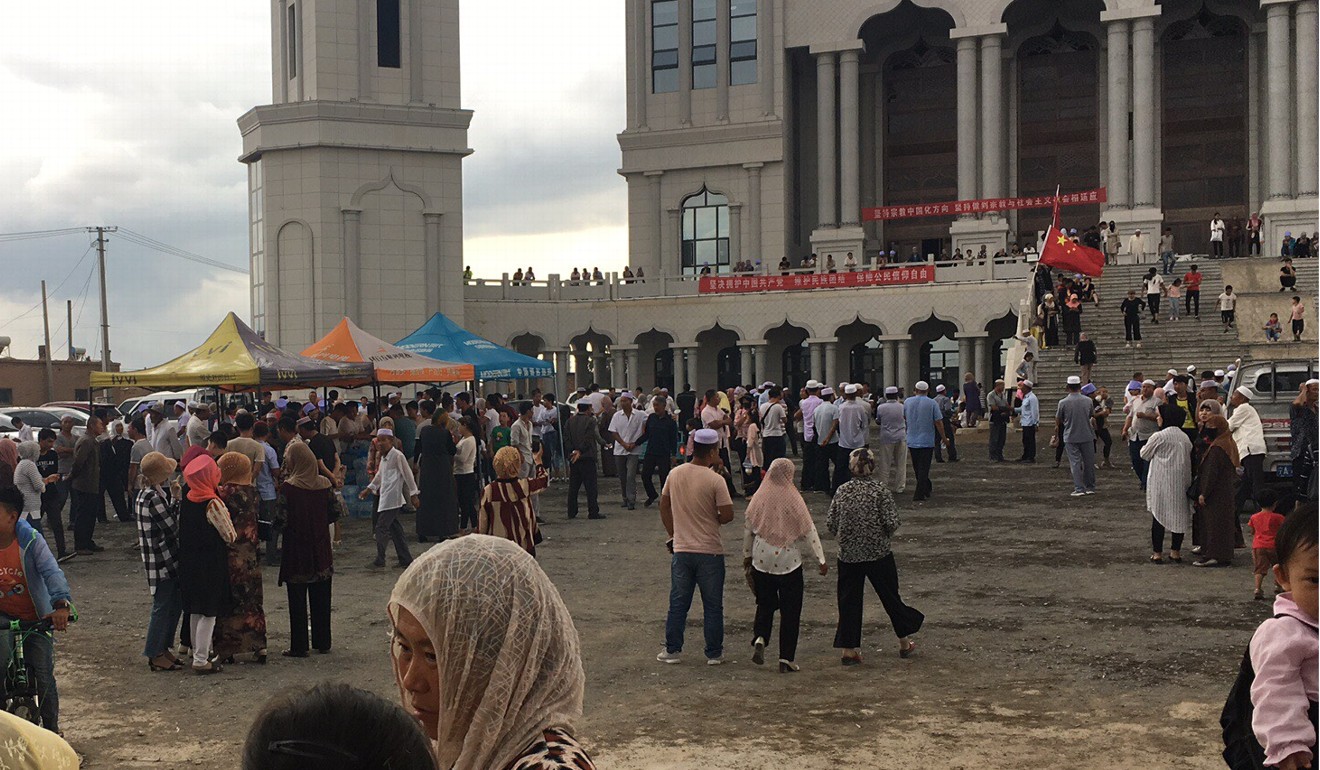 According to official Ningxia Daily, Zhang learned how law enforcement authorities in Xinjiang "operate an integrated social management platform and police data centres in maintaining social stability".
A former State Council official familiar with ethnic policies said that he expected exchanges among officials between Xinjiang and Ningxia would increase soon.
"Ningxia would be most likely to adopt similar extreme [control] standards over Hui Muslims. Practices such as the wearing of headscarves and big beards, for example, could be prohibited," he said.
A visit to Ningxia by the Post in April found that Islamic imagery and Arabic street signs had been removed from across towns and counties. Some mosques have been ordered to cancel public Arabic classes, while a number of private Arabic schools have been told to close.
A Hui Arabic teacher said that the crackdown on Islamic culture had increased.
"There are fewer uses of Arabic in road signs, names of products and restaurant food menus. Some food products have even dropped the word halal – an Arabic word meaning permissible under the Muslim law – translated in Chinese from their packing," he said.
In August, Ningxia authority's plan to demolish the Weizhou Grand Mosque in Tongxin was halted after it met with a rare protest by hundreds of Hui Muslims.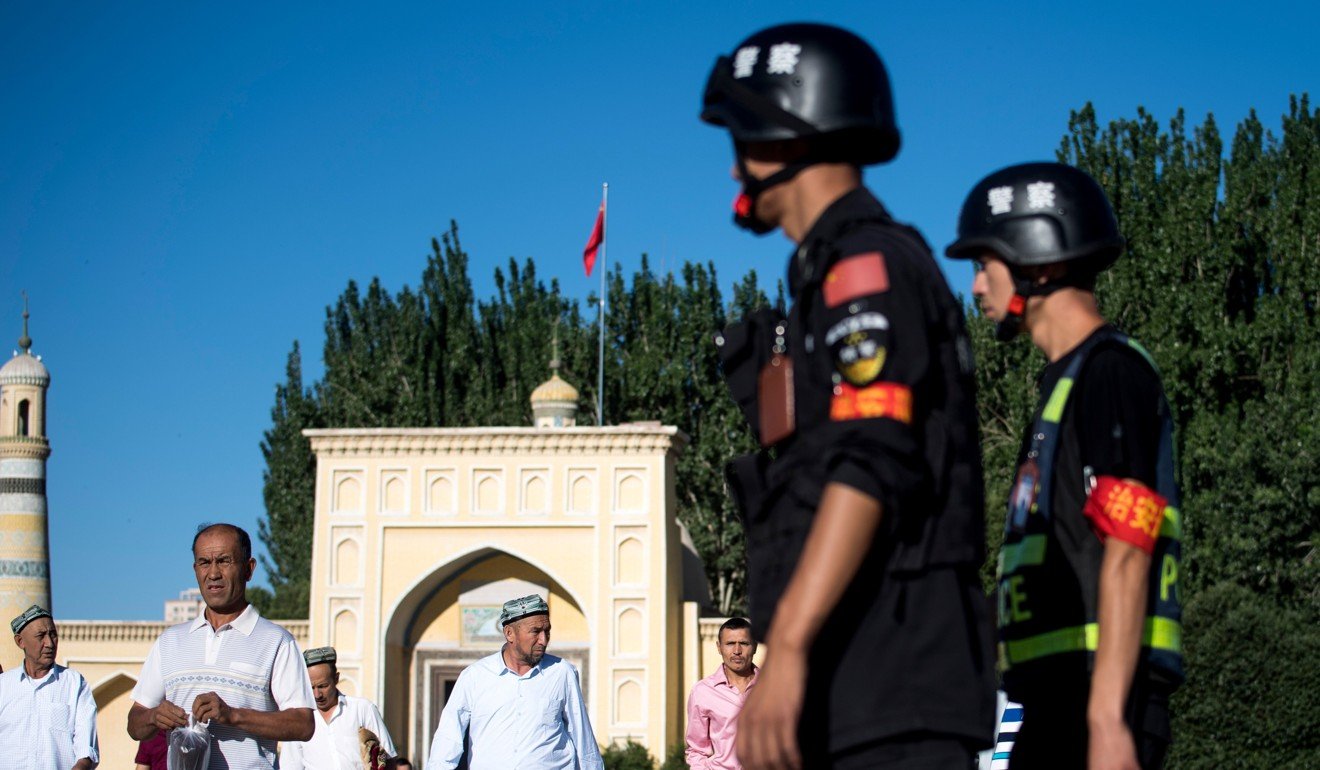 An Ran, a Chinese poet of Hui ethnicity, criticised Chinese authorities for introducing the extreme social control measures used in Xinjiang to other parts of China.
"To replicate Xinjiang's practices in other provinces is essentially turning a regional catastrophe to a national one," he said.
An also worried that the extreme measures could be extended to other social, religious and ethnic groups that are deemed destabilising by the authorities.
This article appeared in the South China Morning Post print edition as: Arab ic sc hool falls v i c t im to B e i j i ng b l itz