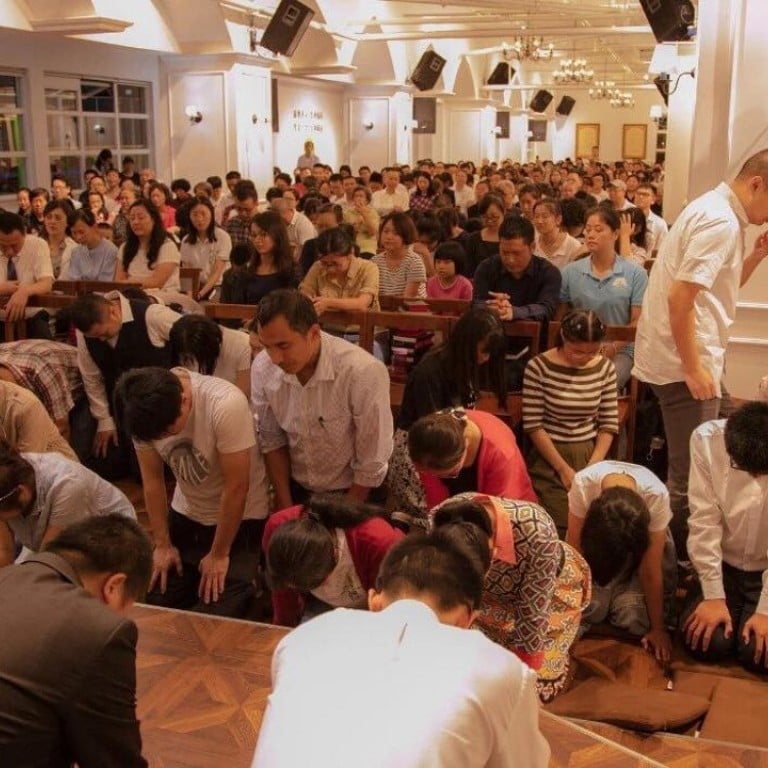 Members of unofficial Chinese church vow to defy crackdown and keep meeting
Detainee says congregants were abused by police after being taken into custody
Church elder urges leaders to confront the persecution and continue outreach work
Worshippers from a prominent Protestant unofficial church in southwest China have vowed to keep meeting for religious services despite a continuing crackdown and members' claims of abuse in police custody.
More than 100 Protestant Christians from the Early Rain Covenant Church – one of China's few openly operating unofficial house churches – were snatched from their homes and streets across Chengdu, Sichuan province, in a crackdown that began on Sunday night. Among those detained were church pastor Wang Yi, his wife Jiang Rong, church leaders, members and seminary students.
The round-up in Chengdu is part a broader crackdown on unofficial or underground churches that Beijing launched early this year, bolstered by amendments to the Religious Affairs Regulation that gave grass-roots officials more power to act against churches and impose tougher penalties for "unauthorised religious gatherings".
A member of the Early Rain church said police went to his home at around 1am on Tuesday.
"Police told me three things. The first is that our church has been defined as an illegal organisation by relevant department from the central government," he said.
"Second, our church has been banned so we are not allowed to return, and third, I could not post anything about what he said online."
An official from Chengdu religious affairs authorities said he was not aware of the action against the Early Rain Covenant Church.
Chengdu police referred media inquiries to the city government's publicity department, which was not immediately available for comment by Tuesday late afternoon.
Church leader Li Yingqiang had been posting updates of the arrests online before he, too, was taken into custody on Tuesday morning after evading police.
In his last social media post at around 3am, he said: "I think I have already been found".
Li's wife, Zhang Xinyue, said she had expected Li's arrest and was surprised "it took this long for him to be captured".
Zhang said members of Early Rain were in good spirits and would press ahead with gatherings.
"We will not forsake assemblies. I was frightened at first when it happened but have soon overcome the feeling as we are prepared [for persecution]," she said.
In a handwritten letter posted online, Li called on church leaders to take up pastoral work despite the crackdown.
"We are willing to have 200, 300 and even 500 of us locked up so that the whole world knows we are willing to be persecuted for our faith," he said in the letter written as he evaded police.
He also called on church members to keep worshipping and meet outdoors if venues could not be rented, adding that the group would never give up on practising its faith publicly.
On Tuesday, photos were posted on the church's Facebook page showing injuries that were allegedly inflicted by police on detained church members.
"Three of the released brothers and sisters told me they were violently handled by police when they were in custody, including being stomped on. One of the brothers was dragged by police with his hands and feet bound together, causing multiple injuries," according to a post on Facebook.
Those who were released have been subjected to around-the-clock surveillance at home, according to church sources.
Members' personal social media accounts and group discussions were also blocked and the church's phone lines cut.
While most of China's Protestant house churches operate underground, the Early Rain congregation openly practises its faith, posting sermons online and evangelising on the streets.
It has about 500 followers but its weekly gatherings spread across more than a dozen meeting points around Chengdu, attracting more than 800 church-goers each week, according to church leaders. It also has about 100 seminary students and a primary school catering to about 40 children.
Three months ago, Beijing police closed the Zion Church, one of the largest Protestant house churches in China with more than 1,500 regular church-goers.
Another major house church, the Living Stone Church in Guiyang, Guizhou province, was also banned three years ago. Li Guozhi, one of the church's two pastors, was sentenced to 30 months in prison for releasing a document outlining an official plan to destroy the church.
This article appeared in the South China Morning Post print edition as: Unofficial church to defy crackdown, resume services