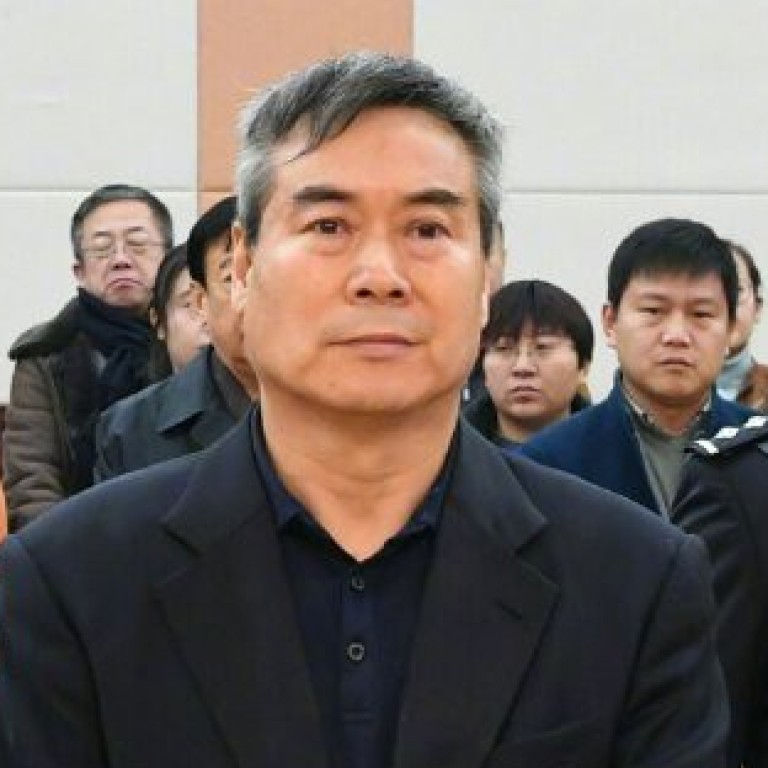 Former Sinochem general manager Cai Xiyou jailed for 12 years for corruption; latest official to fall in China's crackdown
Cai was found guilty of taking money and gifts worth over US$7.8 million to manipulate contracts and promote illegal oil sales and purchases from 1997-2016
The Tai'an Intermediate People's Court in Shandong also fined Cai US$435,000

A Chinese court has found Cai Xiyou, the former general manager of state-owned Sinochem Group, one of the world's largest chemical conglomerates, guilty of corruption on Wednesday, sentencing him to 12 years in prison.
The Tai'an Intermediate People's Court in eastern China's Shandong province also slapped a 3 million yuan (US$435,000) fine on Cai, according to state news agency Xinhua, making him the latest senior Chinese executive to be swept up in China's anti-corruption campaign.
Cai pleaded guilty at court and decided not to appeal, Xinhua reported.
Cai was put under investigation in 2016 for taking bribes.
He was found guilty of taking money and gifts worth over 53.7 million yuan (US$7.8 million) to manipulate contracts and clear the way for illegal sales and purchases of refined oil products from 1997 to 2016.
That period included his stint as a senior vice-president of China Petroleum & Chemical Corp (Sinopec). He was appointed to lead Sinochem in 2014.
The court said it had given Cai a "lenient" sentence, since he had confessed all his crimes.
Cai also "provided clues for the investigations of other serious violations, showed repentance and was cooperative in returning all his illegal gains", the court said.
President Xi Jinping six years ago launched a high-profile campaign targeting officials of the Communist Party, the government, the military and state-owned companies suspected of corruption.
The campaign has led to the investigation and prosecution of thousands of officials across the country.
Wang Yongchun, a deputy general manager at China's biggest oil company, China National Petroleum Corp, was jailed for 20 years in 2015 for graft.
On Thursday, a former provincial vice-governor in Guizhou province, Wang Xiaoguang, pleaded guilty to engaging in insider trading and making profit of 160 million yuan (US$23.2 million) from illegal trades over more than six years.