Xinjiang
Get more with myNEWS
A personalised news feed of stories that matter to you
Learn more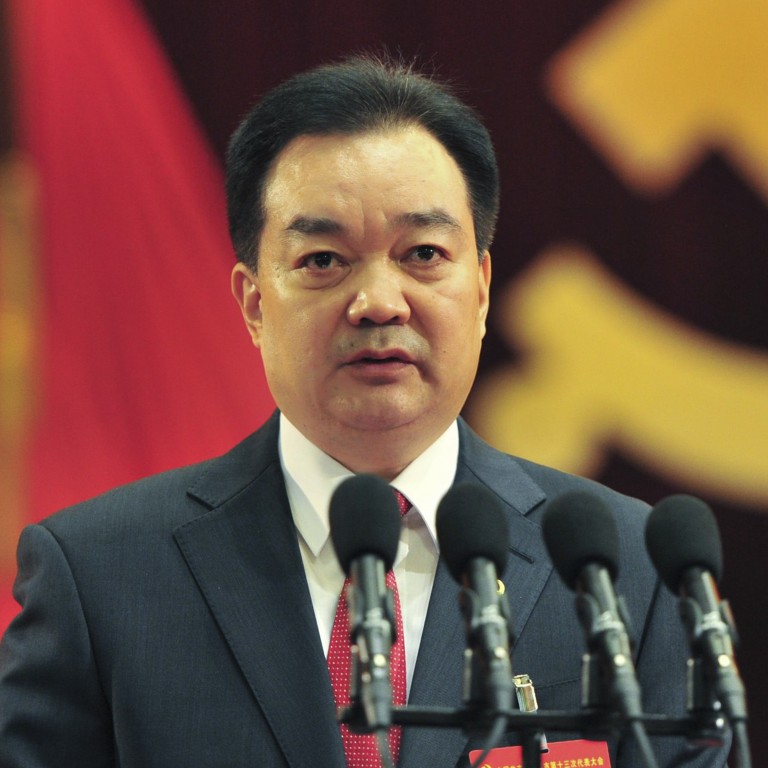 Rising Chinese political star Wang Junzheng confirmed in Xinjiang security role
New role will see former Changchun party chief taking responsibility for security crackdown that has seen a reported 1 million Muslims interned
Official media reports that Wang told law and order body he would ensure the party's 'absolute leadership' in the autonomous region
Wang Junzheng, one of the Chinese Communist Party's rising stars, has officially taken over as the party secretary in charge of law and order in Xinjiang.
Xinjiang Daily reported on Tuesday that the former party chief of Changchun city had presided over a meeting of the Political and Legal Affairs Commission – the top political body responsible for law and order in the region – in Urumqi on Monday.
Speaking at the meeting, Wang vowed to "ensure the party's absolute leadership over political and legal work, and firmly implement the Party Central Committee's strategy in governing Xinjiang."
The South China Morning Post reported earlier this month that the 56-year-old cadre has been transferred to Xinjiang and he would take up his position as political and legal affairs secretary of the region.
Wang will be tasked with implementing China's "stabilising measures" in Xinjiang – including the oversight of the controversial "internment camps" where an estimated 1 million inmates, mainly Uygur Muslims, are reportedly being held.
A source familiar with Wang told the Post that the Shandong-native was among a group of up-and-coming cadres who have won the trust of President Xi Jinping and had a "bright future".
Observers believe he is not likely to implement drastic changes to Beijing's tight control policies in Xinjiang.
Alfred Wu, an associate professor at Singapore's Lee Kuan Yew School of Public Policy, said looking at Wang's past record of fast-track rotation and promotion, "Xinjiang is likely just another stop in his political career".
"Beijing's main focus is stability in Xinjiang, not economic growth. If Wang can prove himself in following orders from Beijing, implementing Xi's strategy in Xinjiang and maintaining stability, he will be regarded as delivering good results."
Xinjiang recorded economic growth of 6 per cent last year, in contrast to the national average of 6.6 per cent.
For this year the region has a remarkably modest growth target of 5.5 per cent.
Another informed source, whose family members work for the regional government, said apart from maintaining stability, a key challenge for Wang and the Xinjiang Communist Party was to boost the morale of local cadres.
"Many of them are overworked and are under tremendous pressure. They are required to arrange to have at least one person to be on call round the clock. There are not enough people in the office and they] have to be on duty twice a week. We are all very tired."
He said cadres were also obliged to keep watch over Uygur families by staying in their homes, but they were not able to claim any expenses for doing so and have to buy gifts for their hosts.
"Although we have made some friends [with these families], this also created additional financial burdens for us," he said.
China's policies in Xinjiang – especially those relating to the mainly Muslim Uygurs – have faced increased scrutiny in the West, especially since the United Nations reported that more than a million people were being held in internment camps.
China has said that the camps are vocational training centres and denies mistreating the inmates.
The official news agency Xinhua reported on Monday that the Foreign Ministry recently invited senior diplomats from the permanent missions of eight countries at the United Nations Human Rights Office in Geneva to visit Xinjiang.
The news agency reported that diplomats from Pakistan, Venezuela, Cuba, Egypt, Cambodia, Russia, Senegal and Belarus, "spoke with trainees at vocational education and training centres".