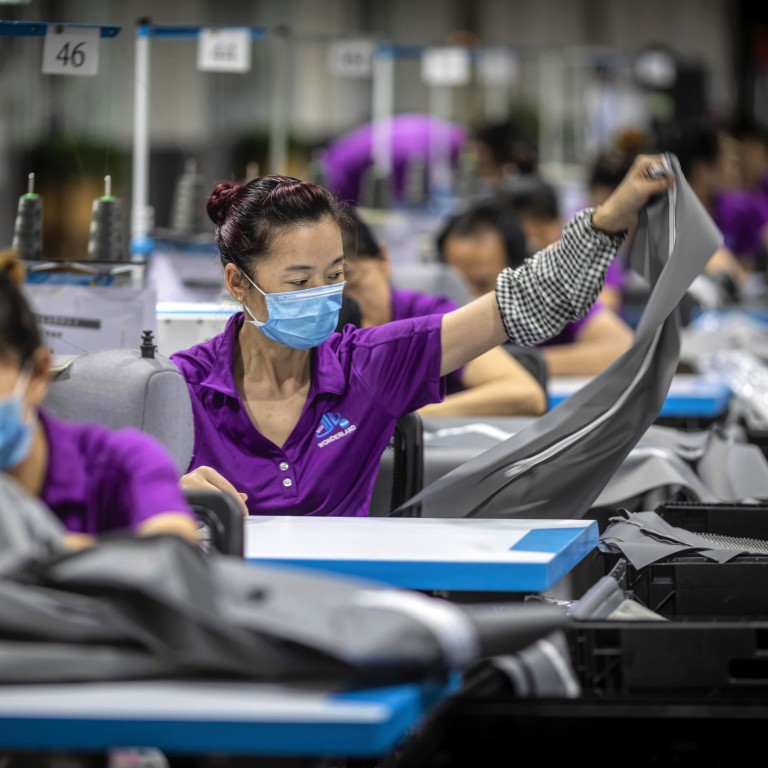 China turns attention to jobs as trade war casts shadow over economy, with Li Keqiang demanding jobs for graduates, ex-military and more
Chinese premier calls on cadres to give top priority to fresh graduates, demobilised military personnel and migrant workers
Beijing's grip on the reins of power gives it an edge in dealing with the US, analyst says
Chinese Premier Li Keqiang has vowed to mobilise all resources to create jobs and stabilise the employment market as the China-US trade war threatens to drag on the economy.
Chairing a national conference on employment in Beijing on Monday, Li demanded that cadres at all levels make job creation their top priority.
The premier said priority should be given to fresh graduates, demobilised military personnel and migrant workers, all of whom faced challenges in the job market.
"Supporting employment and entrepreneurship, especially for college graduates, is an important guarantee for achieving sustainable and healthy development of the economy, improving people's livelihood, as well as ensuring social stability," state news agency Xinhua quoted Li as saying.
The orders follow Li's warning at the National People's Congress in March that China faced a serious unemployment situation this year, with 15 million jobseekers expected to enter the market.
He said the government hoped this year to match last year's total of 13 million new jobs.
Shanghai-based international relations specialist Shen Dingli said jobs were a key issue for the leadership because it went directly to its legitimacy to rule.
"The Communist Party's legitimacy [to rule] is not based on votes," Shen said.
"The party earns its legitimacy because it gives people hope that they can have a good life and businesspeople can invest here [to make money]."
Shen also said the leadership's grip on the reins of power gave it an edge in dealing with the United States in the two countries' protracted trade war.
"Our [political] system is relatively stable and stronger compared with that of the US. Our whole nation is more cohesive and we are moving in one direction. The US does not have such advantages … and we don't have an opposition party," he said.
"Also, we have a huge [domestic] market … and we are growing very fast. We are generating and accumulating more wealth [than before] so we are stronger [than the US] in this struggle."
But the bottom line for China in the trade war was still jobs, Shen said.
"[By giving people jobs], Chinese leaders keep people on their side. So for the trade war, it is all about jobs at the end of the day," he said.
"Last year, we saw 6 million factories shut down [in China] and this has inevitably led to a certain degree of unemployment.
"However, we also see 13,000 new factories opening for business every day, giving us 5 million new manufacturers. So our overall losses were limited."
Alfred Wu, an associate professor at the Lee Kuan Yew School of Public Policy in Singapore, said Beijing would focus on jobs for the underprivileged because these vulnerable groups were more likely to become destabilising forces in society.
"The key for the Chinese government is to protect employment for low-income groups," Wu said.
"While the middle class can make do by tightening their belt and drawing on their savings, having a job means everything to low-income workers, especially migrant workers," Wu said.
Gao Lingyun, an international economy and politics researcher at the Chinese Academy of Social Sciences, said that besides stabilising the job market, Beijing was preparing to support other sectors.
Gao said the government could help areas such as the financial market and small and medium-sized businesses weather the trade storm by cutting taxes, offering cheap loans and providing tax rebates for exporters.
"We will also continue to woo foreign investment, particularly in the hi-tech sector," he said.
The comments follow an escalation since Friday in the trade war, with both countries increasing tariffs on the other's exports.
Gao said China was well prepared to respond to the US tariff increases.
"For example, China's tariff increases are under different tariff rates to avoid an across-the-board impact [on imports] and we also allow companies to apply for exclusions," he said.
"While we want to resolve the trade issue via negotiations, but that does not mean we have to accept deals dictated by the US. The US presidency changes every four or eight years … Time is on China's side."