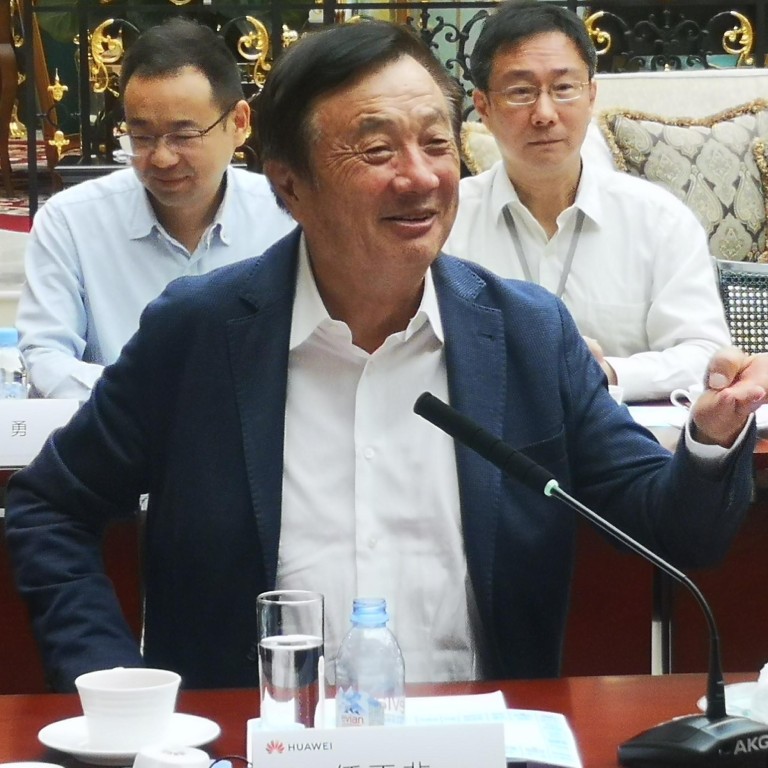 Huawei boss defends US companies against rising Chinese nationalism
Don't politicise consumer products with patriotism, says founder Ren Zhengfei
Save criticism for politicians.
Huawei Technologies founder Ren Zhengfei has moved to quell a rising tide of nationalistic fervour in China against US firms, including Google and Intel, following last week's blacklisting of the world's No 2 smartphone maker by the Trump administration.
Speaking to mainland media outlets on Tuesday, Ren cautioned Chinese media and consumers against equating buying decisions with patriotism and called for an end to criticism of US corporations.
"Let's speak out more in favour of US firms. If you are going to attack someone, then aim at the US politicians," Ren said.
"I'm pragmatic. One can't be deemed patriotic simply for using Huawei products, or the other way round. Huawei is a commercial business. If you like [the product] then use it. Do not politicise it," he said, adding that he and his family continued to use Apple products.
His comments follow a surge in nationalistic sentiment in China in response to a series of moves in recent weeks by the US – including an increase in tariffs on US$200 billion worth of Chinese goods – which have increasingly focused on concerns about Huawei.
Google, as well as chip-makers Intel, Qualcomm and Xilinx, have agreed to suspend supply to Huawei until further notice, in accordance with the US Commerce Department's directive that US companies should not sell their services and products to the Chinese tech giant and 72 of its affiliates without approval.
In a global setback for Huawei's 5G technology, US President Donald Trump also signed an executive order barring US companies from using telecommunications equipment made by firms posing a national security risk – widely seen as referring to Huawei – and urging other countries to do the same.
State broadcaster CCTV has responded by airing anti-American Korean war movies while editorials from state media have also made calls to the public to redouble their efforts to make their country strong.
This week, Hu Xijin, editor-in-chief of the state-owned tabloid Global Times, also announced that he had switched to a Huawei after using an iPhone for nine years.
Despite the immediate, potentially crippling, setback of the trade ban, the 75-year-old appeared calm and confident in Tuesday's interviews, saying Huawei's 5G technology would not be affected.
"US politicians may have underestimated our capability … Not only would it not affect us, but others cannot catch up with us, even after two to three years," Ren said.
While Huawei was ready for an extended trade spat, he said, the company would continue to buy from the US, even though it was capable of making American-quality semiconductors.
Foreign firms have often fallen victim to Chinese nationalism. In 2017 the Japanese-Korean conglomerate Lotte Mart was boycotted by Chinese consumers amid tensions over the US-backed deployment of the Terminal High Altitude Area Defence missile shield in South Korea. Anti-Japanese riots – in which Japanese restaurants and cars were vandalised – have also been seen in recent years over the disputed Senkakus or the Diaoyu Islands.
Ren said he had put an immediate stop to nationalistic slogan cheering during the company's pep rallies.
"Populism should not be incited at all costs … [We] cannot resort to populism, this is harmful to our nation because China's future lies with opening up," he added.
Ren also called for more effort to be dedicated to China's reform and opening up.
"We have commitments to fulfil after benefiting from joining the World Trade Organisation. If we had delivered our promises earlier we could have united more allies," he said.
This article appeared in the South China Morning Post print edition as: Tech giant founder backs US firms as he seeks to cool nationalistic fervour