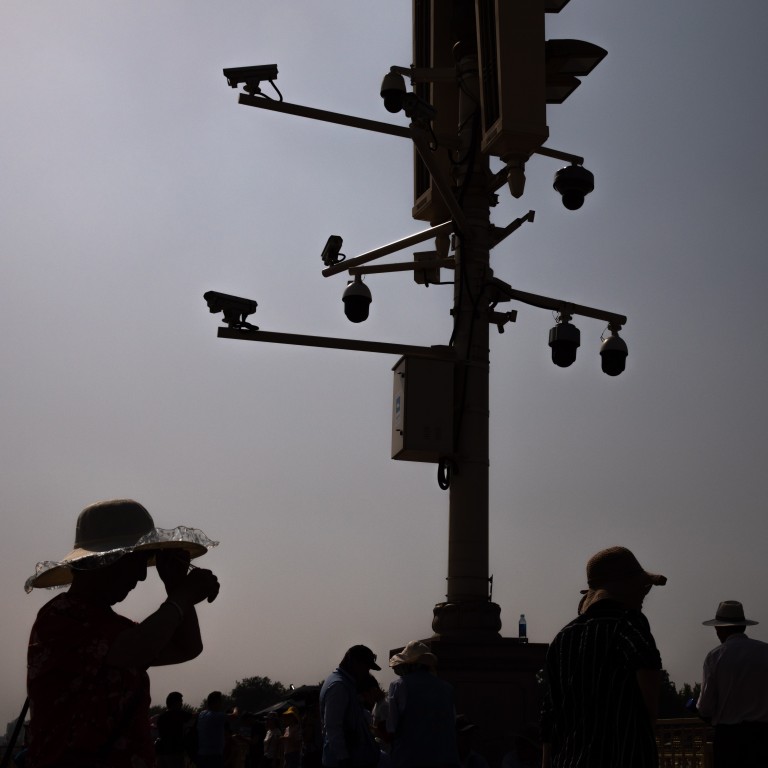 Why there is only a remote chance of a repeat of China's Tiananmen protests
Beijing exerts a tight grip over society through police, jailing of pro-democracy advocates and controls on community groups
But the country might not be as stable as the authorities claim, a former student leader says
A sophisticated system of social control built on advanced surveillance technology, public apathy and stifled civil society mean that China is highly unlikely to see anything like the 1989 Tiananmen Square demonstrations again, according to analysts and former protest leaders.
Observers said that in the last three decades, the Communist Party had gone to great lengths to ensure that its rule would not be challenged.
That includes expanding the budget for public security over the years, with 179.78 billion yuan (US$26 billion) earmarked for public safety this year.
China also has a 1.5 million-strong, well-equipped paramilitary People's Armed Police (PAP) force to maintain domestic stability through disaster relief, crushing social unrest and countering terrorism.
That contrasts with 1989, when the People's Liberation Army's lack of experience in handling mass demonstrations resulted in it firing live ammunition rather than rubber bullets at the protesters.
Over the decades, the PAP, which is responsible for domestic security, has learned to use various equipment from tear gas to riot gear to contain unrest, making the use of live ammunition against civilians unlikely.
Andrew Nathan, professor of political science at Columbia University, said the security personnel were just one part of a bigger surveillance state.
"It is very hard for something like this [June 4] to happen nowadays … The [Communist] Party has intensified its methods of control – more police, more forces, more intelligence information, spying, face recognition, etc," Nathan said.
The ground for dissent has also become much less fertile.
The authorities removed room for debate about democracy, first by jailing and purging leaders of the 1989 movement and then more recently by cracking down on activists and intellectuals.
In 2009, many of the signatories of the pro-democracy manifesto Charter 08 were jailed, including Nobel Peace Prize laureate Liu Xiaobo, who died two years ago while serving an 11-year sentence.
As democracy and political reform became taboo, many liberal thinkers turned to activism to help vulnerable groups such as farmers, migrant workers and women, giving rise to rights lawyers and NGOs from the late 1990s.
However, these activists have also been targeted over the decades, particularly in 2015 in the so-called 709 crackdown against rights lawyers and advocates.
In addition, Xi has tightened control over civil society, the media, religious organisations and education while actively cultivating government-controlled media and charities.
At the same time there has been a shift among young people as nationalism has taken stronger root.
Zheng Yongnian, director of the East Asian Institute at the National University of Singapore, said China's nationalism was a result of its rapid economic growth.
"After [paramount leader] Deng Xiaoping's southern tour in 1992, the economy grew quickly for decades and China is now the second-largest economy in the world … The post 1980s and 1990s generations haven't gone through the difficult times in China and for them nationalism and patriotism is spontaneous," Zheng said.
"I don't agree with Western views that nationalism is moulded by official propaganda."
But Wang Dan, a student leader in 1989, said he met many young people who were indifferent to politics because they did not know what else to do.
"The younger generation from China are generally not satisfied with the current political situation in China. You have to understand that feeling content is different from obeying," Wang said.
"They are not supporting the regime and its way of ruling sincerely. The biggest puzzle to them is not knowing what they should do and what they can do."
For its part, the party says that its longevity depends on its capacity to solve people's problems and address major public grievances. A cornerstone of that approach is managing the economy to avoid mass unemployment, a source of social instability that might challenge its rule.
Since coming to power, President Xi Jinping also targeted poverty alleviation, anti-corruption and environmental protection as priority concerns.
Xi has also warned that the future of the party is linked to its ability to purge corruption. While the president's anti-corruption drive is popular among the public, Zheng said it was important for different sectors of society could feel the tangible economic gains of the campaign.
"The public is waiting to know what comes after the anti-corruption campaign … You have to ask the public whether they feel the tangible gains of economic development. We have to ask different social strata. What do entrepreneurs feel? What do bureaucrats feel? What do intellectuals feel and what do the poor feel?" he said.
"If all these social strata feel the tangible economic gains then you don't have to worry about another June. But if they don't and they feel deprived, then there may be a different scenario."
Wu Qiang, a Beijing-based researcher on China's civil society and a former Tsinghua University lecturer, said that even if there was a social movement to challenge communist rule in the future, it would be very different from the student movement in 1989.
The major threat to the party would be discontent among the growing middle class in a major economic crisis or downturn, Wu said.
"The pressure to communist rule is increasing and the uncertainties are increasing in the coming years," he said, citing factors like the trade war with the United States.
Wang said Beijing's tight grip was a sign that society was not as stable as it claimed.
"If China's political development and situation is very stable, then the authorities would not be on such a high alert and use digital authoritarianism to put everyone under surveillance and put over a million Uygurs in custody," Wang said, referring to camps in Xinjiang that the government claims are "vocational training centres".
"This is evidence that society is not stable. But it is a different thing for the instability to become organised and trigger an incident that can have a major impact on political development."
One possible challenge to communist rule could come from a split within the party but that was not likely in the near future, analysts said.
Nathan said that now there was no internal opposition to Xi in the higher levels of the party "because he has purged all potential opponents and promoted only those who are willing to be loyal".
Wu said the party may have seen the June 4 movement as a threat but it was not arevolution – it was more of a petition for the government to make changes to address social and economic problems.
"There won't be a June 4 again. It won't happen again," he said.
Additional reporting by Nectar Gan
This article appeared in the South China Morning Post print edition as: Tight grip makes new Tiananmen unlikely