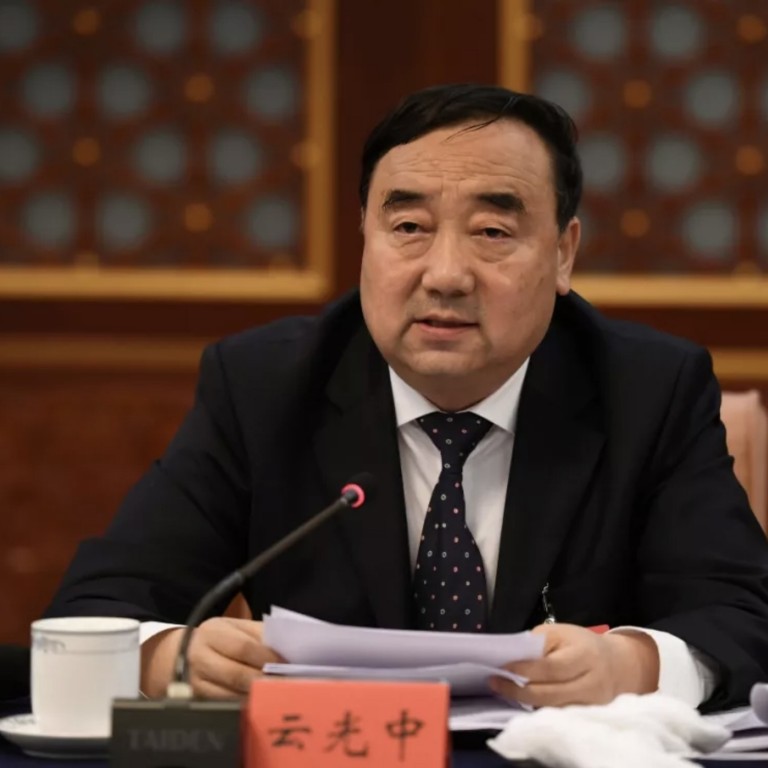 Chinese Communist Party chief in Inner Mongolia's capital becomes latest 'tiger' snared in corruption crackdown
Yun Guangzhong, the Hohhot party boss, is detained on suspicion of 'violations of discipline and law', a euphemism for corruption
Senior official's sudden fall from grace follows visit from an anti-corruption team, which accused local officials of not taking their duties seriously enough
The Communist Party boss of Hohhot, capital of the Chinese autonomous region of Inner Mongolia, has been detained in a corruption investigation, the party's corruption watchdog announced on Tuesday.
The Central Commission for Discipline Inspection said Yun Guangzhong, 59, a member of the party's Inner Mongolian regional standing committee and party chief of Hohhot, was being investigated for alleged "serious violations of discipline and law", a euphemism for corruption.
Yun became the third "tiger" – as senior officials caught up in corruption investigations are known – to be snared this year.
His sudden downfall came as a surprise to many in Inner Mongolia, especially in Hohhot, as he presided over the provincial capital's public security work conference on June 6.
He also presided over a meeting on June 3 to fight organised crime and a party committee meeting the next day, where cadres were urged to "stay true to our founding mission".
However, rumours began circulating on Monday when Yun failed to appear at a debriefing convened by central inspection groups sent by Beijing to check on progress in Inner Mongolia's efforts against organised crime.
State-controlled newspaper Inner Mongolia Daily reported that Zhi Shuping, the leader of Beijing's inspection group, warned that "some local leaders have not properly studied and carried out the important instructions of President Xi Jinping".
He also accused the region's government of not taking the initiative in eliminating crime, saying it had "failed to recognise the seriousness and complexity of the campaign".
The inspection team from Beijing arrived in the autonomous region on May 31, and Inner Mongolia Daily reported that Yun was among the local leaders who attended a session to receive instructions from Beijing the following day.
Yun was last seen in TV footage of the June 6 meeting, where he was shown giving detailed instructions to the city's force on how to follow the instructions from last month's National Public Security Conference.
Yun, an ethnic Mongolian, has spent his four-decade political career in the resource-rich region.
Starting as a police officer in the 1970s, Yun climbed the ladder through the law enforcement system, becoming the chief procurator of the Tuzuo Banner procuratorate in 1990.
He then took on various roles across the region before he was appointed as party chief in Hohhot in November 2016.
He is the sixth member of the provincial level leadership to fall foul of the high-profile anti-corruption drive started by Xi in 2012.
Xing Yun, the former legal chief of the region, was placed under formal arrest for corruption at the end of April.
Bai Xiangqun, the region's former vice-governor, admitted to taking 43 million yuan (US$6.2 million) in bribes and insider trading in late January and is awaiting sentence.
In April 2017, Pan Yiyang, another former vice-governor of the region, was sentenced to 20 years in jail for accepting 86 million yuan in bribes and giving a 7.6 million yuan bribe to Ling Jihua, one of the top aides to former Chinese president Hu Jintao.
Ling was sentenced to life in prison for taking bribes, illegally obtaining state secrets and abuse of power in 2016.
Han Zhiran, the Hohhot party chief between 2004 and 2011, was demoted in 2015 for violations of party discipline.
So far, the heaviest sentence imposed on a senior Inner Mongolian official is the life term former United Front Work Department chief Wang Suyi received in 2014 for taking bribes worth 10 million yuan.
This article appeared in the South China Morning Post print edition as: Inner Mongolia party chief held in graft investigation