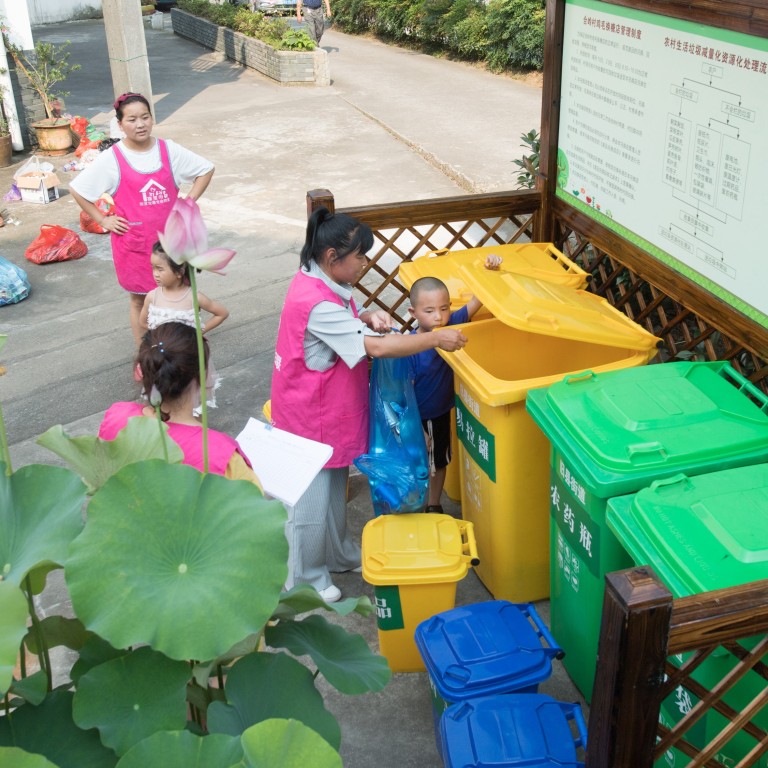 Can China sort its household waste recycling problem by 2020?
After two decades of inaction, Chinese President Xi Jinping has set a deadline for the nation
Small, local successes show education is the key
As 60-year-old Xu Mingan hurried to the rubbish bins on her Beijing estate, she saw an abandoned aluminium clothes rack.
Standing in front of several bins labelled "recyclables", "kitchen waste" and "other waste", she tore apart the rack, packed the aluminium parts together for selling to the recycling men who drop by occasionally, and threw the remaining plastics randomly into the bins.
"People don't sort their waste here. We can't even tell the difference between these bins," she said.
But unlike other residents of the estate, Xu likes to rummage through the bins, picking up recyclables and selling them, as well as sharing discarded clothes, shoes, quilts and blankets that are still in good condition to the janitors.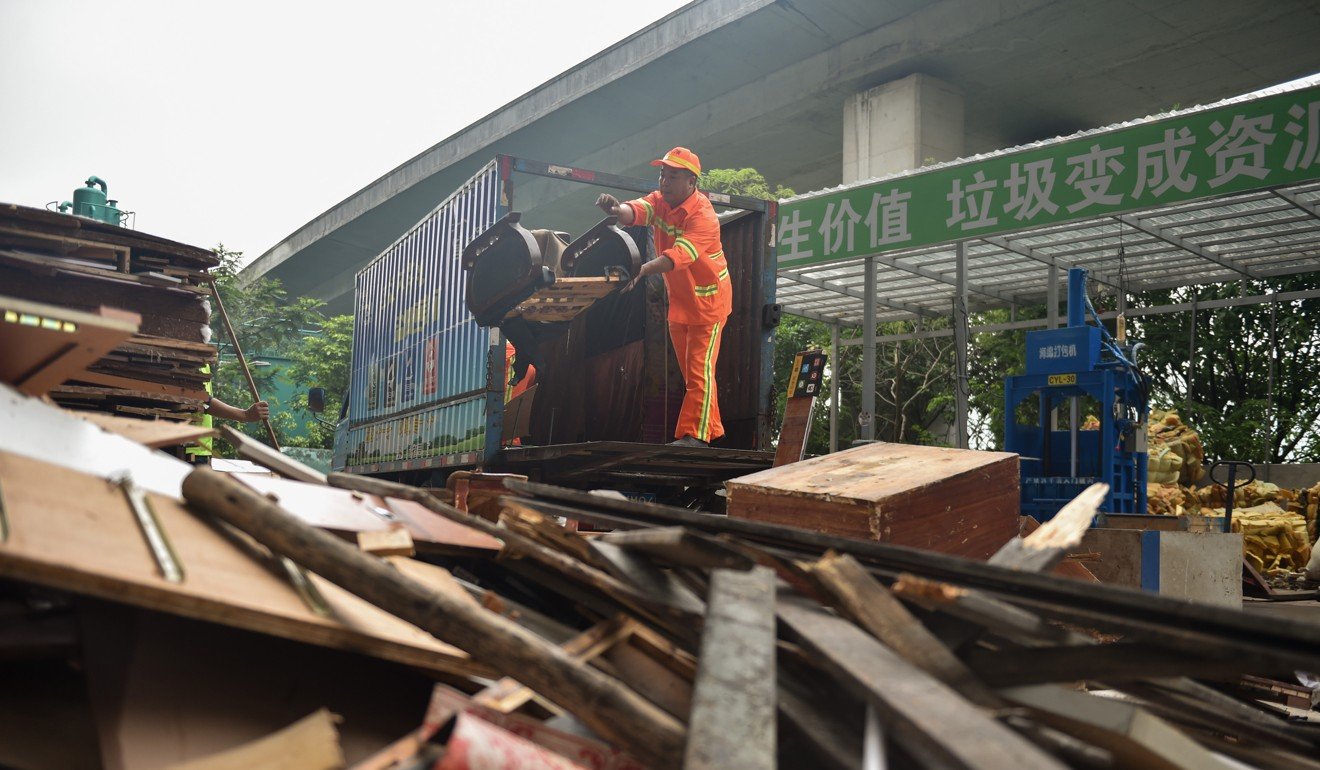 Xu, who has lived in Beijing for 10 years, admitted her family never sorted its household waste, despite two decades of encouragement from the government to do so. Her attitude may be about to change.
As part of the three major tasks Chinese President Xi Jinping has set the nation to achieve by 2020, China has adopted a new plan which aims to build a standard waste sorting system.
In 2000, the government chose eight cities, including Beijing, Shanghai and Guangzhou, as pilots for the waste sorting plan, but the slogans fell on deaf ears and there have been few signs of progress.
But Xi appears to have given the grass-roots environmental policy his attention once more, delivering a long statement on June 3 about how the country needs to do better on sorting its waste.
"[We should have] extensive education and guidance, to let people realise the importance and necessity of waste sorting; through effective supervision and guidance, [we should] let more people take action and form a good habit on waste sorting," he said.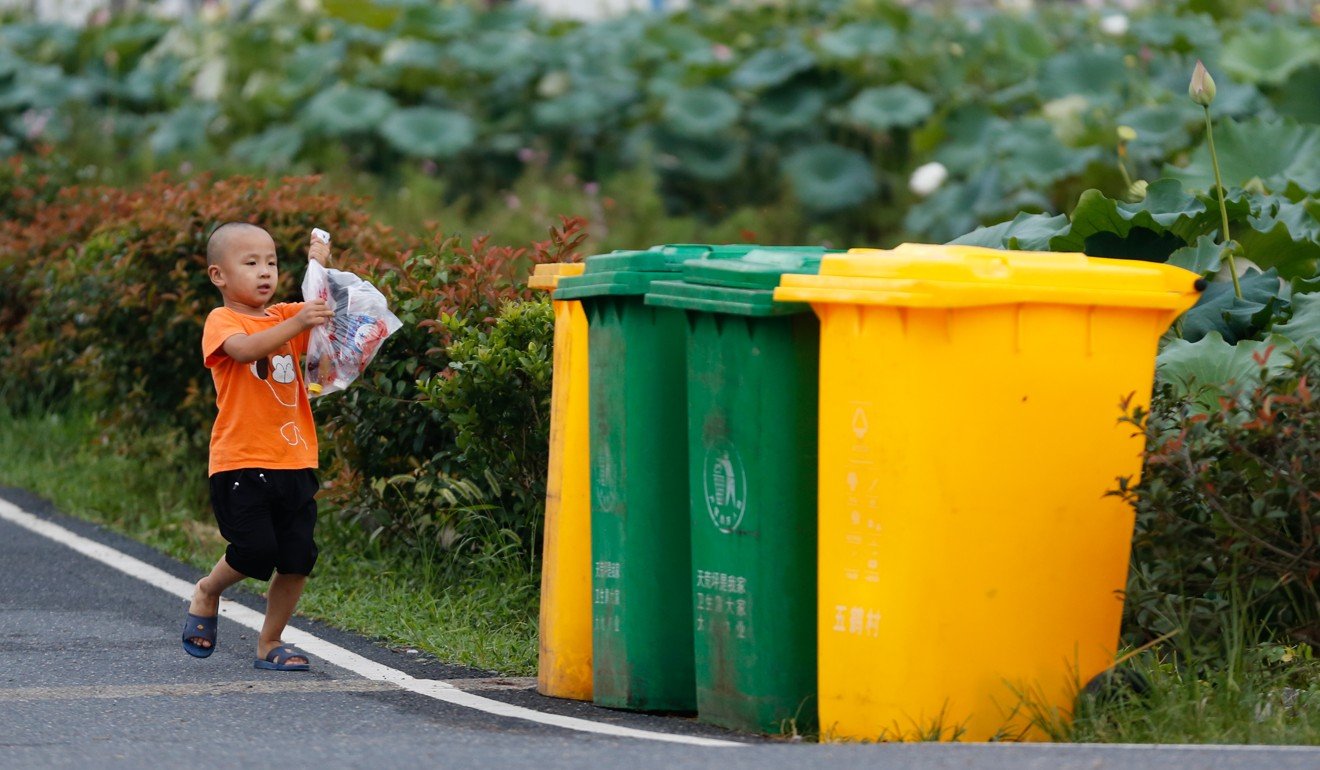 In March 2017, the government set out a plan to formalise a standard system and regulations for rubbish sorting by 2020, with a target for 46 major cities – including Beijing – to recycle 35 per cent of their waste by that year. Three months later, the housing ministry published a notice requiring the cities to classify their waste and build a basic sorting system.
The recent attention from the top leaders has seen a spike in activity among local officials. Shanghai's Communist Party chief Li Qiang was among the first to release local plans to implement household waste sorting in February, going in front of television cameras to demonstrate how to recycle plastic bottles.
"Waste sorting is a now a political task for local officials, and they might lose their jobs if they can't do the job well," said Zhang Yi, an expert with the ministry, which has primary responsibility for waste management.
But the political will still needs time to translate into actual sorting and recycling, with environmental activists pointing out that little has been done in the two years since the plan was published.
"The vast majority of cities are still at the same level they were two years ago. They just change one bin into two or three bins in the community, but in the end, they are emptied into a single garbage truck," said Chen Liwen, co-founder of Zero-Waste Villages, a non-government environmental organisation.
Waste classification should be done systematically, she said, with residents, government and sorting companies working together, "but we don't have that at all".
"The government should do a vast amount of work on education in the early stages, as well as change the sorting system in the later stage," she said.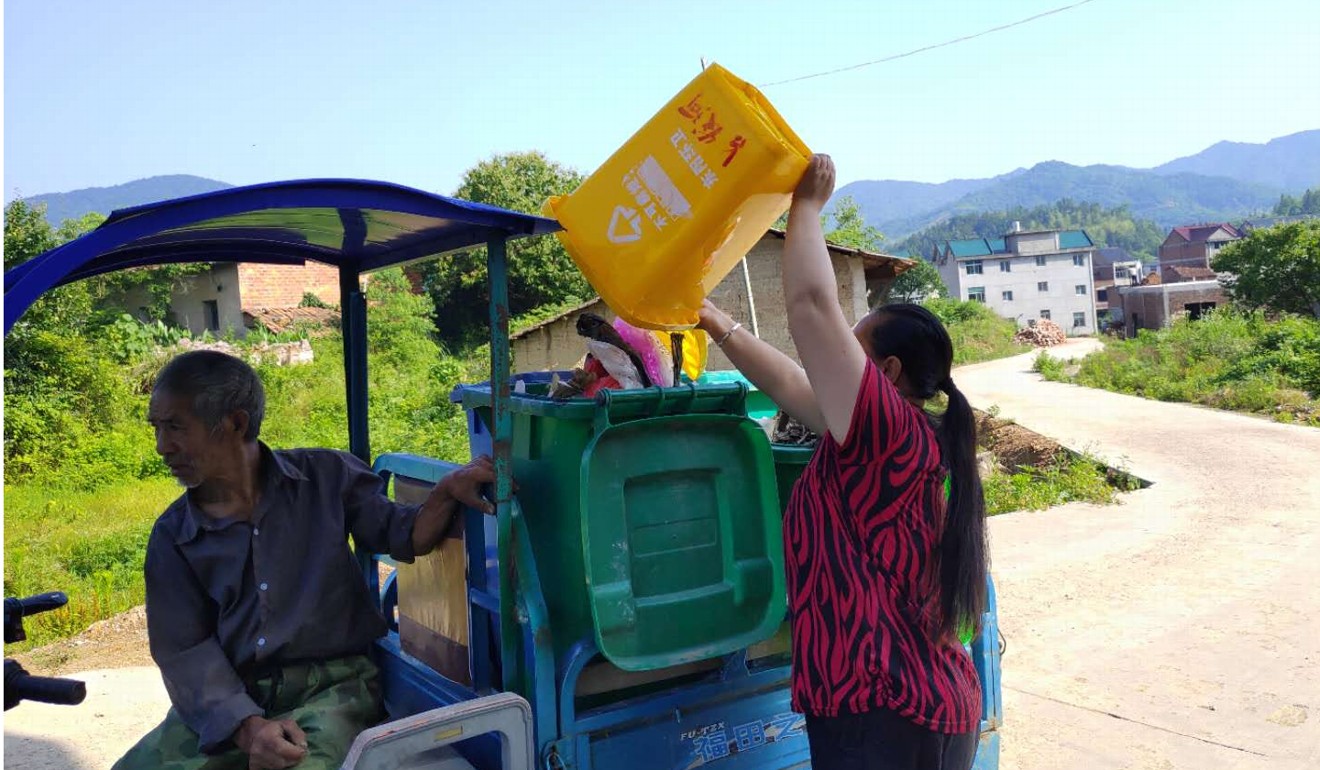 Build the system
There are four main processes in the sorting of waste: dumping, collection, transport and treatment, Chen said. But currently, "not even one city has got the first step, trash sorting, sorted out".
On May 31, China's environment ministry published a report into its citizens' thoughts on green issues and found a large gap between people's recognition of the problem and their actions.
According to the study, 92 per cent of respondents believe rubbish sorting is important for environmental protection, but only 30 per cent said they were doing it "very well" or "fairly well".
More than half gave their reasons for not sorting waste as "no classification bins in the community" and "no classification for the garbage truck, so no need to sort in the dumping process". More than 30 per cent said they did not know how to classify their rubbish.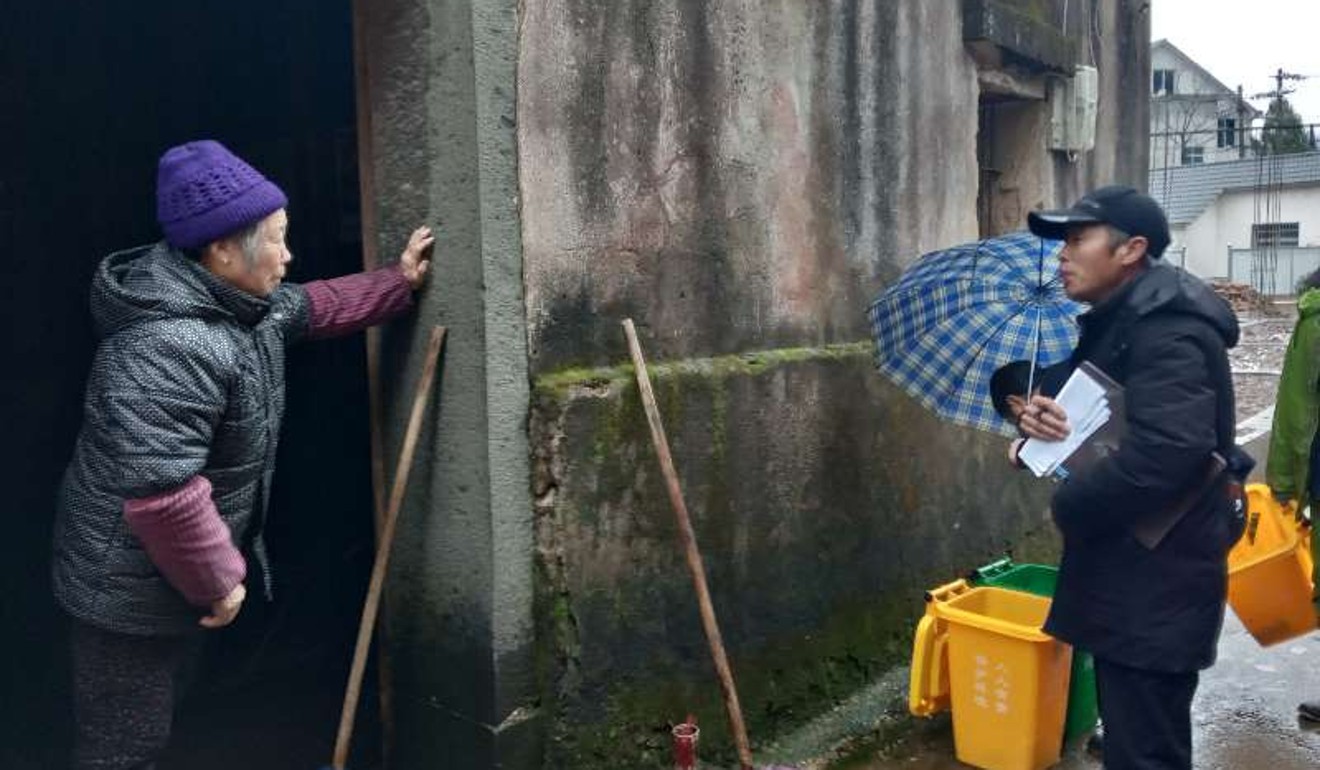 Wang Xi, a 29-year-old Beijing resident, said she did not know the standards for "recyclables" and "non-recyclables" so had never sorted her household waste. She only began to understand when she spent some time in Japan.
The difference there, she said, was that there was a guide in every home that showed how to sort waste into the different types – kitchen waste, plastic, paper – and designated collection days for each kind.
"If you mix the garbage, like put plastic in with the kitchen waste, the garbage company will send it back to you," she said.
"But in China, all the bins are emptied into one garbage truck, so I don't know what the point is for us to sort it in the first place."
Chen said the government needed to take the lead in waste sorting as a matter of public interest instead of only paying lip service to the issue.
Zhang said waste classification was a social issue but local officials had so far not paid enough attention to it. Most of the targeted 46 cities now had a plan on paper and had established offices with specific targets but, at the moment, waste sorting remained on paper too, he said.
Pilot projects in rural areas
Despite the challenges ahead, some projects have shown promising results. Chen has been classifying waste in rural areas since 2017 and today her pilot projects have been replicated across more than 20 villages.
The greatest success has been in Jiangxi province, where 12 villages have been sorting their rubbish since December.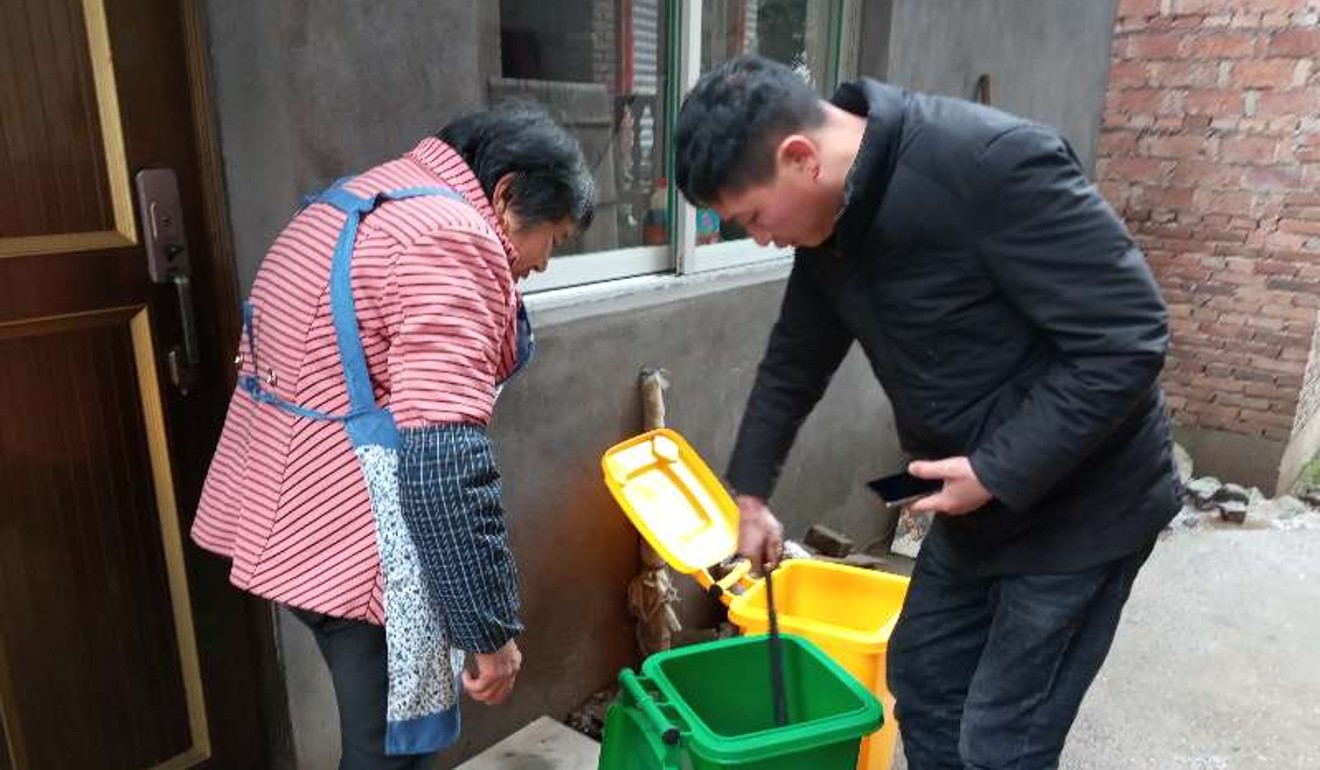 Wang Qinghai, party chief of Dongyang county in the northeastern part of the province, said preparation work began last June.
"We investigated the scale of household residents in our county, and the number of hotels, restaurants and schools, to estimate the garbage production per capita and how much we could reduce after sorting," he said.
The hardest part was educating the public, he said. "We organised training and meetings and sent materials, we also guided people when they dumped their garbage."
Wang said the effect had been very good and people's understanding of environmental protection and their cooperation with the government had been beyond his expectations.
According to his estimates, after the introduction of classification system the amount of waste had decreased by 50 per cent. Now, the amount of waste being classified correctly in Dongyang county was over 99 per cent.
A successful waste programme needed the government's lead and the cooperation of the relevant departments, Wang said. In Dongyang, the agricultural, water resources and urban-rural development departments had all taken part.
As for investment, Zhang estimated China needed to double its financing to introduce sorting facilities and build treatment systems but, speaking from his experience, Wang said waste sorting had not required any extra money.
Zhang remains optimistic that the 46 cities named in the latest waste management plan can achieve their goal by 2020.
"Waste sorting was a big problem in China that hadn't been solved for nearly two decades, but as our 'big boss' pays attention to this, it will be solved," he said.
This article appeared in the South China Morning Post print edition as: Beijing leads charge to get country's rubbish sorted