Taiwan
Get more with myNEWS
A personalised news feed of stories that matter to you
Learn more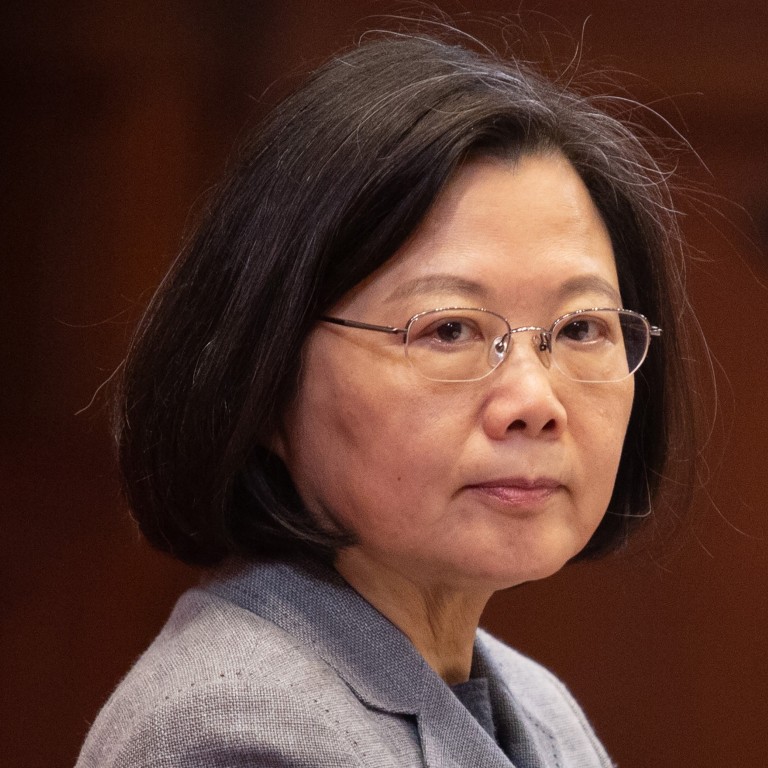 Tsai Ing-wen regains some ground but youth vote may hold the key to Taiwan's election
After she is officially named DPP candidate for next year's poll, president says young people 'will be the most critical factor'
Tsai has managed to use opposition to 'one country, two systems' and Hong Kong's extradition bill controversy to win back support, according to analyst
Taiwanese President Tsai Ing-wen's re-election bid is likely to get a boost from the
extradition bill controversy in Hong Kong
amid fears over growing pressure from Beijing, but young voters may hold the key to next year's poll.
After Tsai was officially named last week as the independence-leaning Democratic Progressive Party candidate for the presidential election in January, she emphasised the need to safeguard the self-ruled island's sovereignty against persistent threats from Beijing – and acknowledged that the youth vote was crucial.
"We all must realise that the DPP must respond to the needs and aspirations of young people … who will be the most critical factor in this democratic election," she said on Wednesday after defeating former premier William Lai Ching-te in the primary race.
The primary was based on a public opinion survey carried out from June 10 to 12 by telephone. Tsai received 35.67 per cent support, while Lai got 27.48 per cent. The poll results also put Tsai ahead of her two possible challengers in the presidential election – Han Kuo-yu of the mainland-friendly Kuomintang, who got 24.51 per cent support, and independent Taipei Mayor Ko Wen-je at 22.7 per cent. The KMT
presidential primary
will be held next month.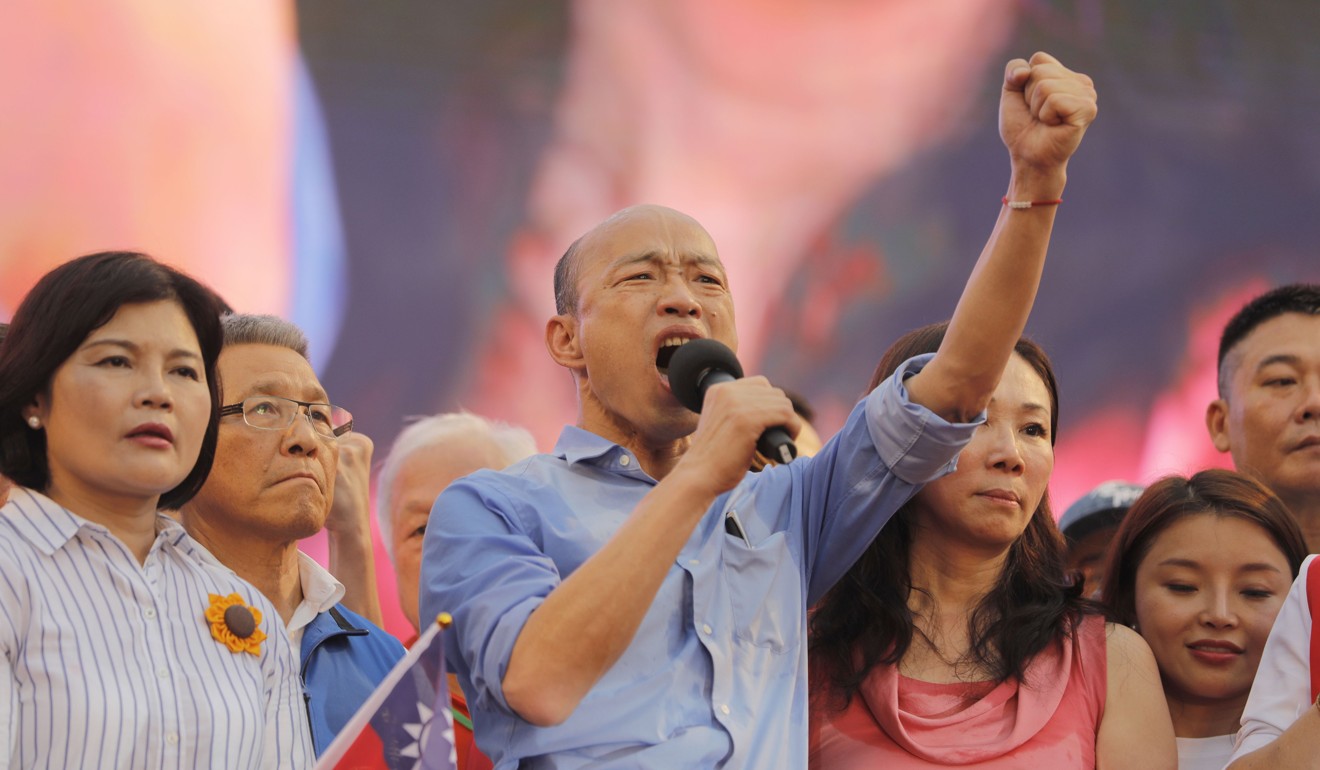 A separate opinion poll released by the Green Party on Wednesday had Tsai as the front runner in the 2020 election, with 31.8 per cent of respondents supporting her run for a second term, while 28.1 per cent backed Han and 26 per cent for Ko.
It marked a turnaround for Tsai, whose approval rating was in the range of 20 to 25 per cent just a few months ago – far behind Han and Ko – following the party's humiliating defeat in local government elections in November that saw Tsai step down as DPP chairwoman.
Unhappy with Tsai's handling of drastic labour and pension reforms and a lack of wages growth, voters turned to the opposition KMT, which won 15 of the island's 22 cities and counties.
While the local polls saw Tsai lose most of the youth vote she held when elected president in 2016, the primary results showed she had an average of 36.6 per cent support from the 20-39 age group. That was far more than Lai's 16.5 per cent and Han's 14.5 per cent, but she was ahead of Ko by just 0.5 percentage point.
But while Tsai was making headway, analysts said she would have to work harder to win over young Taiwanese.
"The youth vote, not the economy, will be the decisive factor in January's presidential election," said Fan Shih-ping, a political science professor at National Taiwan Normal University.
Taiwan
has more than 19 million eligible voters, and 7 million of them are in the 20-39 age group, according to government data. Many of these young voters identify as Taiwanese rather than Chinese, although they do not have strong political allegiances.
"They tend to support what they believe is just and right, as seen in the Sunflower student movement in 2014, the passage of the same-sex marriage bill or the recent extradition bill [in Hong Kong]," said Wang Ting-yu, who teaches law at Soochow University in Taipei.
Tsai was elected in 2016, when the KMT suffered heavy losses in the aftermath of the Sunflower movement opposing its controversial trade pact with mainland China.
As president, she has won support from young voters for delivering on a promise to uphold LGBT rights by pushing through the marriage equality bill in May.
Liao Da-chi, a political science professor at Sun Yat-sen University in Kaohsiung, said Tsai had been successful in using opposition to "one country, two systems" and the extradition bill to win back support after the local elections defeat.
"Her campaign tactics are similar to those of Chen Shui-bian when he played the independence versus unification card to shift the focus to cross-strait issues," she said, referring to the former Taiwanese president.
Those cross-strait issues, rather than the economy, have dominated presidential elections in Taiwan since Lee Teng-hui became its first directly elected president in 1996, according to Fan.
During the campaign, Beijing – which considers Taiwan a wayward province to be reclaimed by force if necessary – sent unarmed ballistic missiles near the island in a bid to discourage people from voting for Lee because of his pro-independence stance.
"Also, most voters see promises about the economy taking off as a rosy outcome that will be difficult for candidates to deliver," Fan said.
According to an opinion poll released by Academia Sinica on June 14, most respondents – 58.3 per cent – saw sovereignty as more important than economic benefits – 31.3 per cent – when it came to cross-strait negotiations.
The results reflected growing dismay over pressure from Beijing and disillusionment with looking to the mainland for economic gain, said Chen Chih-jou, deputy director of Academia Sinica's Institute of Sociology.
But Taiwan's economy was not in worse shape under Tsai than it was under her KMT predecessor Ma Ying-jeou, analysts said. The island's gross domestic product has remained stable at around 2 per cent since Tsai took office, unemployment is at its lowest in decades, and investment has gone up in the past year.
Disappointing wage growth, however, has seen the average monthly income for young Taiwanese remaining at a level between NT$23,000 to NT$25,000 (US$740 to US$806) in recent years.
"Actually what the public cares about most is wages, which for many young people have remained low," said Wang Yeh-lih, a political science professor at National Taiwan University.
This article appeared in the South China Morning Post print edition as: 'youth vote, not economy, to be decisive' in election