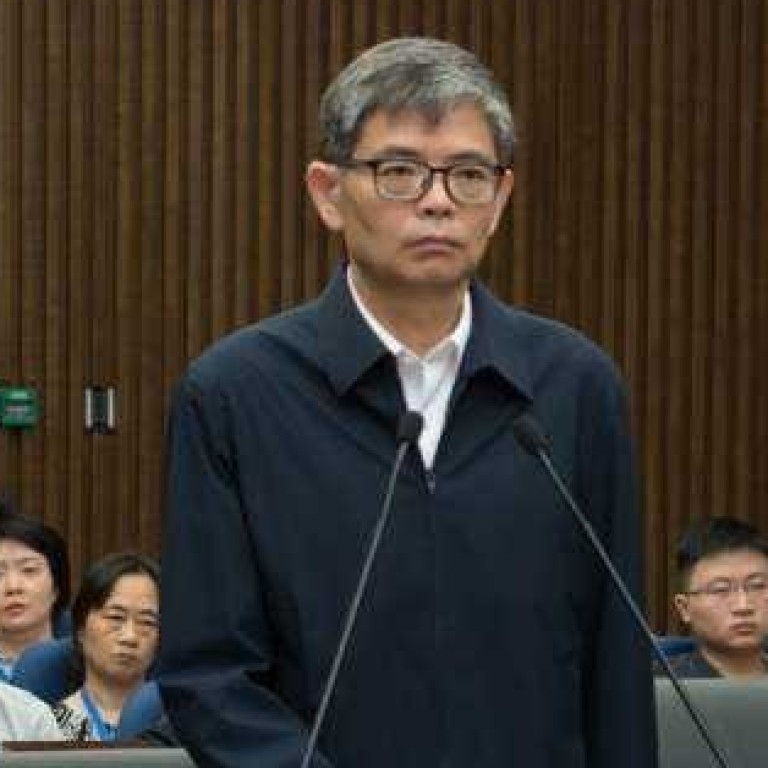 12 years behind bars for corrupt former boss of Chinese warship builder CSIC
Sun Bo, who headed up the company overseeing the construction of the country's aircraft carriers, gets lighter sentence for volunteering information about other crimes
A Shanghai court handed down a lenient sentence to the corrupt former head of one of China's biggest shipbuilders after he shed new light on other crimes, state media reported on Thursday.
Shanghai No 1 Intermediate People's Court sentenced Sun Bo, former general manager of China Shipbuilding Industry Corporation (CSIC), to 12 years in prison for taking bribes and abuse of power, state news agency Xinhua reported.
The court also fined Sun 800,000 yuan (US$116,000) and ordered the confiscation of 8.4 million yuan in bribes and gifts accepted by Sun and his wife.
Sun inflicted "extremely heavy losses" on the state but he was given a lenient sentence because he "confessed his crimes and volunteered information about crimes that the prosecutors have not yet discovered, truly repented, and returned the bribes and gifts that he had accepted", the report said.
It did not say if the information led to other arrests or if his wife was under investigation.
Sun said he would not appeal against the sentence.
A military source said Sun's sentence was "light", given his senior position at CSIC, the builder of China's newest aircraft carriers and other warships.
"As the general manager of CSIC, Sun had access to many state secrets [related to the building of warships] and he could have been given a life sentence if not the death penalty," the source said.
"But the authorities have let him off lightly probably because he was cooperative in the investigation or his crimes were not as serious as the investigators had previously thought."
Sun was detained in June last year and later expelled from the Communist Party, according to an earlier statement released by the Central Commission for Discipline Inspection (CCDI), the party's anti-graft watchdog.
After graduating from Dalian University of Technology in 1982, Sun rose through the ranks at Dalian Shipbuilding Industry Company, a CSIC subsidiary, where he became a general engineer responsible for refitting the Liaoning, China's first aircraft carrier, in the late 1990s.
Xinhua said Sun, who joined CSIC's leadership ranks in 2009 and became its general manager four years ago, took advantage of his positions to help individuals set up businesses to benefit from CSIC's commercial activities.
Sun is not the first CSIC senior manager to fall from grace. The CCDI announced in December that it had detained Jin Tao, 54, the former research head of the CSIC's 712 Research Institute, after a four-month investigation.
The CCDI said that among other offences, Jin had "seriously violated party discipline"– a euphemism for corruption – and was "suspected of a crime of duty causing a huge loss to the national interest".
In September 2017, Liu Changhong, then head of discipline inspection at CSIC, was expelled from the party for allegedly taking bribes.