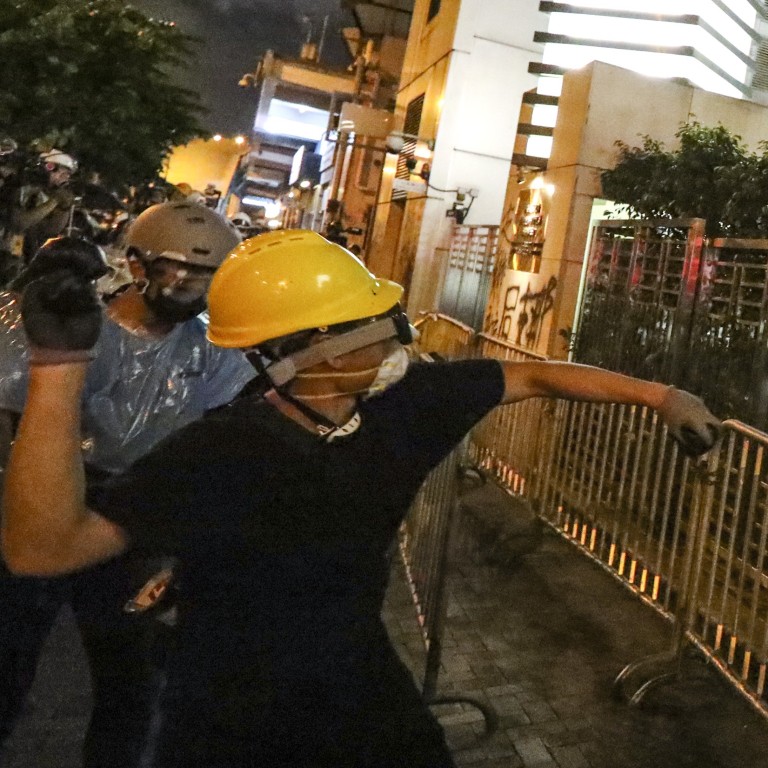 Chinese state media condemns Hong Kong protesters after 'challenge to Beijing's authority'
Blanket commentaries on Monday call siege of mainland's liaison office in the city 'absolutely intolerable'
Building was daubed in graffiti and national emblem of China defaced
China's top government mouthpieces issued stern and prominent commentaries on Monday after Hong Kong protesters laid siege to Beijing's liaison office, warning that "challenges to central government's authority" and "insults to the state and Chinese nation" would not be tolerated.
Communist Party mouthpiece People's Daily ran a commentary on its front page, while news agency Xinhua led its website with a commentary that was also carried on the front page of People's Liberation Army Daily, the military's mouthpiece.
The commentaries followed the statement by Beijing's Hong Kong and Macau Affairs Office on Sunday night, which criticised "some radical demonstrators" for vandalising the central government's liaison office in Hong Kong, saying it had "touched the bottom line of the principle of 'one country, two systems'" and was "absolutely intolerable".
Derogatory graffiti was written on the liaison office building, while the national emblem was defaced by protesters with black paint. Police dispersed protesters late on Sunday.
A
major march on Sunday
continued weeks of protests and violent clashes in Hong Kong sparked by the city's extradition bill, which proposed the transfer of criminal suspects to jurisdictions with which the city does not have an extradition deal, including mainland China.
However, Monday's state media commentaries did not mention violent clashes in the city's suburban Yuen Long district on Sunday night, in which more than a hundred unidentified men
stormed a railway station
and assaulted protesters and passengers indiscriminately.
People's Daily said "the besieging of the Central Liaison Office building has already exceeded peaceful demonstration" and "those violent acts have seriously breached Hong Kong's Basic Law [the city's mini-constitution] and other local laws".
"One cannot find any excuse for violence!" the commentary said, adding that mutual respect and peaceful and rational expression of opinions were basic requirements of a civilised society.
"To compromise with, defend, beautify and condone violence would only fuel escalated violent acts of extremists," it said.
The similar Xinhua commentary, reproduced by PLA Daily, said the actions of radical demonstrators represented a blatant challenge to the central government's authority. "It has made a very bad impact and must not be tolerated," it said. "It must be strongly condemned and criminals should be punished according to law."
Global Times, the hawkish tabloid, warned in its editorial that openly challenging Beijing's authority "would never come to a good end".
"A small mob is determined to make enemies with the country and they tried every means to create brutal clashes," it said. "Their final aim is to completely disorder Hong Kong."