Taiwan
Get more with myNEWS
A personalised news feed of stories that matter to you
Learn more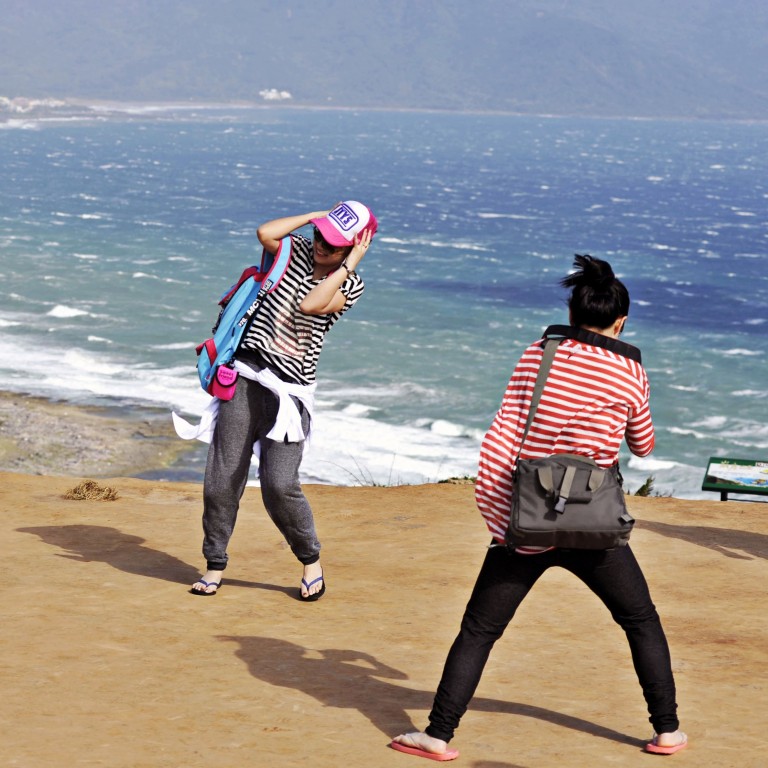 Beijing's ban on solo travellers to Taiwan could cost self-ruled island US$900 million by January
New rule, which is set to take effect on Thursday, likely to see visitor numbers fall by 700,000 over next six months, tourism expert says
Restriction applies to residents of 47 mainland cities, tourism ministry says
Beijing's ban on solo travellers visiting Taiwan could result in 700,000 fewer arrivals over the next six months and cost the self-ruled island NT$28 billion (US$900.5 million) in lost revenue, an industry insider said.
The Ministry of Culture and Tourism said that from Thursday it would stop issuing individual travel permits to people in 47 mainland Chinese cities because of the poor state of relations with Taiwan.
"In view of the current cross-strait situation, such visits will be temporarily restricted until further notice," it said in an online statement on Wednesday.
Tourism-related government websites confirmed the ban would apply only to individuals.
In response to the announcement, Taiwanese Transport Minister Lin Chai-lung said his government would spend an additional NT$3.6 billion in the fourth quarter of the year on promoting tourism.
"Details, including preferential treatments for group and individual visitors [from other countries], will be announced soon," he said in a Facebook post on Wednesday evening.
The travel restriction comes five months ahead of Taiwan's presidential election in January and amid tense relations between mainland China and the island it regards as a wayward province awaiting reunification.
Robert Kao, head of the policy development committee under Taiwan's Travel Agent Association, said the two issues were probably linked.
"It is rather unusual for Beijing to issue such a notice, which could have something to do with the presidential election," he said.
It is not unusual for the mainland government to take a keen interest in Taiwan affairs, especially in the run-up to a presidential election, though the statement by the tourism ministry is the first time it has gone public on the issue.
In the months before the last leadership poll in 2016, Beijing told travel agents that mainland citizens would not be granted solo travel permits as it sought to reduce support for Tsai Ing-wen of the pro-independence Democratic Progressive Party. The plan failed and Tsai has been in power ever since.
Taiwan's Mainland Affairs Council condemned Beijing's move for "breaking the travel agreement made between people on the two sides of the Taiwan Strait".
"We deeply regret the unilateral suspension of individual visits and free travel by mainland tourists to Taiwan," it said in a statement on Wednesday.
It also urged Beijing to refrain from using politics to disrupt normal travel exchanges and to "resolve bilateral disputes without preconditions in order to facilitate the peaceful development of cross-strait relations".
Travel agents in Shanghai and Nanjing, which are among the cities to be hit with the restriction, confirmed they were aware of the rule change.
Anny Ren, a senior manager at Shanghai Jin Jiang Tours, said the ban on solo travel would be bad for business as most of her customers preferred to travel alone rather than as part of a group.
"Mainland tourists have not been as enthusiastic about going to Taiwan in recent years [since Tsai came to power]," she said. "Now that only group tours are allowed, I think the number [of visitors] from major cities like Shanghai could drop to nearly zero."
Kao said that if relations between the two sides worsened it was possible Beijing might also suspend group tours, which would deal an even bigger blow to the island's tourism industry.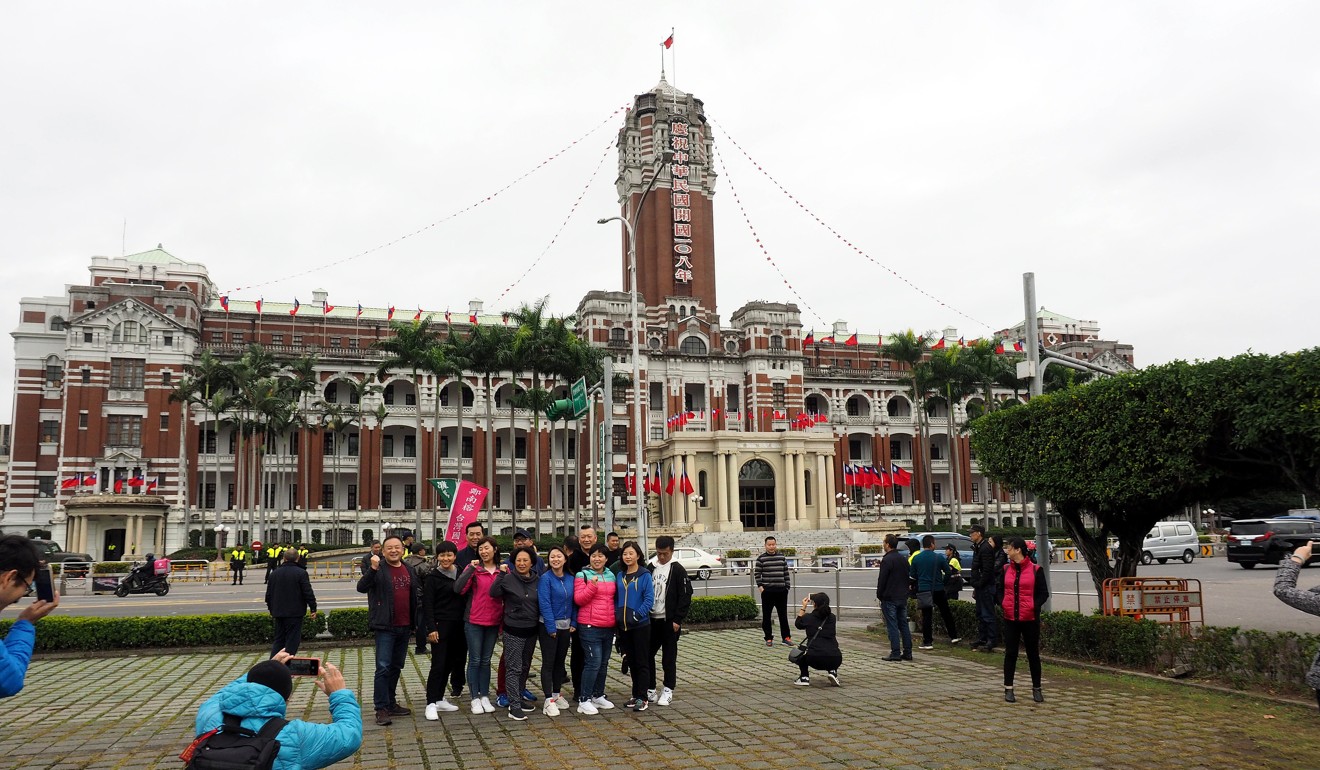 According to Taiwan's National Immigration Agency, 1.07 million individual travellers from the Chinese mainland visited the island last year, up about 2 per cent from 2017.
In the first half of this year, the total was 633,000 and the tourism authority forecast the full-year figure to reach 1.3 million.
Kao said that if the ban remained in place until after the election, individual visitor numbers would fall by 700,000.
Based on an average spend of NT$40,000 per solo traveller per visit, that would amount to about NT$28 billion in lost revenue, according to official figures.
Representatives of several van and taxi service companies, as well as hotel operators said the restriction could result in a 40 per cent drop in revenue.
Huang Jeng-tsung, a tourism professor at Providence University in the Taiwanese city of Taichung, said that although the ban would be implemented on Thursday its impact would not be felt until October or November because most mainlanders planning to travel to the island in the next couple of months had already been granted their travel permits.
But when visitor numbers did begin to dwindle, "the authorities must be ready to offer support to tourism-related businesses", he said, adding that local travel agencies should also seek to offset the impact of the ban by targeting more visitors from Hong Kong, Macau and Southeast Asian nations.
Social media users said on Weibo – China's Twitter-like service – on Wednesday that there had been a run on visa applications as people sought to beat the deadline.
Lin Chinfa, a former chairman of the Beijing chapter of the Association of Taiwan Investment Enterprises on the Mainland, said he believed the travel restriction was unlikely to seriously alarm the business community.
"This is obviously a temporary move in response to the upcoming presidential elections in Taiwan. I think the mainland just wants to avoid any potential conflicts at this sensitive time," he said.
"The Democratic Progressive Party might regard people visiting Taiwan from the mainland as possible spies or accuse them of meddling in the poll. So this is a way for Beijing to avoid any such trouble.
"Although the decision is quite unusual, for people who have been watching and feeling the changes in cross-strait ties for so many years, we know that once the election is over things will return to normal.
"If Han Kuo-yu [from the Beijing-friendly Kuomintang party] wins, I am sure the mainland will immediately resume the visa applications," he said.
Taiwan began allowing solo travellers from the Chinese mainland to visit the island in 2011, three years after granting the same permission to tour groups. The moves came as a result of warming ties across the Taiwan Strait during the administration of president Ma Ying-jeou from the Kuomintang.
In contrast, leaders in Beijing have been at odds with Tsai, who since becoming president has openly rejected Beijing's model of "one country, two systems" as a way to resolve cross-strait conflicts.
She and other Taiwanese politicians have argued that the protests in Hong Kong in the past two months over the now-suspended extradition bill have shown the model to be a failure.
A defence white paper released by Beijing last week said China's military was under threat from pro-independence forces in Taiwan, but said it would always defeat those fighting for the island's independence.
Beijing has said repeatedly that it will not renounce the use of force to reunify Taiwan, but the white paper said it would be "by no means targeted at our compatriots in Taiwan, but at the interference of external forces and the very small number of 'Taiwan independence' separatists and their activities".
This article appeared in the South China Morning Post print edition as: Travel Ban could cost Taiwan up to HK$7b