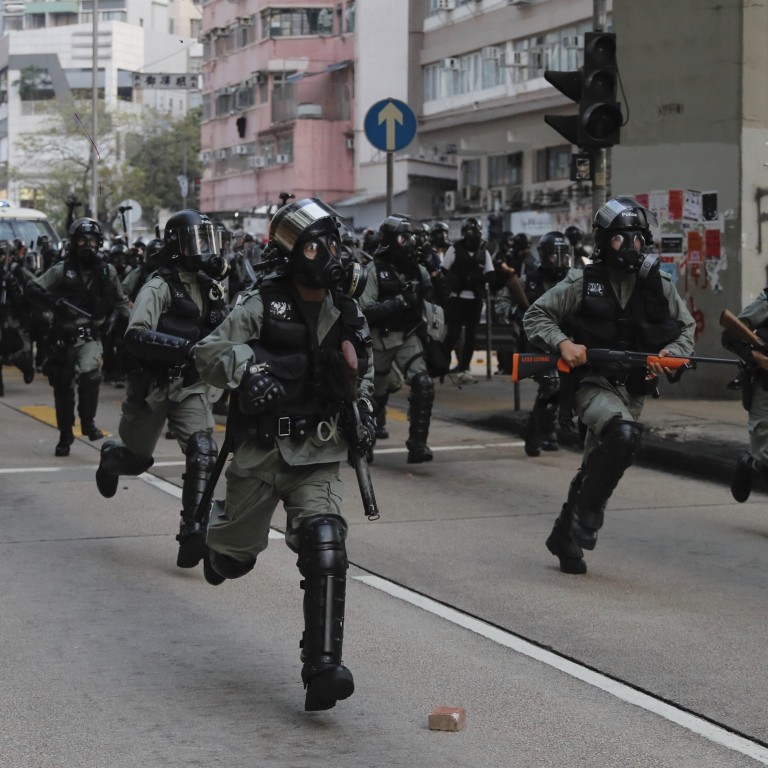 Communist Party mouthpiece slams Hong Kong university chief's call for police abuse probe
People's Daily joins former Hong Kong chief executive Leung Chun-ying in condemning remarks by Chinese University vice chancellor Rocky Tuan
Tuan urges city to set up independent investigation of the arrest of 20 students
A Communist Party mouthpiece has joined former Hong Kong chief executive
Leung Chun-ying
in condemning a call from a Chinese University of Hong Kong official for an investigation into alleged police violence during anti-government protests in the city.
Remarks like those by university vice chancellor Rocky Tuan Sung-chi risked ruining the future of the school's students, according to an article published on the People's Daily news app on Saturday.
"If teachers and even well-respected university chiefs drift with the waves and go with the flow, and tolerate and condone radical views, even violence, it would not represent true caring for the young," it said.
"They would be ruining the future of the young with their own hands."
The article was aimed at Tuan's open letter on Friday, in which he said police should be condemned for "any proven case" of brutality and the city's leader should launch an investigation into the treatment of about 20 arrested students.
In his letter, Tuan said that most of the 20 students claimed they were not allowed to make a phone call for several hours – up to 78 hours for some – following their arrest. Some also accused police of not allowing them to sleep or lie down to rest during detention, while others said they were not given timely medication or treatment.
It was the first declaration by a top university official for an investigation of police violence during the protests that have rocked Hong Kong for more than four months.
"Tuan is among the most famous university chiefs in Hong Kong and as a serious scholar, everything he says will have an impact on society," the People's Daily article said.
"But with his letter reflecting only the views of the arrested students, we can hardly find the prudence and objectivity that were supposed to be there."
In a rare gesture of unity, the chairs of the governing boards of all eight universities in the city issued a joint statement on Sunday urging all faculty members and students to be responsible for their own behaviour.
"All university stakeholders should abide by the law at all times," the statement said. "Assistance and suggestions by the universities are out of kindness and do not represent the personal opinions of any individual stakeholder."
The statement also said the universities had the power to suspend, expel or dismiss people who broke the law or violated regulations at the institutions.
Tuan's statement attracted intense criticism from Leung, who wrote on his social media account on Saturday that the letter was "purely for his own personal relief".
But Leung also came in for criticism, with Ngan Shun-kwan, a prominent Hong Kong writer and publisher, saying Leung "lacked basic knowledge of the law".
In an open letter addressed to Leung, Ngan slammed him for telling Tuan to "verify the students' behaviour prior to their arrests".
"Regardless of how the police will handle the cases, you've told Tuan to verify whether the students threw bricks, set fires or assaulted the police," Ngan wrote on Facebook. "That demand is beyond Tuan's power and it's against the rule of law, it's also against common sense."
While Tuan was under pressure from Beijing for remarks that sympathised with the students, city leader Carrie Lam Cheng Yuet-ngor also came under attack from a mainland Chinese writer on Sunday for not being supportive enough of the police.
Ren Yi,
an influential Chinese writer and a member of a revolutionary family, targeted Lam for a remark that hinted that an independent commission might investigate police if the work of the Independent Police Complaints Council (IPCC) did not satisfy the public.
"Lam's remark is basically telling the IPCC to pick on the flaws of the police," wrote Ren, the grandson late Guangdong party chief Ren Zhongyi and a graduate of Harvard's John F. Kennedy School of Government.
"[Then] the public will not be happy … and an independent investigation commission will have to be considered so it can punish the police and make the crowd happy."
Earlier on Sunday, Lam pledged to find other ways to ease public concerns about police conduct if an official examination of key incidents failed to do the job.
Protesters have repeatedly demanded an independent commission of inquiry into alleged police abuse, a call that Lam has repeatedly rejected.
"What Lam needs to do now is to support the police unconditionally," Ren said. "But what she's doing now is keeping a distance from the police and placing them on the same level of scrutiny as the rioters."
This article appeared in the South China Morning Post print edition as: State paper joins attack on head of university